Dehydrating Rice & Risotto
Precooking and dehydrating rice is a great way to make flavorful and fast cooking rice for trail meals. Instant rice adds very little nutrition or flavor to backpacking meals and regular long grain rice takes too long to cook on the trail, so before I leave for a trip I cook white or brown long grain rice in broth and then I dehydrate it.

Include ground beef in meals with beef flavored rice and chicken with chicken flavored rice. Ham, seafood, or all-vegetable meals go well with vegetable flavored rice. Rehydrated dried rice is slightly chewier than instant rice.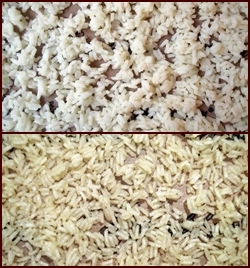 Photo at right: Cooked long grain rice before and after drying.

Cook rice following the directions on the bag, but use beef, chicken, or vegetable broth instead of plain water. The usual method is to bring 2 to 2½ cups of liquid to a boil, stir in 1 cup rice, cover and reduce heat to low. Simmer until all liquid is absorbed and rice is tender. Time varies with rice selection.

Use low or no fat broths that come in a carton since fatty broths may cause the rice to spoil later.
In a pinch, use bouillon cubes to make the broth. Additional flavors can be added before dehydrating rice, such as a teaspoon of soy sauce per cup of cooked rice for an Asian flavor.
Dehydrating Rice:
Spread cooked rice out on dehydrator trays covered with non-stick sheets, parchment paper or the liners that came with your unit. Dry the rice at 125° for approximately five hours. Dehydrating rice times vary with dehydrator models and humidity. Once or twice through the drying process, break up any rice that is stuck together. It's not a problem if some rice remains stuck together since it will separate when you cook it on the trail. Rice will be hard when properly dried.
Yield: One cup rice = 3½ cups cooked = approximately 1¾ to 2 cups dried.
I use an Excalibur Dehydrator for dehydrating rice. I like that it is easy to transfer the dried rice from the non-stick sheets directly into storage containers. That simple task is not as easy with other dehydrators that have donut shaped trays.

---
Advertisement

Disclosure: BackpackingChef.com participates in the affiliate program offered by Excalibur Dehydrators. If you make a purchase after following the above link, I may receive a commission. Thank you.

---
| | |
| --- | --- |
| Favorite Backpacking Recipes for Dehydrating Rice | |
---
How to Make Risotto and Dry It
Make risotto with short grain rice. Short grain rice releases more starch than long grain rice which enhances the creamy texture of risotto.

Saffron adds a nice touch to this risotto recipe, but you can make risotto without it. Likewise, you may omit the mushrooms and white wine. If you don't use white wine, use more broth or water.
Photo below right: Cooked risotto before and after drying.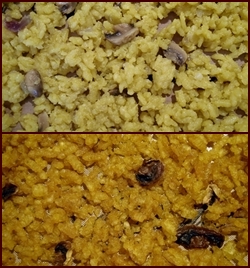 Ingredients:
1 Cup Short Grain Rice

½ Medium Red Onion, Chopped

1 Cup Mushrooms, Sliced or Diced

1 Clove Garlic, Minced

1 Pinch Saffron

2 Cups Chicken or Vegetable Broth

½ Cup White Wine

1 Tbsp Olive Oil

3 Tbsp Parmesan Cheese



Servings: 2 - 3

At Home:

Bring chicken or vegetable broth to a boil in a pot and then turn off the heat. You may use a bouillon cube to make the broth.

In another pot, cook onions and garlic in olive oil over medium heat for a few minutes until onions are translucent.

Add rice and stir continuously for another minute.

Add ½ cup white wine or broth and stir continuously until liquid is absorbed.

Add mushrooms and then add more broth a ½ cup at a time, stirring frequently. Allow the rice to absorb most of the broth before you add the next ½ cup broth.

After 15 to 20 minutes of cooking, the risotto will be nice and creamy. Normally, you would stir in parmesan cheese and serve immediately. Since you will be drying the risotto, let it cool a bit. Pack the parmesan cheese separately and add it on the trail.

Dry the same way as long grain rice. Risotto will stick together more than long grain rice. Wait until it has been in the dehydrator for three hours and then pull it apart as best you can. After about four hours you can rub the risotto against itself in your hands to break it up even more. Then spread it out again for the final hour or so of drying.

Pack parmesan cheese in a small plastic bag and enclose with individual servings of risotto.

One Regular Serving:
1 Cup Dried Risotto
2 Tbsp Parmesan Cheese
1 Cup Water to Rehydrate

To enjoy risotto as a side dish, reduce portions by half.

On the Trail:

Combine dried risotto with water in pot and soak for five minutes. Light stove, bring to boil and cook for one more minute. Remove from stove, stir in parmesan cheese, and wait ten minutes. Insulate pot.
Continue Reading...
Dehydrating Food from A – Z