Hello,



At home in Switzerland, I normally pack leftovers from supper for Dominique's and my stepson, Cédric's, lunches. They heat up their meals in the microwaves where they work.

A lunch deficit occurs when Chef Glenn heads back to America two weeks before them. With no room in the freezer to store meals, I turned to my trusty five-tray Excalibur dehydrator to meet the need.

The plan was to dehydrate enough food in three Excalibur loads to bag six large-serving lunches for Cédric, and six regular-serving lunches for Dominique. Then I would assemble the meals in Ziploc bags and label each one with the amount of water that would be needed for rehydration.

Before leaving for work each day, Dominique would add boiled water to the two dried meals in our twenty-four-ounce-capacity thermos food jars.

Thermos Lunch Tip: Use twenty-five percent more water than you would if you were rehydrating the meal in a pot. This is necessary because the food will have more time to absorb water.

For the first load, shown at the top, I cooked a pot of chili and a pot of stuffed peppers. Those two items took up two trays each. I dried shrimp on the fifth tray.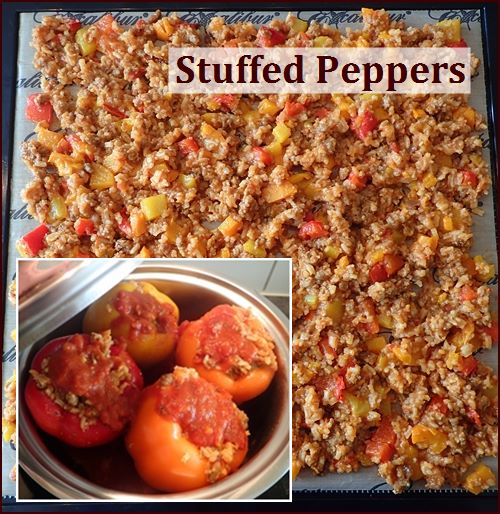 When preparing unstuffed peppers for a backpacking trip, I usually assemble the individually dried ingredients—rice, ground beef, bell pepper, and tomato sauce—to make the meal. Since this was a one-off situation, I cooked and dehydrated the whole meal.

To make four stuffed peppers:
Cook one cup of rice and set aside.
Cook one pound of lean ground beef with onion and garlic. Remember to add half a cup of breadcrumbs to the meat before you cook it.
Combine cooked rice and ground beef and add enough tomato sauce to coat the mixture.
Cut the tops off of four peppers and stuff them with the rice and beef mixture.
Add half an inch of tomato sauce to the bottom of a pot. Put the stuffed peppers in the pot and pour a little more sauce over the tops.
Cover the pot, bring sauce to a boil, and then reduce temperature to simmer for thirty minutes.
Let the meal cool, and then cut the peppers into smaller pieces. Spread unstuffed peppers on dehydrator trays and dry at 135° F. The meal will dry more evenly if you stir it up a couple of times while it is drying.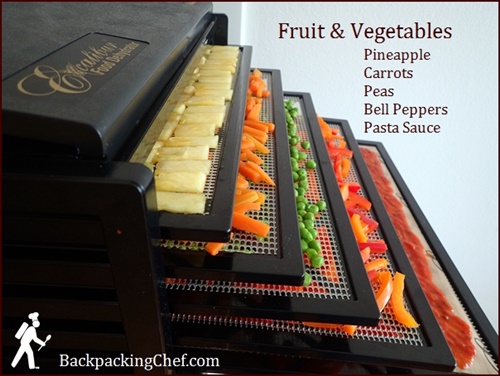 The second load consisted of pasta sauce, raw bell peppers, steamed frozen peas, steamed fresh carrots, and fresh pineapple slices. Dried at 135° F.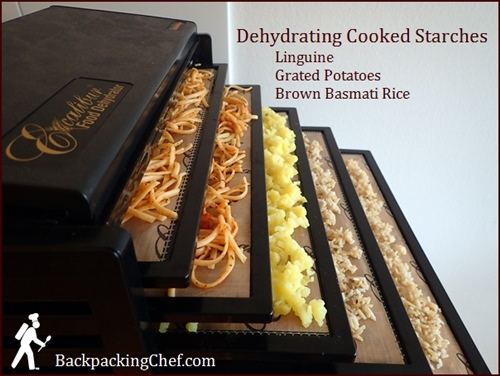 The third load was for starches. I cooked linguine (al dente) and lightly coated it with pasta sauce to keep it from sticking together. The potatoes were peeled and steamed, then grated directly onto one tray. Two cups of brown basmati rice took up two trays after the rice was cooked. Dried at 135° F.
Dried Thermos Lunches
I made two each of the meals shown below: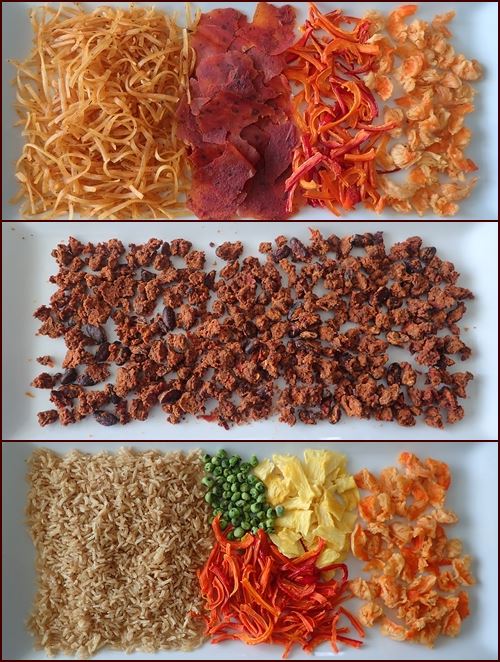 And two each of these shown below:
The thermos lunches worked out great for Dominique and Cédric. Dominique's shrimp linguine is shown below. All she had to do was add the boiled water (twenty-five percent more than usual) to the dried food in her thermos before leaving for work.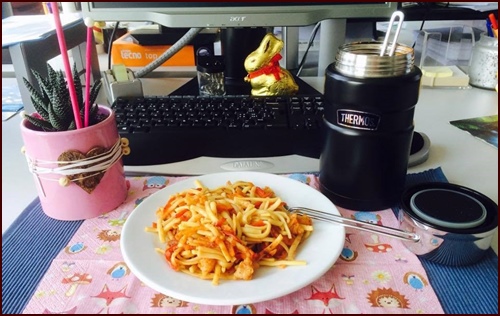 Dominique and Cédric arrive in America on Thursday. We plan to take it easy and do some hiking on the Appalachian Trail in Georgia. My new book, 1001 Miles on the Appalachian Trail, is almost ready for publication. The editor did a marvelous job of sorting out the commas and dangling participles. When I wrote, "Walking through a pasture, the sun bore down from its eleven o'clock tilt," she amusingly asked if it was me, or the sun, walking through the pasture. The book is currently in the hands of the graphic designer who is designing the cover and interior layout. I hope to announce the book's availability in the May newsletter. Until then, we wish you many memorable meals at work or in the woods.

Freundliche Grüsse,


Chef Glenn & Dominique

P.S. If you have any questions or comments about this issue of Trail Bytes, please reply to this email or use the contact form at BackpackingChef.com.



If you received this newsletter from a friend and would like to subscribe (it's free), subscribe here.
Visit my BackpackingChef Facebook page for the lastest posts. Be sure to "follow" the page to continue seeing posts.