How to Make Chili



I learned how to make chili from an old pro who has been making this chili recipe for her husband for over 50 years starting on the honeymoon.
Make a big batch, dry it and divide into individual servings.
It rehydrates well on the trail and I hear from lots of folks who love it.

Beef & Bean Chili Recipe
Serves 3 - 5

Ingredients:
1 to 1¼ pounds lean ground beef or turkey
½ cup bread crumbs, finely ground
1 large onion
1 – 2 cloves garlic
3 Tbsp Chili Powder
1 15 oz. can kidney or red beans, drained
1 10 oz. can tomato puree
1 14 oz. can diced tomatoes
In the kitchen:
Work bread crumbs into ground meat with your fingers and set aside for a moment. I add bread crumbs because dehydrated meat infused with bread crumbs rehydrates better on the trail. Also, the bread crumbs absorb and lock in more of the chili flavor. If you are not planning on dehydrating this chili recipe for backpacking, there is no need to add bread crumbs to the meat. You can make your own bread crumbs by dehydrating bread.
Sautee onions and garlic in a little olive oil using just enough to coat the pan. It really helps to use a non-stick pan.
Add ground meat and cook for about ten minutes until browned, stirring continuously.
Add chili powder and cook for one more minute.
Add tomato puree, diced tomatoes, and drained beans.
Cook until bubbling and then reduce heat to a simmer for one hour.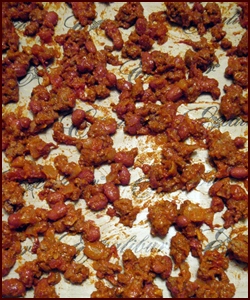 Dehydrate:
Have a taste and put the rest in the refrigerator overnight. The extra time enhances the flavor. Hitting the trail in the morning? Start dehydrating immediately.
Spread chili out on dehydrator trays covered with non-stick Paraflexx® Sheets or parchment paper.
Dehydrate at 145° for 8 – 10 hours. This recipe took up three 15 x 15 Excalibur Dehydrator trays. After about four hours in the dehydrator, break up any meat and beans that might be stuck together with a spoon or your fingers to expose pieces to more air circulation.
Once dry, divide dehydrated chili into one cup or larger servings and pack in plastic zip-lock bags.
Yield: Five cups weighing about 12 ounces dry.
On the Trail:
Combine one cup chili with one cup water and let sit for about five minutes. If you are cooking a larger serving, just add an equal part of water to your dried chili.
Light stove, bring to a boil and continue cooking for one minute.
Remove from stove and place pot inside insulating pot cozy for ten minutes.
Garnish with crackers, dried pita bread chips or cheddar cheese.
---
Now that you know how to make chili, enhance your meal options with Chef Glenn's Chili Mac recipe found in Recipes for Adventure.
---
Advertisement

Disclosure: BackpackingChef.com participates in the affiliate program offered by Excalibur Dehydrators. If you make a purchase after following the above link, I may receive a commission. Thank you.

---
Continue Reading...

Next supper recipe: Root Bark Stew

Return to TOC: Backpacking Recipes for Supper

Top of Page: How to Make Chili
---
Pick a Topic to Explore

Links lead to Tables of Contents pages.