Hello,



Readers sometimes ask for more vegetarian recipes. They also ask about dehydrating tofu. In this month's edition of Trail Bytes, I make a spicy bark with tofu, chickpeas, and Indian curry seasonings. I turn it into a meal with rice and vegetables. Meat eaters can substitute chicken, shrimp, or salmon in place of some of the vegetables or rice.
For this experiment, I blended half-a-can of chickpeas (125 grams), plus one can of diced tomatoes (400 grams), with a package of firm tofu cubes (290 grams).
Many curry recipes call for coconut milk to make them silky smooth. Unfortunately, too much coconut milk will lead to a greasy dried meal. With this experiment, I also wanted to see if tofu would make a smooth curry sauce without coconut milk.
Tofu & Chickpeas Bark Ingredients
1 package firm tofu cubes, drained (290 grams)
½ can chickpeas, rinsed & drained (125 grams)
1 14.5-ounce can diced tomatoes (400 grams), including juice
1 medium red onion, diced (85 grams)
2 cloves garlic, minced (12 grams)
½ Tbsp olive oil
Indian Curry Spices
2 tsp curry powder
2 tsp coriander*
½ tsp turmeric*
½ tsp red pepper*
1 tsp ground cumin
1½ tsp paprika
2 tsp garam masala
½ tsp salt
* Coriander, turmeric, and red pepper are ingredients found in most curry powders. If you don't have them on hand, you can increase the curry powder accordingly. I wanted to use them all in order to become more familiar with their unique aromas and flavors. Garam masala is also a blend of Indian spices including coriander, black pepper, cumin, cardamom, and cinnamon.
The quantities of spices listed will get you in the ballpark of a tasty curry. Adjust as your senses lead you. Folks who like more heat can add more red pepper or a diced red chili pepper.
How to Make Tofu & Chickpeas Curry Bark
Cook the onion and garlic for five minutes in ½ Tbsp. of olive oil. Add all spices and cook another five minutes. Instead of using more oil, add the juice from the diced tomatoes a little at a time.
Add the tofu, the whole can of drained chickpeas, and tomatoes. Bring to a boil and then simmer on low for thirty minutes.
When the mixture is done cooking, pick out half of the chickpeas (125 grams), and dry those separately.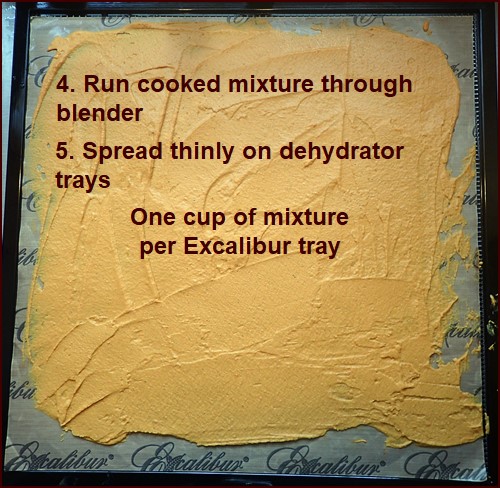 Allow the mixture to cool, then run it through a blender to a smoothie-like consistency. This recipe yielded three cups after blending.
Spread thinly on dehydrator trays. One cup spreads well on one Excalibur Dehydrator tray. If you spread it too thick, it won't rehydrate as well.
Dehydrate at 135° F for 6 – 7 hours.
The bark will be cracked and puffy like dried mud when done and will crumble easily.
Tofu & Chickpeas Curry with Rice & Vegetables
Servings: 1 large or 2 small
Ingredients:
¾ cup pre-cooked and dried rice* (85 grams)
⅓ cup curry bark crumbles (32 grams)
⅔ cup dried assorted vegetables and chickpeas** (46 grams)
2½ cups (600 ml) water to rehydrate
*The rice was white basmati rice cooked in salted water and dried. If substituting chicken in the recipe, the rice could be cooked in fat-free chicken broth before drying.
**I used a medley of dried carrots, red bell pepper, tomatoes, red onions, and chickpeas.
Learn More: Dehydrating Rice, Dehydrating Vegetables, More Bark Recipes, Excalibur Dehydrator Review.
Pack all ingredients in one Ziploc bag.
On the Trail:
Soak ingredients in water for five minutes in pot. Light stove and bring to a boil for one minute. Transfer pot to a pot cozy for twenty minutes for best results. A little vigorous stirring will break down any bark that remains. As mentioned in the dehydration section, thinly spread bark will rehydrate better than thickly spread bark. If using the freezer bag method to cook this meal, I recommend grinding the bark into a powder first.
How was it?
Delicious. I didn't think I would manage to eat the whole large serving for lunch, but it was gone in minutes. There's something addictive about those Indian spices that makes you want more. Next time I will add a bit more red pepper and perhaps another teaspoon of curry powder. The addition of chicken or shrimp would be great for omnivores.
The main purpose of this month's experiment was to find a way to incorporate tofu, a good source of protein for vegetarians, into a backpacking meal. Blending starchy chickpeas and tomatoes with the tofu worked well. Other starches like butternut squash or sweet potatoes could be used to make a tasty tofu curry. I hope this inspires you to try some experiments yourself. See you next month.
Update: After further experiments, I found other ways to incorporate tofu into backpacking meals. Before dehydrating tofu, the three essential steps are to freeze it first, slice it thinly, and then cook it in seasoned liquid.
Visit my new page about dehydrating tofu and discover several new recipes featuring dehydrated tofu.
How to Dehydrate Tofu

Freundliche Grüsse,

Chef Glenn & Dominique
P.S. If you have any questions or comments about this issue of Trail Bytes, please reply to this email or use the contact form at BackpackingChef.com.
The Tofu & Chickpeas Curry recipe, plus more instructions and recipes for dehydrating tofu are included in Recipes for Adventure II: The Best of Trail Bytes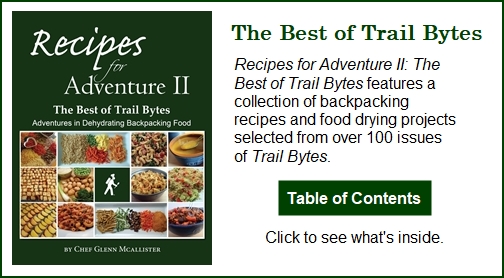 If you received this newsletter from a friend and would like to subscribe (it's free), subscribe here.
Visit my BackpackingChef Facebook page for the lastest posts. Be sure to "follow" the page to continue seeing posts.