Hello,



How long will dried foods last? Some variation of that question comes into my inbox more than any other question. Most inquiries are about meat. Will dried meat go rancid two hundred miles into a section hike? Food dehydration often takes place a month or two before you leave for the trail, and your dried meals, meticulously boxed up, may sit for weeks in mail drops. Or, you may be keeping them on hand for home use or emergencies preparedness.

For this edition of Trail Bytes, I open several time capsules – vacuum sealed mason jars – of dried foods to demonstrate what I always recommend: Use your dried food within one year for best results. This also applies to meals stored in vacuum sealed bags, as described in the Action Guide: Dehydrating 31 Meals.
Vegetables
Back in April 2017, I dried a variety of vegetables and fruits, vacuum sealed them in mason jars, and stored them in a closed cupboard in the kitchen. I used a FoodSaver vacuum sealer with wide-mouth jar sealing accessory. The vegetables looked good at the one-year point, but there was some change in color. The green beans, broccoli, tomatoes, and bell peppers were slightly darker. The onions, yellow squash, and zucchini were slightly browner, but not bad. The carrots were still perfect. The spinach was fine, too. The spinach didn't make it to the two-year check, because I used it in one of my experiments.

If you don't have a vacuum sealer, use oxygen absorbers and containers with tight-fitting lids. For the ultimate in oxygen elimination, use oxygen absorbers in combination with vacuum sealing.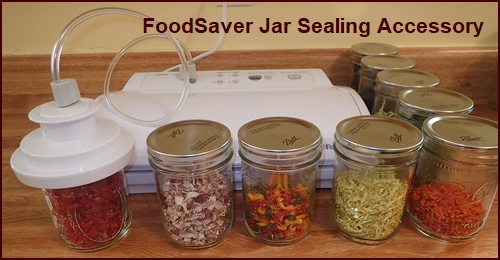 The photo below shows what the vegetables looked like when I opened the jars yesterday – after two years in storage. As you can see, the bell peppers fared the worst in terms of color change. The bright orange, yellow, and red colors were much darker. The trend of darkening/browning continued to a lesser degree for the other vegetables, except for the carrots, which were unchanged. Regarding carrots, if you steam them before drying them, they will retain their vivid orange color. If you dry them raw, they tend to get lighter over time.
Although I have no way to measure changes in the nutritional value of the dried foods, I suspect that there is a decline in nutrients over time which accompanies the change in color. This may be caused by enzymes in the food, or by slow oxidation resulting from tiny amounts of oxygen remaining in the inner cells of the vegetables.
Tip: The cut stalks of dried broccoli turn brown almost immediately. For a better green color in your meals, dry only the florets.
Corn: Although not included in this demonstration, dried corn is near the top of the list for foods that turn brown. This may be due to the oil present in corn kernels. Use dried corn within six months to a year for best results.
More: Dehydrating Vegetables
Fruit
After two years, the dried fruit was in great shape, and delicious. Considering that browning of fruit starts as soon as you cut into it, there was not much additional color change. Although I still recommend eating dried fruit within a year for best enjoyment, you can go longer in the fruit category.

More: Dehydrating Fruit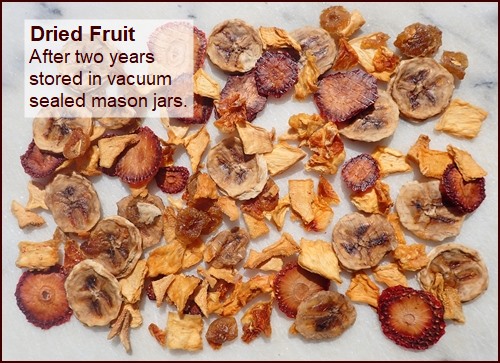 Dried Fruit: Apples, Pears, Peaches, Strawberries, Bananas, Grapes.
Meat
I inadvertently used up the dried meat in my 2017 time capsules before the two-year mark. Since meat has some fat remaining in it, best practice is not to go longer than a year of storage. As always, dry only lean meats. If for some reason you need to store dried meat for longer than a year, place it in the freezer after vacuum sealing it. When removing vacuum sealed meat from the freezer, allow it to return to room temperature before opening the package. This will prevent condensation from forming on the food. If in doubt, put the meat in the dehydrator for a few minutes before combining it with other dried ingredients for trail meals.

The ground chicken and turkey in the photo below was still perfect after six months of storage in vacuum sealed jars. See the October 2018 Trail Bytes about how to dehydrate ground chicken and turkey.

More: Dehydrating Meat
Conclusion: If you dry your food well in the first place (see the links in this newsletter), and observe the one-year storage recommendation, you can look forward to safe and delicious meals on your adventures. If you happen to have dried food on hand after a year, use it up as soon as possible for best results.
I constructed the rehydrated meal shown below from all of the ingredients featured in this newsletter, plus dried chicken-flavored rice that was two years old. The tomatoes brightened up a bit, but the bell peppers and onions stayed brown. As for the taste of the meal, I enjoyed it very much for lunch today.
Chicken & Rice with Vegetables
Ingredients: ½ cup (60 g) dried rice, ½ cup (25 g) dried vegetables – a pinch of all featured, ¼ cup dried ground chicken, pinch of salt.

Rehydrate with 1½ cups (350 ml) boiling water.

Chili Cook-off Update:

We only had one chili recipe submitted for the chili cook-off contest. Next month we'll showcase Joe's Parker House Chili recipe. It's super meaty with no beans. I'd like to feature a vegetarian chili or stew recipe also, so if you have one to share, please send it to me here.

See you next month. Wishing you great adventures as we head into summer.

Freundliche Grüsse,

Chef Glenn & Dominique
P.S. If you have any questions or comments about this issue of Trail Bytes, please reply to this email or use this contact form.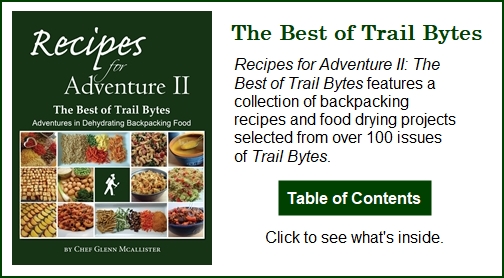 If you received this newsletter from a friend and would like to subscribe (it's free), subscribe here.
Visit my BackpackingChef Facebook page for the lastest posts. Be sure to "follow" the page to continue seeing posts.