Need a Backpacking Recipe for Dessert?

Every dessert backpacking recipe featured here has been dreamed up, tested and retested by Chef Glenn personally. It's a tough job, but somebody has to do it.

It's nice to have a sweet treat after or in between meals on the trail. Often a packaged candy bar with nuts or some sweetened granola cereal fills the craving.


For my dessert recipes, I wanted to create fun ways to enjoy nutritious dried fruits besides just eating them out of the bag. Reconstituting dried fruits with gently heated water and moderate amounts of sugar lends a sweet and fruity juiciness to the other ingredients I combine them with such as dried angel food cake and bread. I also incorporate nuts here and there for additional fiber, protein and fat.

I included instant pudding in three of the desserts which doesn't meet my usual standard of a healthy food since it is high in sugar and has artificial color and flavor. I confess that I had fun making and eating these instant pudding desserts on past hikes, but for something healthier in the pudding department, you can turn fruit or apple sauce leather into all-fruit pudding and be rewarded with a treat AND good nutrition. Pumpkin pie bark also turns into a nice pudding.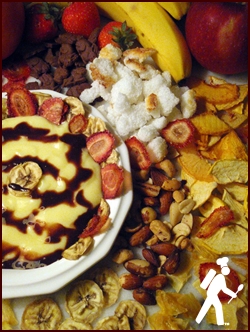 Dessert Recipes:
Trail Angel Cake

Peach Cobbler

Apple Pie

Banana Nut Bread Pudding

Pumpkin Pie and Granny Smith's Pumpkin Apple Pie

Instant pudding recipes:

Pineapple Up-Side-Down Cake

Grahma Nanna Nilla Pudding

Mud Pie

These are good for dessert or breakfast:

Rice Pudding

Sweet Potato Bark Porridge
---
Recipes for Adventure
You will find all of the backpacking dessert recipes linked above in my book, Recipes for Adventure.
In addition, learn how to make simple and nutritious desserts for the trail like fruit cocktail, apple sauce and fruit-root puddings.
Click on the photo below for more details about the book: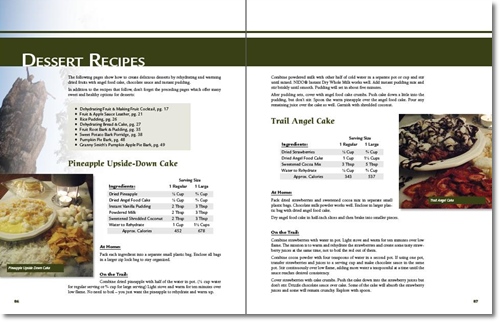 Amazon.com Review:
"I wish I had the knowledge in this book twenty-five years ago. I can finally get the best of both worlds. Lightweight and healthy backpacking food. This book has changed everything for my backpacking experience and I can promise you will never find another freeze dried meal in my backpack again. I have spent the last three weeks testing the recipes and all have proven themselves worthy of a place in my pack and because they are packed dehydrated there is a lot more room in my pack. The sweet potato bark rocks and has also replaced a couple of store bought snacks my kids used to eat. They throw a bag of it in their packs on the way to practice and have gotten request from their friends for it. Chef Glenn, you and your book rock!!! My advice for anyone looking at this book is to buy it and buy a couple of extra for gifts to your backpacking friends." -James

---
Continue Reading...

---