Backpacking Meal Plans for Multi-day Hikes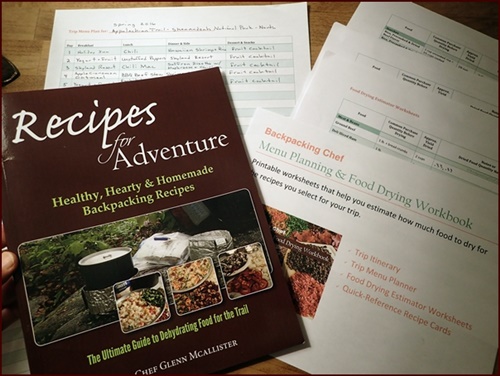 These backpacking meal plans are what I followed for 3-day, 5-day, 6-day, and 8-day hikes on the Appalachian Trail. Each backpacking menu includes recipes for breakfasts, lunches, dinners, desserts, and snacks. The plans highlight the food drying activities that took place in the kitchen before the trips.

3-Day Backpacking Food Plan with Calories

The backpacking meals and foods selected for this 3-day backpacking menu were chosen to demonstrate how many calories you would get from a combination of homemade meals and high-calorie snacks.

Each backpacking recipe lists the calories for a regular serving and a large serving. The total calories per day provided by this backpacking meal plan are approximately 3,000 to 4,000 depending on the serving-sizes selected.

Continue reading this 3-day backpacking food plan…

6-Day Backpacking Meal Plan
This 6-day backpacking meal plan was for a 68-mile hike on the Appalachian Trail in North Carolina.

I tracked the time it took to dehydrate the food to give you an idea of how much time you could expect to invest in a similar meal plan. The time study included pre-drying food prep and meal assembly.

Continue reading this 6-day backpacking meal plan…

6-Day Backpacking Food Plan for Two People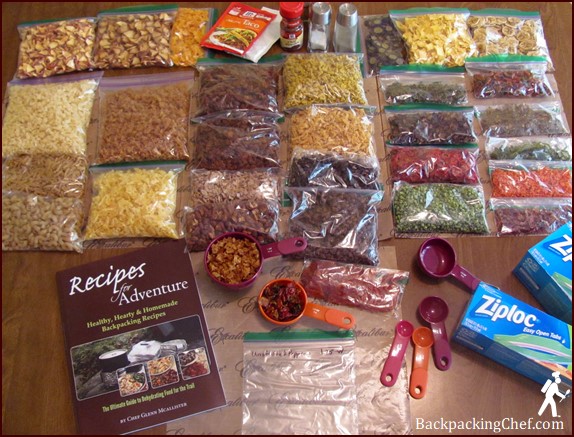 Dominique and I followed this backpacking meal plan for a 6-day, 54-mile backpacking trip on the Appalachian Trail in Shenandoah National Park. I cooked and dried some complete meals including Chili, Ratatouille, Root Bark Stew and Risotto. The other backpacking meals were assembled from the individual foods that I dried.

Continue reading this 6-day backpacking food plan for two…

Action Guide: Dehydrating 31 Meals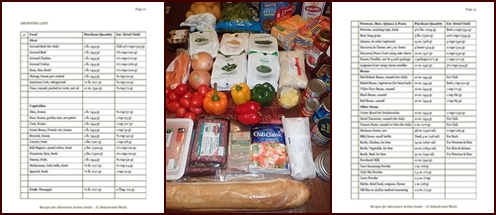 The Action Guide: Dehydrating 31 Meals gives step-by-step instructions on how to dehydrate and assemble thirty-one meals: Includes the shopping list, drying instructions, meal assembly, packing, and cooking directions using a pot or a thermos. Ideal for any kind of adventure travel, work lunches, or to keep on hand for emergency meals.

Continue reading about The Action Guide…

8-Day Backpacking Meal Plan #1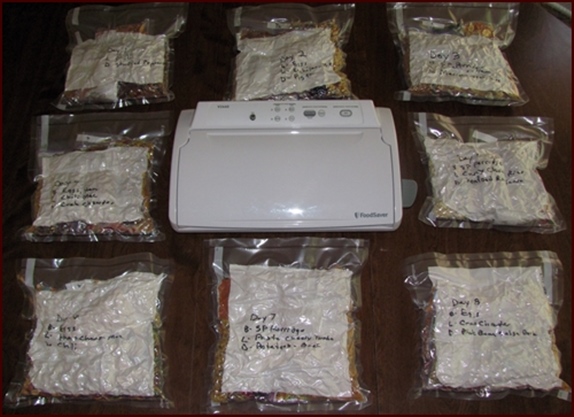 This is a backpacking meal and food drying plan for an 8-day, 77-mile hike on the Appalachian Trail through Georgia.

It features some of my favorite backpacking recipes from Recipes for Adventure.
I used the Menu Planning & Food Drying Workbook to create the menu and estimate how much food to buy and dry.

Continue reading this 8-day backpacking meal plan…

8-Day Backpacking Meal Plan #2

The photos below show the dehydrated meals that I prepared for an 8-day, 73-mile Appalachian Trail hike from Shenandoah National Park to Harpers Ferry, West Virginia. I dried the food for the meals in a 9-tray Excalibur dehydrator in four loads.

Day One

I only needed a lunch and dinner the first day, since the morning started off with a shuttle from Harpers Ferry, WV to Elkwallow Wayside in Shenandoah National Park.

I started off the feasting with Chili for lunch. All lunches were prepared in the mornings by adding boiled water to the dried meals in a Thermos Food Jar.

Dinner was Root Bark Stew, a delicious backpacking meal made with sweet potatoes, parsnips, rutabaga, turnips, onions, tomatoes, and garlic; seasoned with curry, cumin, and cinnamon.

The photo also shows assorted dried fruits – one serving for each day. On the trail, I rehydrated one cup of dried fruit in the thermos after lunch with two cups of cold water. I waited until late in the afternoon to enjoy the fruit cocktails.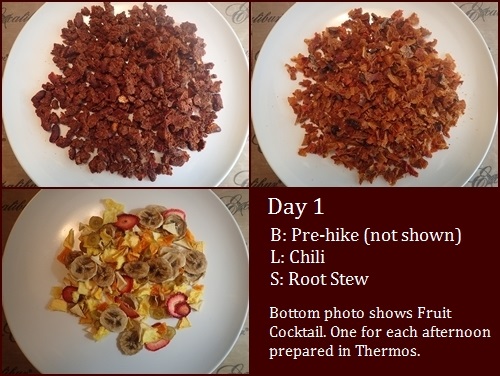 Day Two

I started off the day with a pot of hearty Sweet Potato Porridge. Lunch was Ratatouille in the thermos, and dinner was Risotto with Chicken and Broccoli.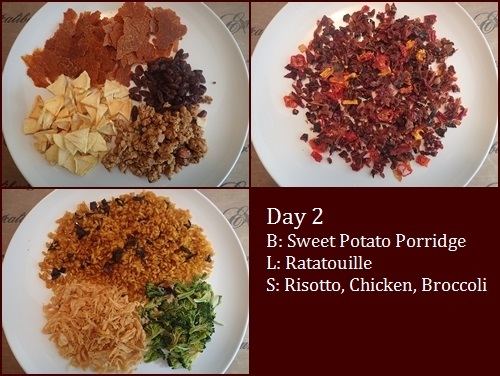 Day Three

Breakfast: Scrambled eggs and polenta with ham, tomatoes, and salsa. I carried a 6-oz block of cheddar cheese to add to eggs and other meals. Lunch: Crab Chowder. Dinner: Chili Mac.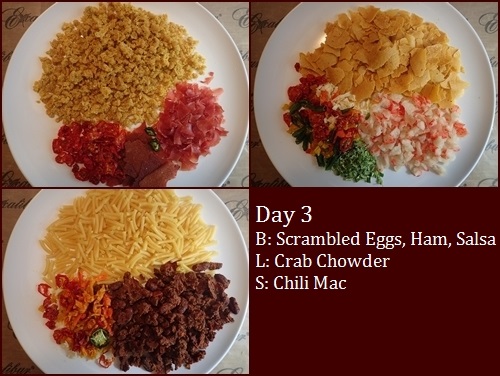 Day Four

I made blueberry squeeze-bag yogurt with fruit for breakfast, but I forgot to take a photo. Lunch was BBQ Mashed Potatoes with Beef, Okra, and Corn. I had BBQ Potato Bark on hand from March. It was vacuum sealed in a large-mouth mason jar, as was the yogurt. Dinner on Day Four was Tuna Mac & Cheese with Mixed Vegetables.


Day Five

Breakfast: Scrambled Eggs with Beef and Salsa. Lunch: Risotto with Beef and Vegetables. Dinner: Shrimp Linguine in Marinara Sauce.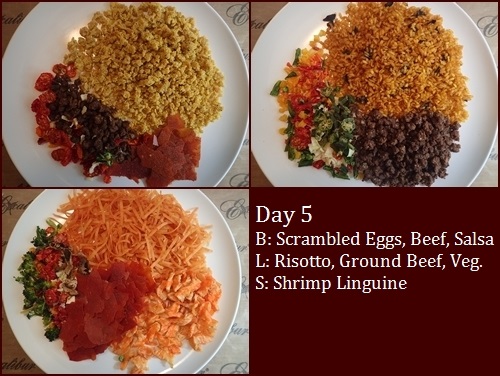 Day Six

I added pumpkin pie bark to the oatmeal for breakfast. Thermos Lunch: Hawaiian Shrimp and Rice. I did not need a dinner this day because I stayed at Bears Den Hostel. They have a hiker special that included pizza and a pint of ice cream.

The photo (bottom, left) shows healthy foods that I dried for daily snacking: apple/pear sauce leather, pumpkin pie bark, and sweet potato bark. These nutritious backpacking snacks can be eaten right out of the bag while hiking, or they can be rehydrated with hot or cold water to enjoy like pudding for an after-dinner dessert.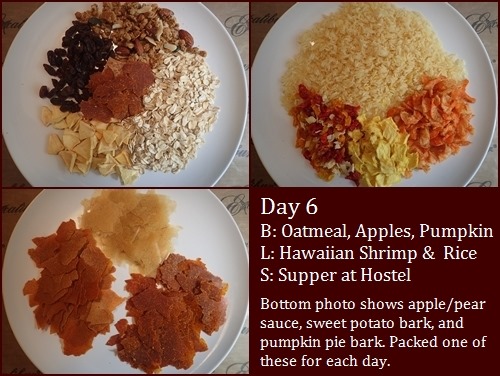 Day Seven

Bears Den Hostel provided a pancake breakfast. Thermos lunch: Unstuffed Peppers. Dinner: BBQ Mashed Potatoes with Ham and Mixed Vegetables.


Day Eight

Breakfast: Rice Pudding made with Vanilla-Almond Milk. Lunch: Mashed Sweet Potatoes with Beef and Mixed Vegetables. No need for a dinner on the last day.

The photo (bottom, left) shows the extra snacks that I carried, two items per day. I usually start snacking an hour after breakfast.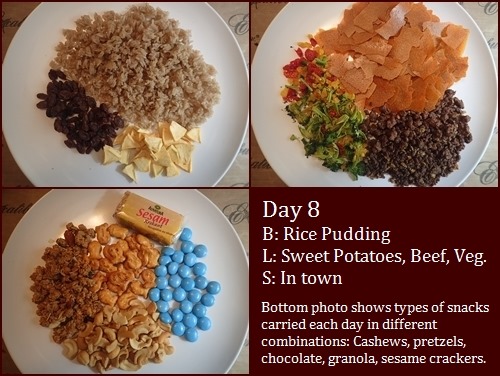 Ultra-Light Backpacking Food that's Ultra-Delicious
The packaged weight of this 8-day backpacking meal plan, including a 6-ounce block of cheddar cheese, was 10.25 pounds (4.6 kg). Average food weight per day: 1.28 pounds (.57 kg). I carried all eight days of food to start the hike, since I didn't have time to mail a food drop ahead.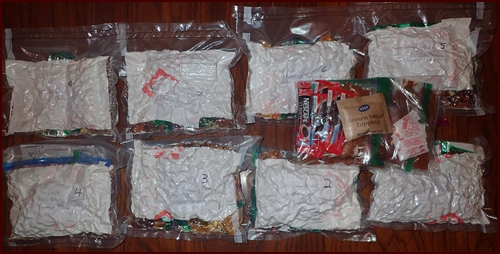 Backpacking meals and snacks vacuum sealed in daily rations.

This hike through West Virginia is included in my trail journal: 1001 Miles on the Appalachian Trail.

Start Your Own Backpacking Meal Plan:

Continue Reading...

6-day backpacking food plan for two
Share this page with friends on social media.