The Best Backpacking Food is Homemade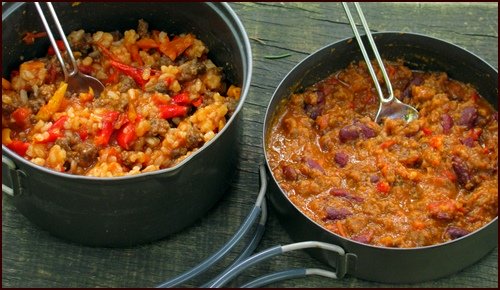 Want to eat the best-tasting backpacking food on the trail?
Forget the expensive freeze dried backpacking meals that require a magnifying glass to find the vegetables. Go for healthy, hearty meals you can make at home before you head to the woods.
Welcome to BackpackingChef.com, an entire website devoted to helping you learn how to dehydrate food, and how to assemble light-weight, nutritious backpacking meals. Here you will find over 100 trail-tested backpacking recipes for dinners, lunches, breakfasts, desserts, and snacks.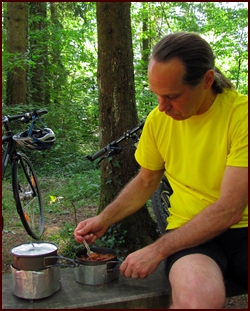 Greetings. Chef Glenn here.

Imagine sitting by a peaceful campfire after a beautiful hike in the forest. Wouldn't it be nice to savor the last moments of the day with a pot of homemade shrimp linguine?

That's what I thought.
When I started backpacking on the Appalachian Trail several years ago, I developed a complete menu of healthy backpacking recipes. In addition to tasting great, the trail meals packed light, kept well, and were easy to cook with a small backpacking pot and stove.

You, too, can make your own backpacking food: I'll show you how to dehydrate and assemble trail meals; and how to store and pack them safely. Learn how to easily rehydrate and cook healthy backpacking meals while watching the sun go down over the mountains. Soon your hiking meals will include risotto, ratatouille, and pumpkin pie.

If you're ready to start making the best backpacking food you will ever taste...


Pick a topic and let's get started!



Navigation: The main topics are listed down the left-hand column. These provide a lot of information and serve as mini table of contents to many more pages of recipes and techniques. At the bottom of every page are a few navigational choices, so you can continue on to the next recipe or go back to the table of contents for the topic you are reading.
I've also listed and linked to the main topics below with a brief introduction.

Backpacking Recipes
Breakfast, lunch, supper and dessert. Learn how to combine starches, meats, and vegetables into a great variety of delicious backpacking meals.

I include photos of every recipe, exact quantities for each ingredient, packing instructions, and how to rehydrate and prepare the meals on the trail with minimal effort and fuel.

Explore new backpacking recipes




Dehydrating Backpacking Food
Dehydrating food substantially reduces pack weight and preserves the food.

Learn how to dehydrate backpacking food including vegetables, meat, beans, fruit, sauces, and starches.

Check out the sweet potato bark backpacking recipe, a favorite trail snack that can be eaten dry or rehydrated into pudding.




Dehydrating Food Table of Contents




Packing & Storage
The longer the trip, the better it is to keep backpacking food well-organized and air and water-tight, so that it keeps well.

I pack my food into daily rations, which I vacuum seal. Breakfast, lunch, supper, dessert and snacks all go into one vacuum sealed bag.

Learn how to pack and store backpacking food.




Trail Cooking
Just about any backpacking pot and stove will work to heat and rehydrate the meals. With dehydrated meals, there's no need to rush the boil with a high-powered stove. All you need to do is reach a boil, and hold it for a minute or two. I'll show you how to cook efficiently with the simplest of alcohol stoves, and how to heat up sides and desserts with three tea light candles.

Learn how to cook dehydrated backpacking meals




---
Backpacking Recipe Books by Chef Glenn

Special Offer: Buy any one book and get $5 off each additional book.

Recipes for Adventure

| | |
| --- | --- |
| | If you like what you find on the website, you will love my cookbook, Recipes for Adventure. It covers everything from the website plus more recipes and dehydrating techniques. Nicely formatted with hundreds of photos, it is available as a PDF download for computer viewing or as a full-color printed edition. |
Amazon Reviews: "This cookbook is exactly what I needed to prepare for our first backpacking trip. Chef Glenn provides you with great tips, basic instructions, and helpful hints to make DELICIOUS meals for the trail. Chef Glenn has taken all the guess work out of preparing foods and makes it SIMPLE for anyone to use. If you spend some time with this cookbook you will be thrilled with what can be made, dehydrated, packed, and then re-hydrated and enjoyed on the trail. You will be glad you have this cookbook after trying the first meal you make! Side note: I tell everyone about this cool cookbook and my sister in law bought one for her and her daughter. Bon Appetit!"

"My girlfriend and I used tips and recipes in this book to feed ourselves two meals each day as we hiked the Appalachian Trail for five months in 2015. The book was very helpful and our meals were envied by most other hikers we encountered. We met several other hikers who also used this book and dehydrated all of their meals for the AT."

While most Appalachian Trail hikers are choking down each bite of their "ramen-bombs" each day, you'll be devouring every morsel of your homemade warm meals with REAL vegetables, tasty meat (that's not ANOTHER tuna packet), and well-seasoned goodness!"

Menu Planning & Food Drying Workbook

Use the workbook to plan your menus and estimate how much food to purchase and dry.

It's a great tool to go with Recipes for Adventure.
Recipes for Adventure Action Guide

A Step-by-step Action Guide to put together 31 dehydrated meals.

Includes the shopping list, drying instructions, meal assembly, cooking directions, and packing.

"When you keep a supply of dehydrated meals on hand – for adventure, work, and travel – you're automatically prepared for emergencies."
1001 Miles on the Appalachian Trail




Join me on an Appalachian Trail adventure from Georgia through West Virginia. The journal covers 1001 miles of rugged footpath, inspirational mountaintops, and unbounded nature.


Available in Paperback or Download.

when purchased with any other book.




---
Free 50-Page eBook
Home & Trail: An Introduction to Drying Food


Get my free, 50-page ebook with your subscription to Trail Bytes!
Receive one inspiring article per month with new backpacking food recipes and food dehydrating guidance.
Subscribe. It's free.

I'll send you a new article each month with backpacking food recipes, food dehydration tips, and trail cooking techniques.

You will also receive my 50-page e-book, Home & Trail: An Introduction to Drying Food.



---
Question? Ask the Chef
Contact: If you have questions or comments after exploring the website, feel free to contact me.

From the mailbag: "Thank you for all the work that goes into these great backpacking recipes and hints. We have used many of the recipes in preparing food for my son's hike on the Appalachian Trail. He leaves next Saturday from Georgia and will likely be packing some of the best backpacking food on the trail thanks to you sharing your work." – Carrie