DIY Backpacking Food that's Homemade & Delicious.

Are you tired of eating expensive freeze-dried backpacking food that's heavy on salt and light on vegetables?

Wouldn't you rather eat healthy, homemade backpacking meals?
Grab a spoon and let's get started!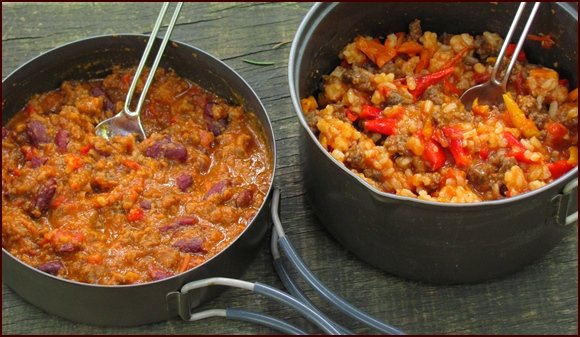 Welcome to Backpacking Chef.
An entire website devoted to helping you make light-weight, nutritious DIY backpacking meals.
Learn how to dehydrate food from A to Z, while exploring over 100 trail-tested backpacking recipes for dinners, lunches, breakfasts, desserts, and snacks.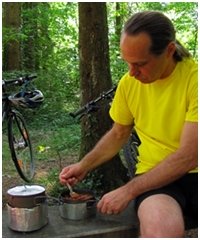 Greetings. Chef Glenn here.

When I set out for my first 30-day hike on the Appalachian Trail, I developed a complete menu of healthy backpacking recipes.
The meals tasted great, packed light, kept well, and were easy-to-cook with a small backpacking pot and stove.
What's on the Menu?
DIY Backpacking foods on the menu include chili, unstuffed peppers, risotto, ratatouille, taco mac & cheese, Thai peanut noodles, Thai curry, pasta marinara, shrimp linguine, and dozens more.
Vegetarian Meals & Cold-Soak Salads

There's a good selection of vegetarian backpacking meals, like lentil stew, and recipes for cold-soak salads like peach salsa rice salad.
Don't Forget Dessert!
Explore backpacking desserts like applesauce, peach crunch, banana pudding, fruit smoothies, and healthy hiking snacks like sweet potato bark and pumpkin pie bark.
| | |
| --- | --- |
| | Ready to hit the trail with delicious, homemade backpacking meals? |
Pick a Topic and Let's Get Started!


Backpacking Food Recipes
Table of Contents:
Find 100+ breakfast, lunch, dinner, snack and dessert recipes. Learn how to assemble dehydrated meats, vegetables, and starches into a great variety of delicious backpacking meals. There are also recipes for dehydrating whole meals.

Photos of every recipe are included with exact quantities for each ingredient, packing instructions, and how to rehydrate and prepare the meals on the trail with minimal effort and fuel.
Explore More Recipes:
Breakfast | Vegetarian | No-Cook | Desserts
Dehydrating Backpacking Food
Table of Contents:
Dehydrating Backpacking Food from A – Z
Dehydrating backpacking food substantially reduces pack weight and preserves the food.
Learn how to dehydrate vegetables, meat, tofu, beans, fruit, sauces, and starches.
Explore More Dehydrating Topics:
Dehydrating Fruit | Dehydrating Meat
Packing & Cooking Backpacking Food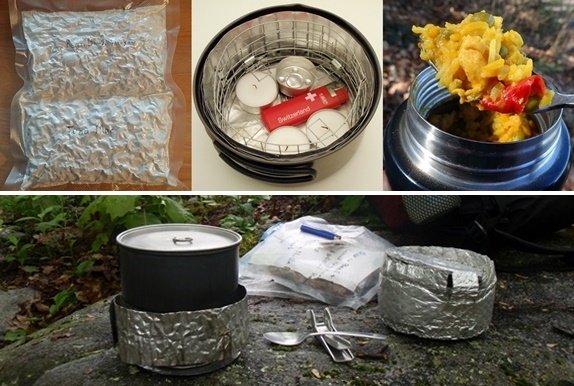 Backpacking Food Storage for Home & Trail

Keep backpacking food air and water-tight. Vacuum sealing and/or using oxygen absorbers will keep your trail meals well-preserved at home and on the trail.
Explore: Backpacking Food Packing & Storage.

Backpacking Stoves
How to cook DIY backpacking meals with a simple tea-light cup alcohol stove or three tea-light candles. Instructions for making light-weight pot supports and wind screens.
Explore: Backpacking Stoves.

Backpacking Cookware

Titanium or aluminum? Pot handle design is important. What to look for in a backpacking pot.
Explore: Backpacking Cookware.

How to Make a Pot Cozy

Save fuel and keep your backpacking meal hot while it rehydrates. Watch the instructional video.
Explore: Making a Pot Cozy.

Thermos Cooking

A thermos food jar is great for rehydrating dehydrated meals with either hot or cold water. Enjoy nutritious and convenient DIY backpacking food wherever you travel.
Explore: Thermos Cooking.
Backpacking Food Recipe Books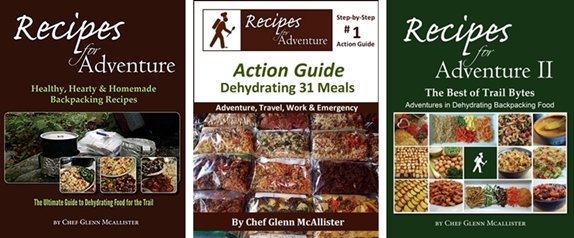 Recipes for Adventure: Healthy, Hearty & Homemade Backpacking Recipes
If you like what you find on the website, you will love my cookbook, Recipes for Adventure. It covers everything from the website plus more recipes and dehydrating techniques. Nicely formatted with hundreds of photos, it is available as a PDF download for computer viewing or as a full-color printed edition.

Recipes for Adventure Action Guide
A Step-by-Step Action Guide to put together 31 dehydrated meals.
Includes the shopping list, drying instructions, meal assembly, cooking directions, and packing.
"When you keep a supply of dehydrated meals on hand – for adventure, work, and travel – you're automatically prepared for emergencies."

Recipes for Adventure II: The Best of Trail Bytes
My newest cookbook features the best backpacking food recipes and dehydrating techniques collected from over 100 issues of my newsletter, Trail Bytes, plus new topics that will make your DIY backpacking meals as memorable as your adventures.
Explore Recipes for Adventure II


Menu Planning & Food Drying Workbook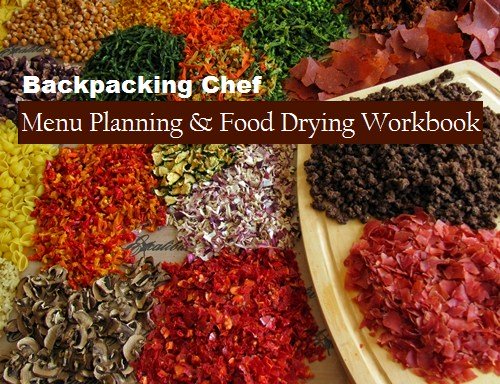 Use the workbook to plan your menus and estimate how much food to purchase and dry.
It's a great tool to go with Recipes for Adventure.
Free Backpacking Food Newsletter

Get started with a free e-book, Home & Trail: An Introduction to Drying Food, when you subscribe.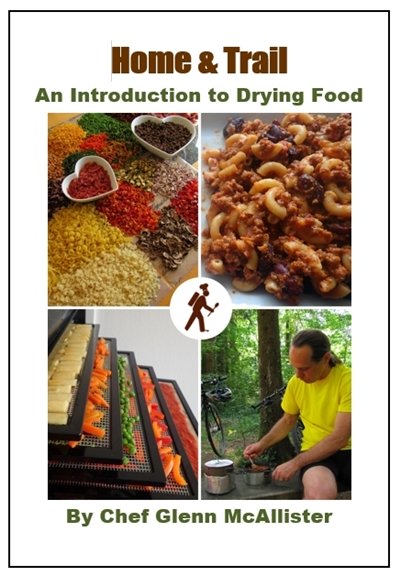 Each monthly edition of Trail Bytes delivers new backpacking food recipes and food dehydration techniques.

"Chef, There's no better time than now for the information on dehydrating food and the backpacking recipes in your newsletter. A very big thank you, keep up the great work." -Ray
Questions about Backpacking Food?

If you have questions or comments after exploring the website, feel free to contact Chef Glenn.
Stay inspired!
Follow Chef Glenn's posts on Facebook and get social with 12,000 DIY backpacking food enthusiasts.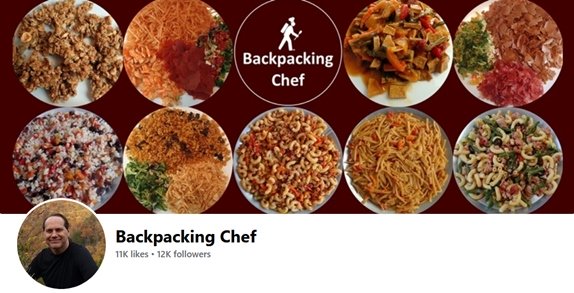 Explore the Backpacking Chef Facebook Page
Share this page with friends on social media.