Yellow Mung Dal
Shared by Barbara Bell, Eagle River, Alaska

Yellow Mung Dal is made from split mung beans. Similar to lentils, this legume cooks up fast, and fortifies the backpacking meals below with fiber and protein.


Photo above: Banyan Botanicals, Mung Dal.

Make a big pot-full following the recipe below, dehydrate it, and then divide it into smaller portions which can be enjoyed "as is" or combined with other ingredients.

Servings: 6+

Ingredients: 


3 cups Yellow Mung Dal (I used the "Khazana" brand, but there are many out there) 
6 cups Water or Chicken Broth
3 tsp dried Turmeric
2 tsp Salt
1 large Onion, diced
¼ pound Carrots, cut into small dice
1 Bell Pepper, any type, diced and deseeded with membranes removed
8 Cloves
Generous dash each: Cayenne Pepper, Garlic Powder, and Black Pepper.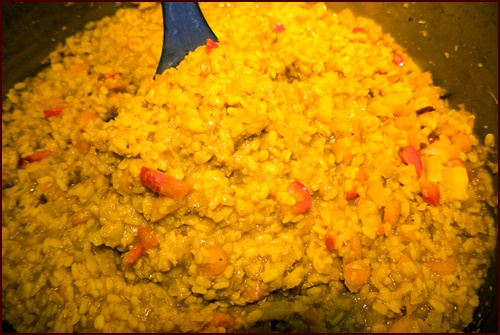 Cooking Yellow Mung Dal
Using no oil, in a nonstick pot (or if you must, using ½ tsp olive oil), sauté the onion until translucent and just starting to brown. Then add carrots, turmeric, salt, cloves, cayenne pepper, garlic powder, and black pepper. Sauté another two minutes.
Add the dried dal and water or broth. Bring to a boil, then cook on medium about twenty minutes, until dal is soft. Add the pieces of bell pepper and cook another four minutes. Doing it this way leaves the bell peppers a bit crunchy, thus giving the final product more texture. If you want the texture uniformly soft, add the pepper when you add the carrots.

Take the pot off the flame and cool it a bit. Taste for salt and add if needed.

Dehydrating Yellow Mung Dal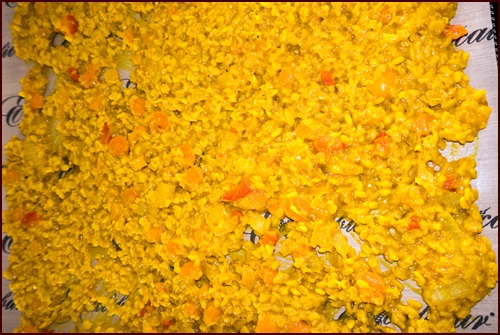 Photo above: Cooked Yellow Mung Dal on Excalibur Dehydrator tray.

Spread the mixture thinly on Paraflex sheets and dehydrate at 125 F for about ten hours. During the drying process, stir around and flip the mixture to expedite drying, breaking up pieces as you go. After drying, pull out the cloves. They've done their job and you don't want to be biting into them!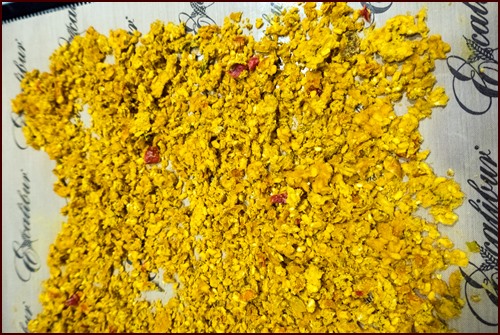 Photo above: Yellow Mung Dal after drying.

Serving/Packing:
Each backpacking recipe below makes one serving.

Plain Ole' Yellow Mung Dal

1 cup dried Mung Dal
1¼ to 1½ cups Water to Rehydrate

Yellow Mung Dal & Rice

¾ cup dried Mung Dal
¼ to ½ cup dried or instant Rice
1¼ to 1½ cups Water to Rehydrate

Yellow Mung Dal & Rice with Ground Meat

½ cup dried Mung Dal
¼ cup instant or dried Rice
¼ cup dried Ground Meat
1½ to 2 cups Water to Rehydrate

Yellow Mung Dal Jubilee

½ cup dried Mung Dal
⅛ cup dried or instant Rice
¼ cup dried Ground Meat
¼ cup dried Salsa
⅛ cup dried Peas
Extra garlic powder and cayenne to taste
1½ to 2 cups Water to Rehydrate

Barbara's Rehydration Method:

Start with boiling the larger quantity of water in the Jetboil. Pour the boiled water into the meal, which is in an aluminum pot. Then, put the pot on the Jetboil burner, and bring it to a boil for one minute. This takes hardly any time and is quicker than bringing it to a boil in the pot with the food. After one minute, take the pot off the flame and put it in an insulating pot cozy for about fifteen minutes. Retain some hot water in the Jetboil, and as the meal rehydrates, add more boiled water if needed.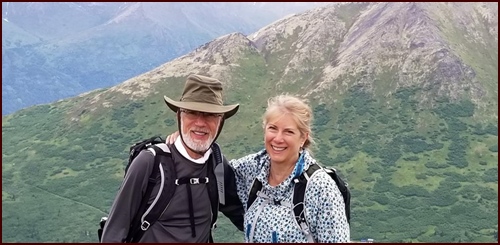 Photo above: Barbara & Nick Bell: Chugach Mountains, Alaska

Do you have a Backpacking Recipe to Share with Backpacking Chef Readers?

Click here to share your best backpacking recipe.

Free e-book

Home & Trail

An Introduction to Drying Food

Includes important food drying tips and food dehydrator recipes you can use right away.
Continue Reading...
Backpacking Recipes Shared by Readers
Backpacking Recipes by Chef Glenn

Share this page with friends on social media.