Backpacking Food Blog
The Backpacking Food Blog lets you know what's new at BackpackingChef.
No need to wait for the newsletter. Receive notification as soon as new backpacking recipes, food dehydrating tips, and trail journal entries are published.
Click on the RSS button at the bottom of the left NavBar to subscribe to the BackpackingChef RSS feed.
Pressure Cooking Chicken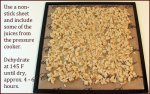 Chef Glenn's technique for pressure cooking chicken has a secret ingredient: a small potato. Learn how to pressure cook chicken that holds the flavor and can be dehydrated for backpacking meals.