Backpacking Recipes for Supper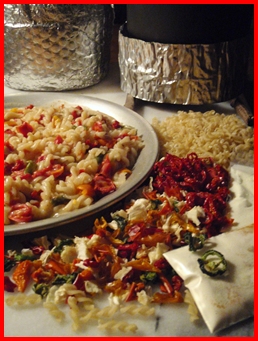 Dining out tonight?
Before you hit the trail, follow Chef Glenn's backpacking recipes in the comfort of your own kitchen to create simple home-cooked meals that can be dehydrated and packed up light and tight. In camp, using minimal fuel, combine meal with hot water and it's chow time.
Whether you're camped out at the base of Katahdin or drying out after a rainy day of puddle-hopping in the Smokies, my recipes will fuel your body with a healthy balance of meat, vegetables, and complex carbohydrates.
Recipes are for a single serving.
Increase the ingredients proportionally by 1.5 or 2 times if you have a large appetite or you are cooking for two in the same pot. Bon Appétit!
---
Chili & Stews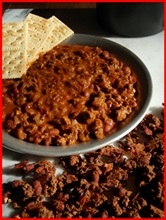 Cook a big batch, dehydrate, and divide into meal size portions.
Mary Ruth's 50+ year old recipe for Honeymoon Chili and Chef Glenn's Chili Mac.
Heat and eat for supper or munch out of the bag while hiking. This meal features yams, parsnips, turnips, and rutabaga with Moroccan spices and packs carbohydrates for energy.
This French summer vegetable stew combines eggplant, zucchini, peppers, onions, and tomatoes with garlic and herbs.
---
Assembled Backpacking Recipes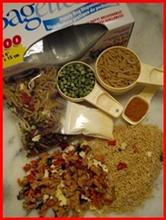 Dehydrate meats and vegetables separately and combine with rice, noodles, or potatoes.
Vegetarian Ramen Noodles, Ramen Noodles & Kraut, Cheese-O-Rama, Seafood Raminara, Spinach & Bean Raminara
Tuna with macaroni, tomatoes, onions, mushrooms, and peppers in a white cheddar cheese sauce.
Crab meat, a creamed sweet corn base, and celery, onions, tomatoes, and bell peppers.
Shrimp, grits, bell peppers, and onions.
Beef, beans, peppers, onions, tomatoes, and rice in a zesty cheddar cheese sauce with taco seasoning. Muy delisioso!
Dried pineapple and coconut add a touch of tropical sweetness to this backpacking meal.
Curry and chili powders combined with powdered milk give this backpacking recipe a Thai flavor.
---
Enhanced Meals

Divide the box contents into smaller portions and combine with dehydrated vegetables and meat.
Back to Nature® or Annie's® Macaroni and Cheese with added meats and vegetables. Three recipes: Ham and Cheese, Kickin' Veggie, and Beefy Mac 'n Cheese, Macaroni with Cheesy Tomato Sauce
Annie's® Beef Stroganoff with added ground beef and vegetables
Annie's® Cheesy Lasagna with added ground beef and vegetables
Annie's® Cheddar Herb Chicken – Cheesy sauce with added chicken and French cut green beans
Zatarain's® Spanish Rice with added ground beef and tomatoes
Zatarain's® Red Beans and Rice with added vegetables
Near East® Toasted Pine Nut Couscous with added meat and vegetables
Many packaged noodle, rice, and potato products commonly found in grocery stores achieve their flavor and consistency with partially hydrogenated oils, MSG, and excessive salt. Chef Glenn recommends that you read the labels and choose healthier products such as those pictured above for your backpacking recipes.
---
Bark Recipes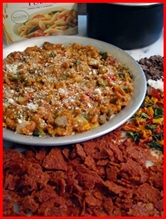 Bark Recipes
Blend and dehydrate starchy vegetables and pasta into Bark. Create flavorful, saucy backpacking meals such as Mashed Potatoes with Meat and Vegetables, Sweet Potatoes, Bean Bark Stew, Corn Bark Stew, and Pasta Marinara.

---
Recipes with Tomato Sauce
Tomato Sauce Leather Recipes
Give your backpacking meals an Italian flair with tomato sauce.
Learn how to make Tomato Sauce Leather.
Recipes: Unstuffed Peppers, Salsa Rice & Beans, Seafood Raminara, Spinach & Bean Raminara, Macaroni with Cheesy Tomato Sauce.
---
Continue Reading...
Finished looking at backpacking recipes? Click to return to home page.