Dehydrating Fruit
Dehydrating fruit is easy and fun. Cut the fruit into small, equal-sized pieces; spread in a single layer on the dehydrator trays, and crank up the dehydrator. It takes from 6 to 36 hours to dry fruit, depending on the juiciness of the fruit, but the wait is worth it when you taste the final product.
Dehydrating fruit concentrates the natural sugars so your pineapples and bananas will taste extra sweet on the trail. Choose mature, firm fruits for the highest sugar and nutritional content, but avoid bruised or overripe fruit. When dehydrating fruits such as apples with the skins on, thoroughly wash and rinse the fruit to remove any wax and pesticides.
On the trail, you'll maintain peak energy by snacking on dried fruit throughout the day. My recipes will give you simple ways to incorporate dehydrated fruit into your breakfasts, desserts, and trail mixes. Try cooking oatmeal with dried apples, raisins, and cinnamon, topped with crunchy granola for a quick-energy breakfast. I even slip pineapple and coconut into my recipe for Hawaiian Shrimp and Rice.
The range of drying times listed below for dehydrating fruit are what you could expect using an Excalibur Food Dehydrator. Factors such as humidity, the size and thickness of your fruit pieces, and the juiciness can all affect how fast fruit dries. Most fruit will be pliable or leathery when done, meaning you can bend it and it won't break. You can easily tear a piece of dried fruit in half and if no moisture beads up on the inside and there is no stickiness on the outside, it's done.
One of the features that I like about my Excalibur is its large capacity for dehydrating fruit- drying 30 pounds of Georgia peaches in one batch was no problem. I use the nine tray model which has 15 square feet of drying area. As an avid gardener, I load my Excalibur up when fruits and vegetables are in season.
Dehydrating fruit will fill your home with pleasant, fruity smells. If you are like me, you will get hungry and start snitching before the fruit is dry. Enjoy!
Thoroughly wash apples to remove pesticides and waxes that may be present unless you plan to peel off the skin. Because the skins contain nutrients, I leave them on.
You can core and slice apples into rings or cut them into whatever size pieces you like. I quarter the apples first and remove the core and stem with a sharp knife. I then cut the quarters into 1/8" slices.
Dehydrate at 135° until pliable (7 – 15 hours).
Because the flesh of apples turns a little brown when exposed to air (oxidation), some people dip their cut apples into a bath of water and sodium bisulfate or ascorbic acid for a couple of minutes before dehydrating. Treating apples with either of these anti-oxidants is safe and will prevent the fruit from browning. I am not bothered by the slightly darker color of my apples, so I skip the dip.
Approximately two processed medium apples will fit on one Excalibur Dehydrator tray.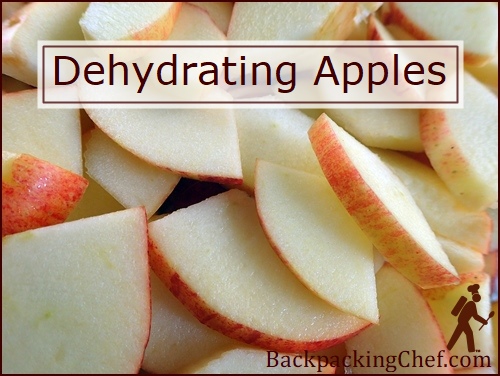 Recipes with Dried Apples:
Dehydrating Pears
Pears are dehydrated the same way as apples and are very sweet and delicious as a dried fruit snack.
Dehydrating Bananas
Choose yellow bananas with some brown speckles on the peel for maximum sweetness.
Peel the bananas and cut into 1/8" slices.
Dehydrate at 135° until leathery and there is no moisture when you break a piece in half. (6 – 10 hours)
Bananas can stick to hard plastic trays. Using a flexible polyscreen tray insert (standard with Excalibur Dehydrators) makes it easy to pop off dried bananas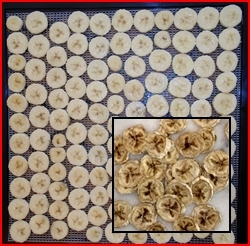 Recipes with Dried Bananas:
Dried bananas are great for snacking, but can also be used in breakfast and dessert recipes. You can also blend bananas with other fruits into fruit leather.
Dehydrating Pineapples
Remove the fibrous skin and core. You can cut up a pineapple any way you like, such as into ¼" thick rings, but I like to cut the pineapple into 3/4" thick rings first and then slice the rings cross-wise into thinner 1/8" pieces. The smaller pieces dry faster than larger chunks or rings and are the perfect size to use in recipes and trail mixes.
Dehydrate at 135° until pliable (10 – 18 hours). If you are dehydrating canned pineapple, it will take up to twice as long because of the extra juices.
Dehydrating Peaches
Thoroughly wash peaches to remove any pesticides if you plan to dehydrate with the skins on.
The skin can be easily removed by dipping the peaches in boiling water for one minute and then dipping in cold water. The skins will come right off. I skip the dip and cut away the skin with a sharp knife. The only reason I remove the skin is because I have a slight allergy to peach fuzz that gives me a rash around my mouth.
I cut the peaches in half, remove the pit, and then cut the halves into 1/8" slices. There is no absolute right or wrong way to slice and dice your fruit. Peel and slice one peach at a time to minimize browning.
Dehydrate at 135° until pliable (20 – 36 hours).
Dehydrating Cherries
Wash the cherries and remove the stems
Cut the cherries in half, remove the pit, and then cut the halves in two.
Place cherries on the dehydrator tray with the skin side down and begin dehydrating at 145° for two hours. Reduce temperature to 135° and dehydrate until leathery (12 – 15 hours).
Dehydrated cherries feel like raisins in your mouth.
Dehydrating Mangos
Remove the skin with a sharp knife and try to slice large chunks away from the pit. This is tricky because it's hard to tell exactly how the large, flat pit is oriented inside the flesh. Cut whatever size chunks you end up with into 1/8 inch slices.
Spread in a single layer on the dehydrator tray and begin dehydrating at 145° for two hours and then reduce the temperature to 135° until pliable (18 – 24 hours depending on the juiciness of the mangos you are working with).
Dehydrating Blueberries
Wash blueberries and remove the stems.
Place blueberries in a colander and dip in boiling water for 15 to 30 seconds to check the skins.
If you are concerned that dipping the berries in boiling water may kill valuable enzymes, you can skip the dip and cut the berries in half before dehydrating. Place the berries in a single layer on the dehydrator tray with the skin side down. Your blueberries will turn out crispier using this method.
Dehydrate at 125° until leathery (12 – 18 hours).
Dehydrating Strawberries
Wash strawberries and cut off the leafy crown.
Cut into 1/8 to 1/4 inch slices.
Place sliced strawberries in a single layer on the dehydrator tray and dehydrate at 135° until leathery and crisp (8 – 12 hours).
Dehydrating fruit is an easy way to get started with a new food dehydrator since all you have to do is cut the fruit and dry it. It keeps well in an air-tight container stored in a cool, dry place.
Continue Reading...