Need a Dessert Backpacking Recipe?
Every dessert backpacking recipe featured on BackpackingChef.com has been dreamed up, tested, and retested by Chef Glenn personally. It's a tough job, but somebody has to do it.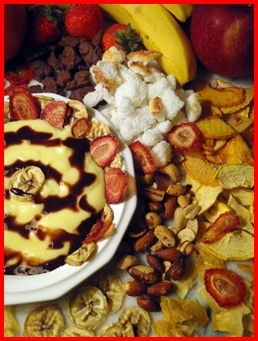 Once you have dipped dried strawberry and banana chips into warm chocolate sauce or instant pudding on a dreamy night in Appalachia, you'll pine for more of Chef Glenn's desserts.
But first, here's how to make warm chocolate sauce:
Put three or four heaping teaspoons of sweetened cocoa powder in a small pot. Add four teaspoons of water and stir. Light stove and warm sauce over low flame. Add additional water one teaspoonful at a time to achieve desired consistency, stirring continuously. Begin dipping in approximately ten minutes.
For more advanced desserts, wheedle bananas, pineapples, peaches, apples, or strawberries into a small pot over a gentle flame with compliments to the chef. Wheedle? That means to entice or influence by soft words or flattery. Just put the fruit in the pot! Throw in a little sugar, maybe some nuts, and combine with Chef Glenn's secret ingredients.
I'll share my secret ingredients with you because I know how much you like dessert. For starters, the secret ingredient in Pineapple Up-Side-Down Cake is dehydrated angel food cake.
Click on any dessert backpacking recipe that tempts you. You'll find photos and instructions on how to make the dessert. In the photos, I present your dessert on a plate so you can see the ingredients up close. On the trail, you will surely eat dessert right out of the pot or a small plastic cup.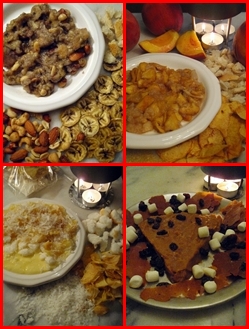 Pineapple Up-Side-Down Cake
Pumpkin Pie, Granny Smith's Pumpkin Apple Pie, Cherry Chocolate "Moose" Pie
Happy eating… and may you never lose your spoon.


---
Continue Reading...
Learn how to make fruit leather which can be turned into pudding or apple sauce with the addition of hot water.
Man cannot live by dessert alone; find a backpacking recipe for supper.