Vacuum Seal Bags for Daily Rations

For long section hikes involving mail drops, packing daily rations in vacuum seal bags protects my food supply in the boxes that I mail ahead as well as in my backpack when I load up. I carry between four and six days worth of food, stopping at trail towns to pick up mail drops for the next four to six days. Whenever possible, I send boxes to hostels instead of post offices, because post offices can be closed when I get to town.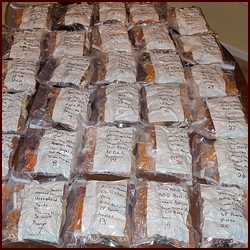 Vacuum Sealing…

Protects food from moisture which could cause mold growth.
Removes oxygen which preserves the nutritional quality and appearance of dried food by limiting oxidation.
Slows down rodents.
Compresses food so it takes up less space.
Keeps daily rations easily accessible and the remaining days undisturbed.

If heading out for only a few days and not doing resupplies, packing daily rations in gallon-size Ziploc bags is sufficient for most conditions and will still keep you organized. Canoe and kayak campers can see the advantages of vacuum sealing food for trips of any duration.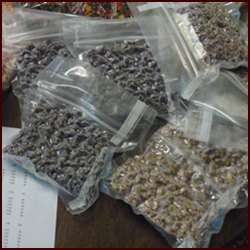 Meal & Snack Assembly
Pre-Assembly:
Store individual dried foods in jars with tight-fitting lids until you're ready to assemble the meals.
If it's going to be more than a month before you vacuum seal the meals, store dried meat in the freezer. Storing the meat that goes into the freezer in vacuum seal bags will save space and prevent freezer burn. Shown above.

Allow any container of dried food that you take out of the freezer to return to room temperature before opening; otherwise condensation may form on the food. If this happens, dry the food in the dehydrator for a little while.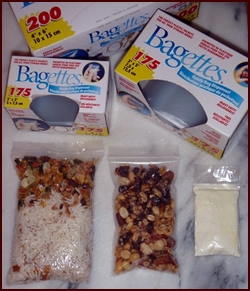 Recommended Bag Sizes:

4 X 6 or sandwich-size for meals and desserts
3 X 5 or snack-size for sides and snacks
2 X 3 or modified snack-size bags for milk and cheese powders.

Bagettes brand plastic zip bags can be purchased at most craft stores in 2 X 3, 3 X 5 and 4 X 6 sizes, but they are not FDA approved for food storage. I have used these and I'm still alive, but it's a better idea to go with food grade.

An online source for 2 X 3, 3 X 5 and 4 X 6 plastic zip style food grade bags is Clearbags.com.

My meals fit in 4 X 6 bags, but if you go with a larger portion then you will need to use sandwich size bags for one person or quart size bags for two people.


Tip: Glad brand snack-size bags can be cut into two 2 x 3 inch bags for packing milk and cheese powders. Cut the bag in two places two inches from each side. Reseal the cut sides with tape.

Ziploc and Glad brands are good quality bags to pack meals and snacks in. Wal-mart Great Value brand plastic bags are too thin and puncture easily. Dehydrated food may have sharp parts, so using thin plastic bags may cause the outer vacuum seal bag to fail.


Assemble Meals & Desserts

Pack Sides & Snacks

Now it's time to fill your plastic bags with all that healthy goodness you have dried or purchased.

Write down each day's menu on a paper towel and pull the items needed from the piles around the kitchen – it will look like an assembly line. Remember to allow anything that was in the freezer to return to room temperature before opening.

Refer back to your recipes and load up the bags with the ingredients. (1/2 cup of this, 1/4 cup of that, etc.)

Tip: A clean anti-freeze funnel (has a wider opening than an oil funnel) can make it easier to add ingredients to the small bags.
Photo: Mexican Beef & Rice packed in a sandwich size bag. Seasonings packed in 2 X 3 bags.
All Packed and Ready for Vacuum Sealing

Leave bags unsealed. Put a small slip of paper between the seals of the bags to keep them from sealing all the way. When you vacuum seal the outer bag, the air will get squeezed out of the small bags inside. Exception: Close the 2 x 3 bags containing powders since the powders will have displaced the air already and you don't want any powder to get sucked into your vacuum sealer.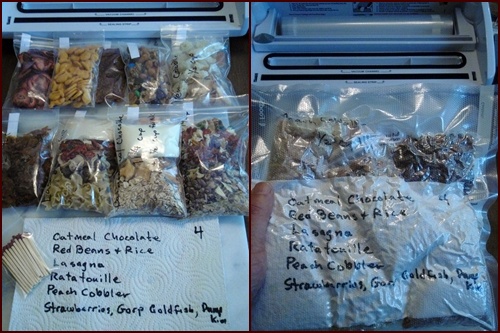 Daily Rations go into Vacuum Seal Bags

Cut the continuous eleven-inch wide rolls twelve inches long or longer if needed. The vacuum sealer that I use has a sliding cutter that makes it easy to cut bags.
Seal one end of the bag.
Fill the bag with your food for the day.
Enclose a paper towel with your menu written on it. Enclosing a second paper towel below the food can help reduce the chance of sharp dried food piercing the delicate lining of the vacuum seal bags. The paper towels come in handy for clean-up and for toilet paper.
Results are not perfect. In my experience, the seals fail about 25% of the time. This is usually the result of sharp food. If a seal fails, you will know it within 24 hours and you can see that the contents of the bag are no longer scrunched up.

Each day's rations weigh about a pound and a half.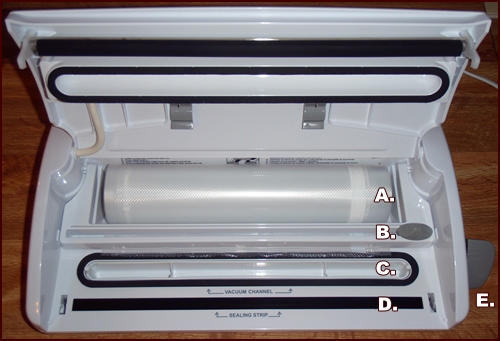 The inside of my FoodSaver® GameSaver® vacuum sealer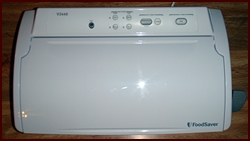 A. Compartment for continuous vacuum seal bags
B. Sliding bag cutter
C. Vacuum channel where you place the open end of the bag
D. Sealing strip
E. Knob locks lid and holds bag in place while sealing

Shop for FoodSaver® Vacuum Sealers and Vacuum Seal Bags at Amazon.com:

FoodSaver GameSaver Deluxe Vacuum Sealing Kit
---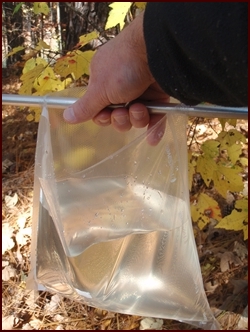 Continue reading…

Vacuum seal bags make great camp water bags.

The Backpacking Chef Menu Planning & Food Drying Workbook helps you estimate how much food to purchase and dry for your next adventure.