Vacuum Seal Bags for Packing Daily Rations
I seal each day's food rations - meals, snacks, and desserts - in vacuum seal bags. Vacuum sealing protects my food rations from possible moisture inside my pack or while hanging above the bears from a tree all night. The food, not me! Vacuum sealing keeps my food organized and compressed so the food takes up less space.
Vacuum seal bags come in quart and gallon sizes or in continuous 8" or 11" wide rolls. You save money with the rolls because you cut exactly the length you need without waste. I use 11" wide rolls.

My first step in planning food for a trip is to write up a menu. The menu includes everything I will eat each day – breakfast, lunch, supper, side, dessert, and snacks. Using an improvised Excel spreadsheet, I break down the meals into ingredients and then add them up so I know how much of each food to dry. My Excalibur dehydrator runs night and day when preparing for a long hike.
I store the dried foods in recycled jars until I'm ready to assemble the foods into meals. Glass jars protect your dried food from the occasional mouse in the house and moths. If it's going to be awhile before I vacuum seal the meals, I store dried meat and seafood in the freezer in vacuum seal bags or regular food storage bags to save freezer space.
Bagettes Craft Bags
I used to pack food in "Bagettes" brand plastic bags which I purchased at a craft store. I have since learned that these bags are not FDA approved for food storage.
Another source for conveniently sized plastic bags which are FDA approved for food storage is www.clearbags.com.
I pack dried food in three sizes of plastic bags: 4 X 6 or sandwich size bags for meals and desserts, 3 X 5 or snack size bags for sides and snacks, and 2 X 3 or modified snack size bags for milk and cheese powders.

Ziplock and Glad brands are good quality bags to pack meals and snacks in. The Wal-mart Great Value brand plastic bags are too thin and will puncture easily.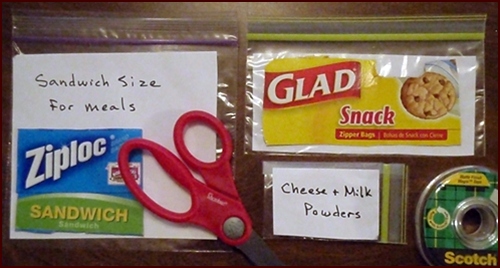 Tip: Cut down Glad snack size bags into two 2 x 3 inch bags for packing milk and cheese powders. Cut the bag in two places two inches from each side. Reseal the cut sides with tape.



Breakfast
4 X 6 or sandwich size bags. I enclose vitamins in the breakfast bags. (Cod Liver Oil, Vitamin C, and a Multi-Vitamin). Notice that some of the bags have 2 X 3 bags of milk powder enclosed and others have 3 X 5 bags of goldfish enclosed (for adding cheddar flavor to grits).

Lunch
4 X 6 or sandwich size bags. Same portion as supper without the side and dessert.

Supper
4 X 6 or sandwich size bags. One pot meals – starch, meat or beans, and vegetables.

Sides
3 X 5 or snack size bags. An extra serving of vegetables cooked in my mini-pot over candles.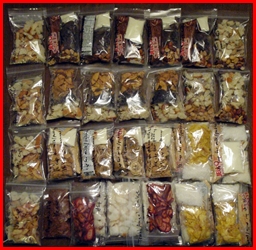 Desserts
4 X 6 or sandwich size bags. Dried fruit and/or nuts with extra goodies like pudding, cake, and chocolate syrup.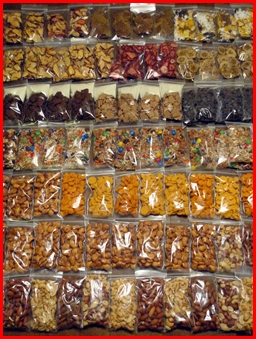 Snacks
3 X 5 or snack size bags. Individual servings of Nuts, Trail Mix, Dried Fruit, Sweet Potato Bark, Pumpkin Bark, Pretzels, Gold Fish, Annie's Bunnies. Four or five snacks per day.

Vacuum Seal Daily Rations to Protect Your Food & Stay Organized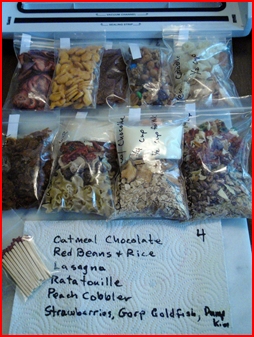 Daily Rations go in One Bag
Once everything is bagged, I vacuum seal the daily rations. I write down each day's menu on a paper towel and pull the items needed from the piles around the kitchen – it looks like an assembly line. I cut the continuous eleven-inch wide rolls twelve inches long, sealing at both ends.
Inside Bags Left Unsealed
I put a small slip of paper between the seals of the inner bags to keep them from sealing all the way. When I seal the outer vacuum seal bags, the air gets removed from the small bags inside, too.

Enclose Two Paper Towels
It's a good idea to enclose a second paper towel below the food to help reduce the chance of sharp dried food piercing the delicate lining of the vacuum seal bags. The paper towels come in handy for clean-up and for toilet paper. Each day's rations weigh about a pound and a half.

I box the rations and mail them to my drop ship points. I send them to hostels near the trail where I plan to stay or to post offices. I set out with four to six days rations after each resupply.
Before I sat down to write this page, I ate Bean Bark Stew and Apple Pie which I had bagged ten months earlier as described above. The food sat for several weeks at the Fontana Dam Post Office in my mail drop. I ended up not needing it and sent it home. The food was in great shape after ten months. Even the bread crumbs for the Apple Pie were still crunchy.
I had packed Sweet Potato Bark for a snack, but the pressure of the vacuum sealing caused the Bark to stick together. I separated the Bark into clumps and put it in a pot with water over candles. Ten minutes later I had steaming mashed sweet potatoes. I was giddy eating them because it reminded me of those glorious days on the Appalachian Trail.
If you dry your food well and protect it from air and moisture in vacuum seal bags, your dried trail food can last a full year – long enough for a thru-hike.
Continue reading…
---