Sources for Dehydrated Vegetables and Freeze Dried Meat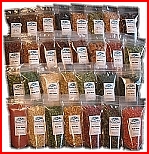 Harmony House Foods
Dehydrated vegetables and beans from Harmony House Foods get you cooking if you don't have time to dehydrate your own. All the dried vegetables and beans you need for Chef Glenn's backpacking recipes are available.
Dehydrated Vegetables:
Dehydrated Green Beans, Broccoli, Cabbage, Carrots, Celery, Chives, Corn, Jalepeno, Leeks, Mixed Vegetables, Mushrooms, Onions, Peas, Bell Peppers, Potatoes, Shallots, Spinach, Sweet Potatoes, Tomatoes, Tomato Powder, Zucchini.
Harmony House Foods sells dehydrated vegetables in several size options including 1-cup (approximate) zip pouches and quart-size jars. A vegetable serving size for most of my recipes is ¼ cup, so you will get approximately four servings from a pouch or sixteen servings from a jar. You save money on the larger quantity. For vegetable sides to go with supper, I use ½ cup. As an example, you'll get approximately eight sides of corn from a quart jar at about $1.86 per serving. Not bad considering they do all the work. You also save money if you buy the Backpacking Kit which includes eighteen zip pouches of assorted dehydrated vegetables and beans.
Dehydrated Beans:
Dehydrated beans are a great source of protein in your backpacking meals and are good for your heart, so they say. Beans split open when dehydrated, exposing their lighter inside color. This does not affect the nutritional value and actually helps them rehydrate quickly.
Available Dehydrated Beans: Black, Garbonzo, Kidney, Navy, Northern, Red, Pinto, Lentils, Split Peas
Freeze Dried Fruit:
Harmony House Foods sells freeze dried fruit in quart-size jars and larger quantities. I use lots of fruit for breakfast recipes, snacks, and dessert recipes. Freeze dried fruit maintains its original size, while dehydrated fruit shrinks to half or more of its original size. To get approximately the same amount of calories as dehydrated fruit, double the quantity of fruit called for in the recipe if using freeze dried fruit.
Available Freeze Dried Fruits: Blackberries, Blueberries, Strawberries, Raspberries, Cherries, Apples, Apricots, Bananas, Mangoes, Papaya, Pineapple, and Kiwi.
Harmony House also sells vegan dehydrated soups.
Harmony House Foods does not sell any dehydrated meats, but they do sell a TVP (textured vegetable protein) beef substitute made from highly processed soy beans. I don't recommend TVP. From personal experience and other reports, it disrupts the digestive system.
Click here to visit Harmony House Foods


---
Wilderness Dining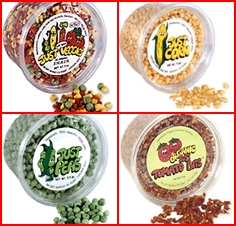 Wilderness Dining is another source for ingredients to use in Chef Glenn's recipes, especially freeze dried meat.
Freeze Dried Meat:
Freeze Dried Beef, Chicken, and Turkey from Backpackers Pantry, Richmoor, Alpine Aire, and Mountain House. Diced meat is available in pouches up to 16 servings, and they also have freeze dried ground beef and diced meats in #10 cans. When using freeze dried meats in Chef Glenn's recipes, double the quantity and add a little extra water.
Wilderness Dining has a few dehydrated vegetables – Garlic, Onion, Tomatoes, and Carrots – and the rest are freeze dried. Freeze dried vegetables retain their original size, so use twice the amount called for in the recipe and add a little extra water.
Freeze Dried Vegetables: Roasted Veggies Mix – Corn, Carrots, Peas, Tomatoes, Red Bell Peppers, and Freeze Dried Corn, Peas
Freeze Dried Fruits: Apples, Apricots, Berry Mix, Blackberries, Blueberries, Grapes, Strawberries, Raspberries, Bananas, Cherries, Cranberries, Mango, Papaya, Peaches, Persimmons, Pineapple, Pomegranate
For snacking, many people prefer the texture and full size of freeze dried vegetables and fruits over dehydrated varieties.
Freeze Dried Meals:
If you don't have time to make your own, Wilderness Dining offers a wide variety of freeze dried backpacking meals, too.
Click here to visit Wilderness Dining


---


See how Chef Glenn uses dehydrated vegetables in his backpacking recipes.