Sources for Freeze Dried & Dehydrated Vegetables, Fruit, Beans, Meat, Cheese
Freeze dried and dehydrated vegetables, fruits, beans, meat and cheese from Wilderness Dining, Harmony House Foods and FoodStorage.com get you cooking if you don't have time to dry your own.
FoodStorage.com also offers Real Freeze Dried Cheddar and Mozzarella Cheese!
Scroll down to see the offerings from each of these suppliers.


FoodStorage.com

Cheese adds needed fat, vitamins and cheesy flavor to backpacking meals, but a block of cheese is heavy to carry and may spoil after a couple days in hot weather.
FoodStorage.com has now blessed us with real freeze dried cheddar and mozzarella cheese. It's light weight and won't spoil.
A 1/8 cup of freeze dried cheddar cheese adds 85 calories to a meal.
Note from Chef Glenn:
I included this freeze dried cheddar cheese (1/8 cup) in several meals on a recent backpacking trip and enjoyed it. For best results, add it at the beginning of the cooking process with the rest of the ingredients in the meal. Soak five minutes, bring to a boil, then remove from stove and let sit ten minutes. The cheese will completely melt into the meal.
It added a nice cheesy flavor to scrambled eggs, several rice dishes and a pot of chili.
I used the FoodStorage.com powdered milk in macaroni and cheese, scrambled eggs, and curry chicken and rice, and it worked well. If adding the powdered milk to hot coffee, mix it up first in a little luke warm water. If you add it directly to the hot coffee it tends to form clumps.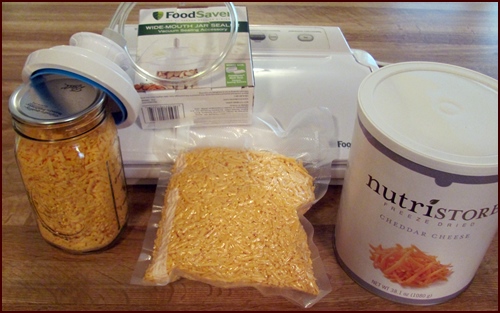 A #10 can provides a lot of cheese. After you open the can, vacuum seal what you don't use in vacuum seal bags or store it in mason jars sealed with a FoodSaver Wide-Mouth Jar Sealer so that it  remains fresh for the next backpacking trip. The jar sealer accessory sells for under $10 and will save you money on vacuum seal bags because you can use what you need from the jar and then reseal it.
FoodStorage.com specializes in long term food storage. Freeze dried vegetables, fruit and meat have a 25 year shelf life and dehydrated vegetables have a 10 year shelf life.
In addition to freeze-dried cheese and milk, they also sell:
Dehydrated Vegetables:
Cabbage, Carrots, Potatoes, Sweet Potatoes, Tomatoes.
Freeze Dried Vegetables:
Broccoli, Corn, Green Beans, Peas, Onions, Potatoes
Freeze Dried Fruit:
Bananas, Peaches, Pineapple, Raspberries, Strawberries. Apples are dehydrated.
Beans:
Their black and pinto beans are not precooked and dried, so you couldn't use them in backpacking meals without cooking and drying them first.
The best source for dehydrated beans is Harmony House further down the page.

Freeze Dried Meat:
Chicken, Ground Beef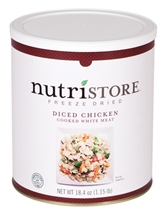 Visit:

---
Harmony House Foods

Harmony House Foods sells dehydrated vegetables in several size options including 1-cup (approximate) zip pouches and quart-size jars. A vegetable serving size for most of my recipes is ¼ cup, so you will get approximately four servings from a pouch or sixteen servings from a jar. You save money on the larger quantity.
You also save money and get a good assortment if you buy the Harmony House Backpacking Kit which includes eighteen zip pouches of assorted dehydrated vegetables and beans.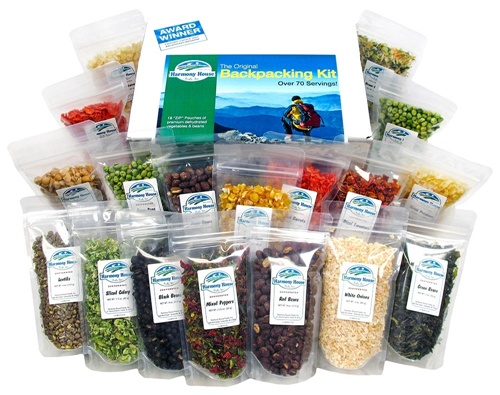 Dehydrated Vegetables:
Dehydrated Green Beans, Broccoli, Cabbage, Carrots, Celery, Chives, Corn, Jalepeno, Leeks, Mixed Vegetables, Mushrooms, Onions, Peas, Bell Peppers, Potatoes, Shallots, Spinach, Sweet Potatoes, Tomatoes, Tomato Powder, Zucchini.
For vegetable sides to go with supper, I use ½ cup. As an example, you'll get approximately eight sides of corn from a quart jar at about $1.86 per serving. Not bad considering Harmony House does all the work.
Dehydrated Beans:
Dehydrated beans are a great source of protein in your backpacking meals and are good for your heart, so they say. Beans split open when dehydrated, exposing their lighter inside color. This does not affect the nutritional value and actually helps them rehydrate quickly.
Available Dehydrated Beans: Black, Garbonzo, Kidney, Navy, Northern, Red, Pinto, Lentils, Split Peas
Freeze Dried Fruit:
Harmony House Foods sells freeze dried fruit in quart-size jars and larger quantities. I use lots of fruit for breakfast recipes, snacks, and dessert recipes. Freeze dried fruit maintains its original size, while dehydrated fruit shrinks to half or more of its original size. To get approximately the same amount of calories as dehydrated fruit, double the quantity of fruit called for in the recipe if using freeze dried fruit.
Available Freeze Dried Fruits: Blackberries, Blueberries, Strawberries, Raspberries, Cherries, Apples, Apricots, Bananas, Mangoes, Papaya, Pineapple, and Kiwi.
Harmony House also sells vegan dehydrated soups.
Harmony House Foods does not sell any dehydrated meats, but they do sell a TVP (textured vegetable protein) beef substitute made from highly processed soy beans. I don't recommend TVP. From personal experience and other reports, it disrupts the digestive system.
Click here to visit Harmony House Foods
---
Wilderness Dining


Freeze Dried Meat:
Freeze Dried Beef, Chicken, and Turkey from Alpine Aire, Backpackers Pantry, Richmoor, and Mountain House. Freeze dried meat is available in pouches up to 16 servings and in #10 cans. When using freeze dried meats in Chef Glenn's recipes, double the quantity and add a little extra water.
Dehydrated Vegetables:
Garlic, Onion, Tomatoes, and Carrots – and the rest are freeze dried.

Freeze Dried Vegetables:
Roasted Veggies Mix – Corn, Carrots, Peas, Tomatoes, Red Bell Peppers, and Freeze Dried Corn, Peas.

Freeze Dried Fruits:
Apples, Apricots, Berry Mix, Blackberries, Blueberries, Grapes, Strawberries, Raspberries, Bananas, Cherries, Cranberries, Mango, Papaya, Peaches, Persimmons, Pineapple, Pomegranate
For snacking, many people prefer the texture and full size of freeze dried vegetables and fruits over dehydrated varieties.
Freeze Dried Meals:
If you don't have time to make your own, Wilderness Dining offers a wide variety of freeze dried backpacking meals, too.
Click here to visit Wilderness Dining
---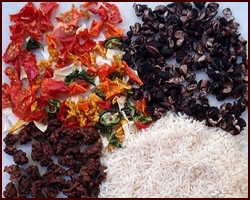 Continue Reading...
Backpacking Recipes with Dehydrated Vegetables & Meats
How to Dehydrate Food - Save Money and Do it Yourself!

A tip for the chef: Chef Glenn participates in referral programs offered by trusted suppliers featured on this page. When you make a purchase after following one of the links, Chef Glenn receives a small commission.