Tricorner Knob Shelter to Icewater Spring Shelter, 12.6 miles
JUNE 13

Back on the trail after a pot of apple-crunch oatmeal, I followed ridges up and down over the high elevations of the Great Smoky Mountains—with glorious views at every turn. The trail was rocky, which slowed me to an appropriate pace to take in the grandeur. I stopped for lunch—sweet potato bark, nuts, and a plain tortilla—on a rocky outcrop at Bradley's View. Two neighboring mountains joined in a deep V in front of me, and I could see a long way through the valley to distant mountains.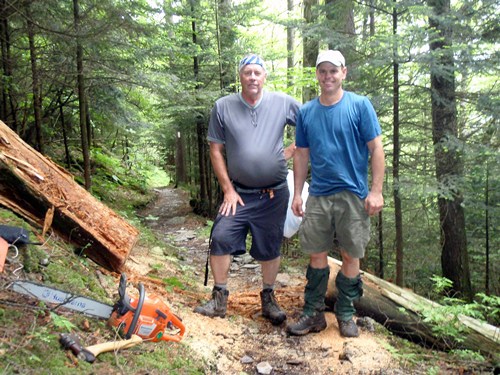 I heard a chainsaw and soon came upon James and Tom, volunteer trail maintainers from the Smoky Mountains Hiking Club. They were clearing the trail of a dead spruce tree that had fallen across—another victim of invasive balsam woolly adelgids, which have decimated the spruce firs in the Smoky Mountains. Since we were both low on water, Tom took me down an overgrown trail to a piped spring past False Gap Shelter, which had been abandoned in 1965. Only the rock walls remained. A bear had chewed on the end of the plastic pipe at the spring.

Tom let me use his cell phone after we hiked back up. I was happy to reach one of my daughters. Melanie said all was well back home, but Rocky was limping. She also told me to prepare myself for a big surprise when I got home—my other daughter was talking about getting engaged.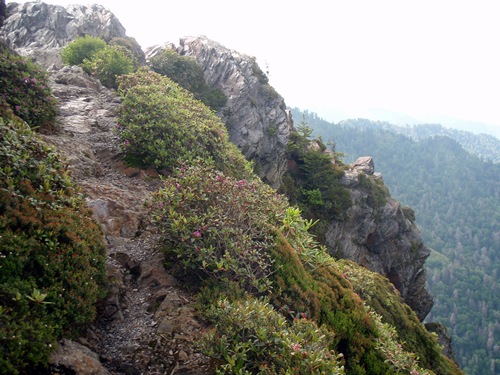 Four miles later, still on the ridge, I walked along the scenic outcrops at The Sawteeth and Charlies Bunion with views of the craggy mountains and deep valleys.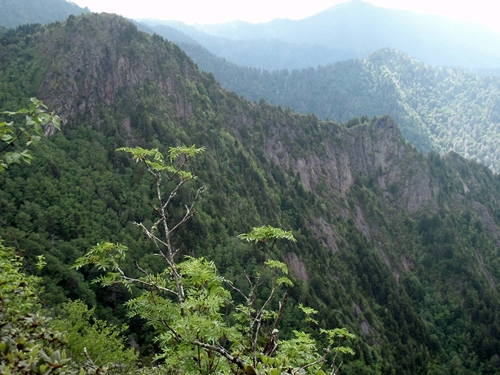 Ascending another mile, I reached Icewater Spring Shelter, near six thousand feet elevation, early evening. Five campers were already there, eating freeze-dried meals. I cooked cheddar-herb chicken and ratatouille with pineapple upside-down cake for dessert. A teenager didn't finish his meal and asked his father what he should do with it. He told him to scrape it into the privy. I politely told them that food in the privy would attract bears. The young man took a few more bites and his father finished the meal.

A short while later, after everybody had gotten their food bags hung from the bear cables, a bear came and swiped at the cables, trying to shake loose a bag. We all shouted at the bear—from a safe distance—and he walked away in no particular hurry. The father-son team got a nice fire going in the fireplace of the shelter, and I positioned my damp socks nearby. More hikers arrived after dark, filling the shelter to capacity. I occupied my usual spot against the wall. A mouse nibbled on my thumb during the night. He didn't break the skin, so no harm done.
Next Day:
Icewater Spring Shelter to Double Spring Gap Shelter
Previous Day:
Standing Bear Hostel to Tricorner Knob Shelter
Table of Contents:
Share this page with friends on social media.