Locust Cove Gap to Nantahala Outdoor Center in Wesser, NC, 10.5 miles
JUNE 19

Birdsong filled the air at sunrise, as it had most mornings over the past month. After breakfast—granola with bananas and milk—I folded up my tarp for the last time and headed for Cheoah Bald—a steep climb over two miles. It was hazy up there with no view. The last eight miles to Nantahala Outdoor Center, after one short blip, were downhill. Midway down, I sat on a log along the trail and took off my boots and socks. The nail of one of my big toes was tender and red. The other big toenail was purple—wet boots had taken a toll.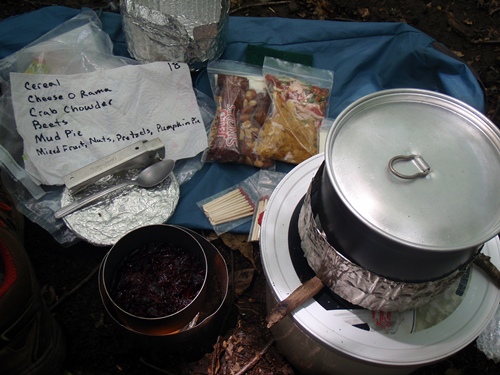 My last lunch was ramen noodles with ham and peas in cheese sauce, plus a side of beets and chocolate pudding for dessert. Dawdling on, I took one last whiff of every flowering plant that caught my eye. A garter snake stretched over a patch of moss, a red-spotted newt plodded over a rock, and then a black-and-yellow millipede marched by—all good excuses to linger. I was in no hurry to leave the forest.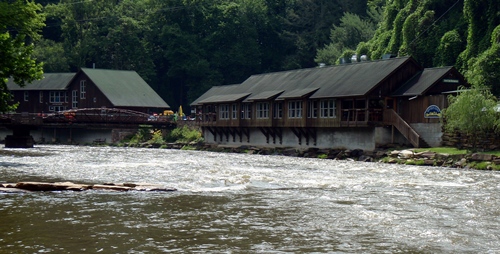 Beginning the final steep, mile-long descent to Nantahala Outdoor Center, I glimpsed the Nantahala River with its accompanying set of railroad tracks—every major river through the mountains came with a railroad. At the bottom, I crossed the tracks and entered the bustling world of the NOC. Buses shuttled rafts and life-vested revelers up and down the river. I sat in front of the outfitter store—with a pint of ice cream and an iced tea—and watched the flurry of activity. Then, I checked in to a bunkroom, washed clothes, took a shower, and wrapped up the evening with a cheeseburger, fries, and beer at the River's End Restaurant.

The next day, I floated down the river in a ducky and spent another night at the NOC. My friends, Gary and Cindy, picked me up on Sunday. Driving home, Gary said something about me was different.

AFTER THE HIKE

The day after getting home, I sat at my desk making sales calls. I was grateful to have work, but my heart beat for the woods. I kept my beard a while longer. While hiking with friends the next weekend, they said the same thing as Gary, "There's something different about you." Tina said I looked contented, at ease.

The sunsets and sunrises, the campfires and pulsing nights, the blue sky in the palm of my hand, the storms, the hooting owls, calling birds, and kindred souls—they all were inside me now. Nature's rhythm. Nature's wild call. Calling me back to the Appalachian Trail.
---
The next hike covers 382 miles from Damascus, VA to Waynesboro, VA. I hiked northbound with the thru-hikers.
Special Offer: Continue reading 1001 Miles on the Appalachian Trail (PDF Download) for free when you buy any other book: Recipes for Adventure I and II, Menu Planning & Food Drying Workbook, or The Action Guide: Dehydrating 31 Meals.

---
Share this page with friends on social media.