Standing Bear Hostel to Tricorner Knob Shelter, 15.6 miles
JUNE 12

I purchased and cooked three eggs from the commissary for breakfast. My boots had dried overnight, thanks to the electric boot drier in the bunkhouse. Curtis Owen, the hostel owner and artisan, shuttled me to the ranger station, to pick up a Smoky Mountains backcountry permit, and then to the trail. As I walked into the forest, I realized I had left my hiking poles back at the hostel. Luckily, I caught Curtis before he pulled away, and we went back for them.

The hiking this first day in Great Smoky Mountains National Park was mostly uphill, but the first thirty-five-hundred-foot ascent was gradual and not too difficult. Fog socked in the forenoon, so there was no view from the Mount Cammerer fire tower at five thousand feet elevation. The tower had a rock foundation and windows all the way around the circular top story.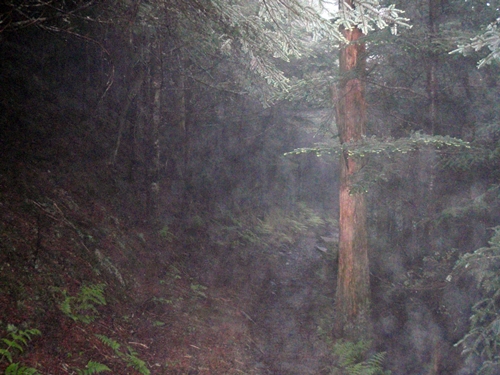 As I came down from the summit, the scenery was beautiful. The trail wound through stands of dense evergreens and rhododendron tunnels. Ferns, leafy green plants, delicate grasses, and carpets of moss grew all along the trail. Fog and shadows gave the understory a dreamlike quality.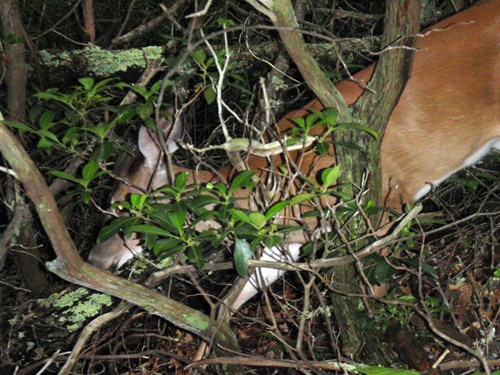 A deer walked down the trail toward me. I stopped. She kept coming. At ten feet away, she nonchalantly stepped three feet off the trail and walked around me. Later, I met a rabbit on the trail. He stood still while I took one step around him.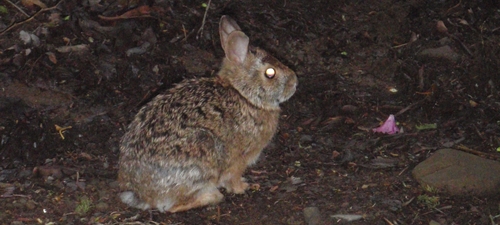 I stopped at Cosby Knob Shelter for a late hot lunch—Spanish rice with ground beef and tomatoes. The shelter was a major upgrade from most of the shelters I had seen so far. It had lots of space under the roof and a fireplace built into the solid-rock wall on one side. I still had eight miles to go before reaching Tricorner Knob Shelter—it would be dark when I got there; this was probably my last meal of the day.

A bear was reportedly hanging around Tricorner Knob Shelter. I was told that a ranger had slept at the shelter two nights earlier and had shot the bear with a beanbag shotgun. A shot to the rump with a beanbag filled with lead shot traveling at two hundred feet per second discourages a bear from coming back—without killing him. The strategy doesn't always work. Sometimes bears are tranquilized and relocated; occasionally, they are killed if they keep coming back and become aggressive.

Eight thru-hikers were at Tricorner Knob Shelter when I arrived at 8:00 p.m.—surprisingly, before dark. Everybody was cooking, so I joined in with a pot of pasta marinara with ground beef, a side of ratatouille, and vanilla pudding with graham crackers and warm bananas for dessert. There were three young men who had recently graduated from college; they had grown up in the same town but had attended different colleges, so their thru-hike was a reunion for them.

I hung my food bag from the bear cables. Before Tricorner Knob Shelter was renovated with the addition of its more spacious roof, it had had a chain link fence across the front to protect the people inside from bears—like a zoo in reverse. Most shelters in Great Smoky Mountains National Park once had fences across the open side. They were removed because some people passed food through to the bears on the other side. I slept with all my dry clothes on due to the cold air and mist that rolled in. The fire in the fireplace died out and didn't provide warmth. There was no sign of the bear.
Next Day:
Tricorner Knob Shelter to Icewater Spring Shelter
Previous Day:
Groundhog Creek Shelter to Standing Bear Farm
Table of Contents:
Share this page with friends on social media.