Pot Cozy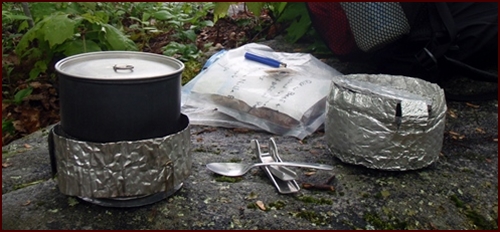 Pot Cozy on right

I let my meal sit for ten minutes after I remove it from the stove to finish rehydrating. Transferring the pot to a cozy holds in the heat so the meal stays nice and hot. Because I eat out of the pot, it's nice to have the insulation around the hot pot so I can hold the pot in my hand or lap when there is no table.
The meal will continue to cook because of the retained heat, so a cozy saves fuel. For most meals, all you have to do is hit the boiling point, shut off the stove, and transfer the pot to the cozy. For pasta, maintain a boil for at least two minutes, but then the cozy will finish the job.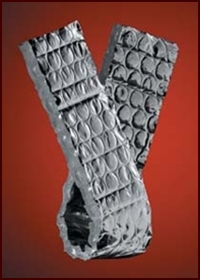 Reflectix™ Material
You can make your own pot cozy with Reflectix™ material and some foil tape found in the insulation department of hardware stores. I have also found it at Walmart.
Reflectix™ is two layers of plastic bubbles sealed with reflective foil. It is very light and holds heat well.

How to Make a Pot Cozy

Here's a great video that shows how to make a cozy by Steve Green.

Automobile Windshield Sunshade Material
Here is a suggestion from BackpackingChef reader, Eric March: "A good way to get Reflectix™ type material in small quantities to make cozies is with an automobile windshield sunshade. A regular sized one can make several, might cost $6, and is as close as your generic auto parts supplier or discount store. I've had good luck with clear 2" mailing tape, trimmed to fit, to join pieces and seal cut edges as needed."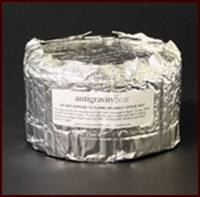 Buy a Custom-made Cozy
Anti-Gravity Gear makes and sells custom-made cozies for just about every backpacking pot on the market including the Evernew™ ECA417 and ECA418 pots that I use. The price is $8 up to $13, depending on your pot. Your pot will nest inside the cozy when packed and the cozy only weighs about an ounce.
Visit Anti-Gravity Gear Pot Cozy
---
Continue Reading...

Backpacking Stoves – How to make a simple alcohol and candle stove.
Backpacking Cookware - Chef Glenn's collection.
BackpackingChef Home Page
---