Flint Mountain Shelter to Hemlock Hollow Hostel, 16 miles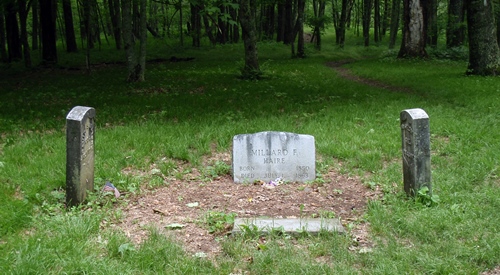 A pot of oatmeal and early snacking fueled me for the ascent to the top of Big Butt Mountain. On the way up, in a grassy flat spot, I passed three gravestones:

Civil War & The Shelton Family
The gravestones marked the resting places of David and William Shelton and Millard Haire. Their ages respectively, when they died in July 1863, were 41, 30, and 13. As the story goes, the men and boy were North Carolinians from the area whose family members were either fighting for the Union during the Civil War or were Union sympathizers. The two Shelton men and the boy, Millard, were shot and killed by Confederate soldiers while hiding out following the Shelton Laurel Massacre, which had occurred the previous January in nearby Laurel Valley. In that event, members of the Shelton family, including women and extended kin, were rounded up by Confederate soldiers after they were suspected of participating in, or knowing who the perpetrators were, of a theft of salt that had occurred from a nearby Confederate storage depot. Women were tortured and thirteen men and boys were taken to the woods and executed. Today, 146 years later, the forest has grown over these atrocities of the Civil War, except for the gravestones, which are maintained along the trail that we might pause and reflect.
On my way down from Big Butt Mountain, a coyote walked onto the trail about thirty yards ahead of me. He turned and stared at me, his short ears cupped alertly, his black nose pointed at me down the barrel of his gray snout. We exchanged a moment of mutual respect, and then he trotted off into the woods. I stopped to cook lunch at Jerry Cabin Shelter, but flies descended on me. I filtered water from the spring and hurried on with snacks in my pockets to hold me over.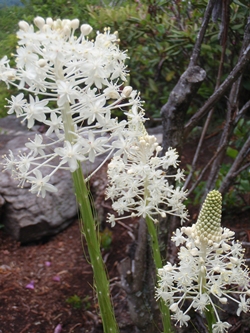 After three miles, the trail went up to an exposed, rocky ridge where rhododendron and mountain laurel bloomed in fuchsia, pink, and white. Every sandy niche between the large rocks held its own enclave of species that were new to me: plants with sparkler-like white flowers ending in cone shapes atop hairy green stalks, tan-and-black beetles shaped like June bugs mating on beds of white flowers, fuzzy bees and shiny bees spreading pollen with such abandonment that a heady floral scent lofted into the air.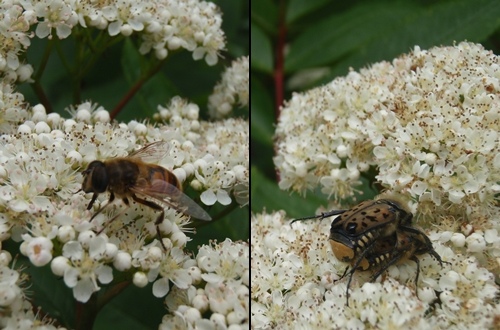 The view from the ridge was over mountains without end.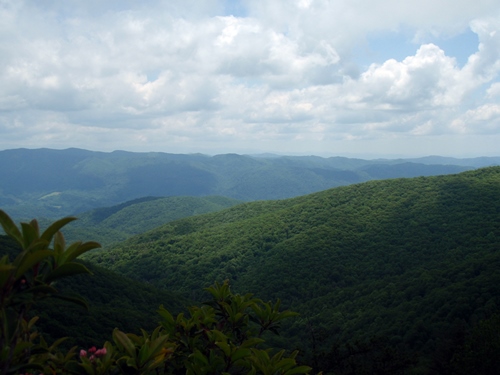 I picked my way down the rocks, back under tree line, and passed through a dark tunnel of rhododendron. Thin beams of sunlight broke through and lit up the wings of tiny white moths fluttering inside. They twinkled. I took a side trail out to Blackstack Cliffs and sprawled out on a slab of rock jutting into the sky. A hawk floated on the currents above me. After a good rest, I climbed down from the mountain.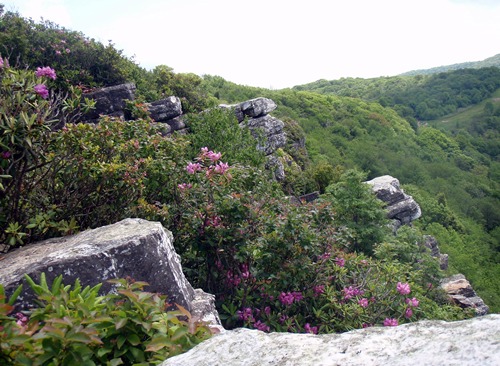 Blackstack Cliffs, Appalachian Trail

I reached Little Laurel Shelter late afternoon. Gnats were waiting. They drew blood from my arm before I could pull an insect-repellent wipe from my pack. I grabbed a few snacks out of my food bag and scrammed. Lunch postponed again.

The next four miles to Hemlock Hollow Hostel were downhill or level and the trail smooth and dry. The urge to sing came over me. I sang like an Italian opera singer, with the gusto of Luciano Pavarotti. The words were gibberish, but sounded good—to me. I don't sing with self-abandonment in public. I keep the inner wild man a secret. But the trees tell no tales.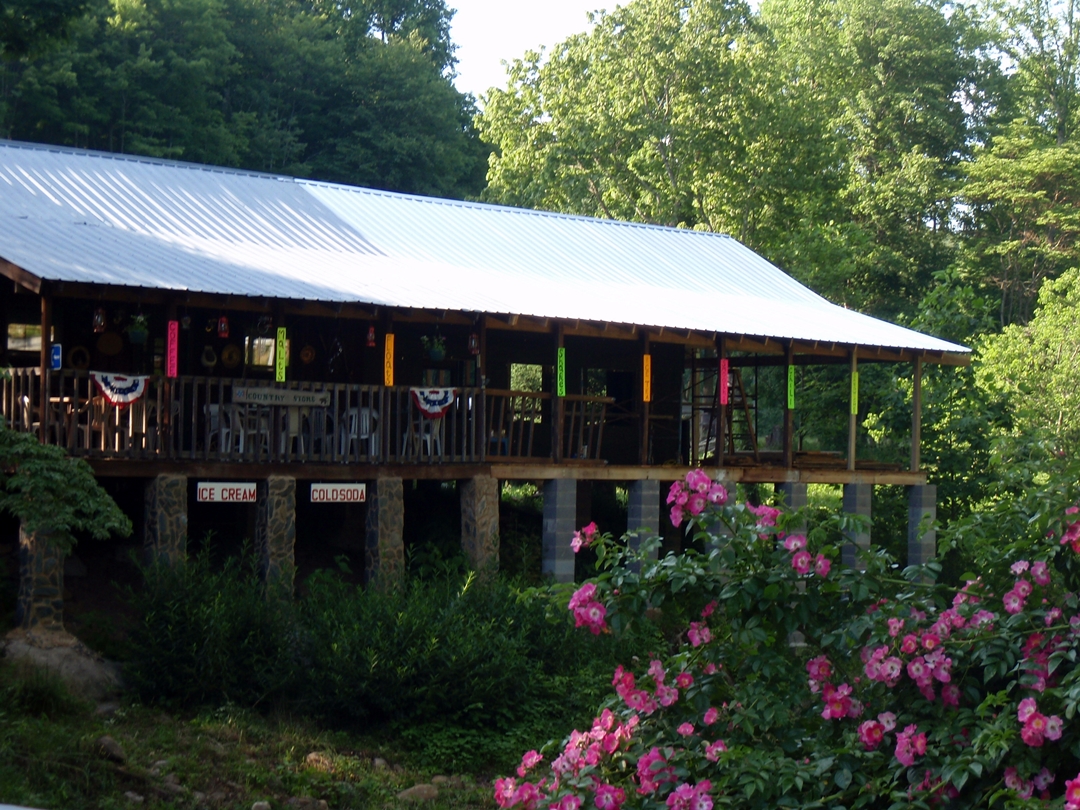 Hemlock Hollow Hostel & Inn, Appalachian Trail

After a short walk off the trail on a country road, Hemlock Hollow Hostel came into view with its welcoming approach across a small bridge over a creek. It looked deserted early evening. Alerted to my presence by the barking dog, a man appeared. The dog's name was A.T. because he walked in off the trail one day and stayed. Once we were introduced, he stopped barking and loved me up and down. A.T. was handsome and furry—he looked to be part Husky. The man showed me to the bunkhouse. After a shower—always the highest priority—I cooked Mexican beef with rice and corn and pineapple upside-down cake for dessert. The bunkhouse had a table and kitchenette with bunks for eight people, but I had it to myself. The porch overlooked Paint Creek. I sat out there for an hour under a full moon, listening to a rising chorus of tree frogs and the sound of water poppling over rocks.
Recipes for Adventure: Healthy, Hearty & Homemade Backpacking Recipes

Learn more about Recipes for Adventure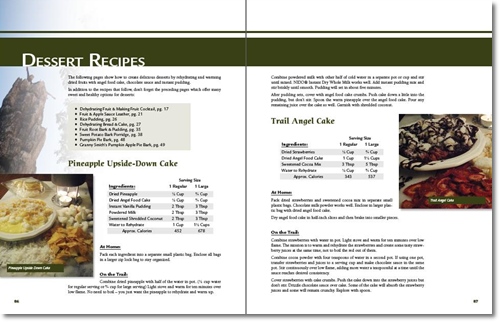 Next Day:
Hemlock Hollow Hostel to Duckett House, Hot Springs, NC
Previous Day:
Hogback Ridge Shelter to Flint Mountain Shelter
Table of Contents:
Share this page with friends on social media.