Easy Lasagna Recipe
This easy Lasagna Recipe combines Annie's® Cheesy Lasagna sauce mix and curly organic noodles with dehydrated ground beef and vegetables.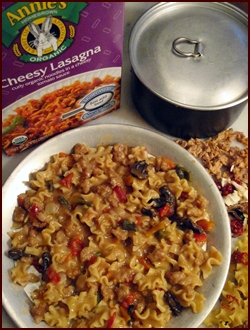 What's in the box?
2 Cups noodles
5½ Tbsp sauce powder
Listed Ingredients- organic pasta, organic sugar, organic whey, organic tomato powder, salt, natural flavor, organic corn starch, organic cheese, organic spice, citric acid, disodium phosphate.
For this recipe, divide the box contents into four parts.
Serves 1
Ingredients:
½ Cup noodles
¼ Cup dehydrated ground beef
¼ Cup dehydrated vegetables (tomatoes, mushrooms, onions, peppers)
1½ Tbsp Annie's® tomato sauce powder
1 - 2 Tbsp parmesan cheese
1 Cup water
At Home:
Pack tomato sauce powder and parmesan cheese in separate 2 x 3 plastic bags. Enclose with other ingredients in a 4 x 6 plastic bag.
See instructions for dehydrating meat and dehydrating vegetables.
Sources to purchase dried meat and vegetables.
On the Trail:
Place all ingredients except tomato sauce mix and parmesan cheese in pot with water and soak for five minutes.
Light stove, bring to boil, and continue cooking for another two minutes.
Remove pot from stove, stir in tomato sauce mix, replace lid, and place pot in insulating cozy for ten minutes.
After removing lid, sauce will thicken as it cools. Top with parmesan cheese. Enjoy!
---
Continue Reading...

Next supper recipe: Cheddar Herb Chicken

Return to TOC: Backpacking Recipes for Supper
This recipe is featured in Recipes for Adventure
---