Curry Chicken & Rice
For my backpacking rice recipes, I precook the rice in chicken, beef or vegetable broth to give the rice extra flavor before I dehydrate it. If you don't have time for that, use instant rice and enclose a small chip of a bouillon cube with each meal. Cooking with dehydrated rice or instant rice on the trail is much faster and saves fuel. See Dehydrating Rice.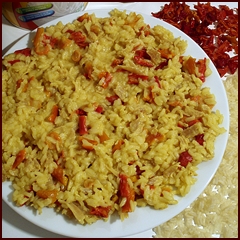 Serves 1
Ingredients:
½ Cup Instant or Dried Rice
¼ Cup Dried Chicken
¼ Cup Dried Vegetables – Carrots, Red & Yellow Bell Peppers, Onions
1 Tbsp Powdered Milk
1 tsp Curry Powder
¼ tsp Chili Powder
1¼ Cups water
At Home:

Cook white or brown rice in chicken broth and dehydrate; or use instant rice.

Pack powdered milk and seasonings in a small plastic bag and enclose with other ingredients in plastic bag.

For an interesting vegetarian meal, substitute dried apples and raisins for chicken.

On the Trail:

Combine all ingredients except powdered milk and seasonings with water in pot and soak for five minutes. Light stove, bring to boil, and cook for one more minute. Remove from stove, stir in powdered milk and seasonings and wait ten minutes.

---
More Backpacking Rice Recipes

You'll find a large collection of backpacking rice recipes in Recipes for Adventure.
Create dozens more meals by changing the dried meat, beans and vegetables in the recipes.
Click the book cover below for details on how to purchase the book in either print or PDF formats.


Rice Recipes in Recipes for Adventure:


Risotto
Rice Pudding
Corn Bark Stew
BBQ Bean Bark Stew
Enchilada Bean Bark Stew
Black Bean & Salsa Bark Stew
World Peas Bark Stew
Rice with Meat & Vegetables
Beef & Broccoli with Rice
Unstuffed Peppers
Salsa Rice & Beans
Mexican Beef & Rice
Hawaiian Shrimp & Rice
Curry Chicken & Rice
Easy Cheesy Rice & Beans
Chicken & Rice Cacciatore
Red Beans & Rice
Spanish Rice
Ratatouilli with Rice
---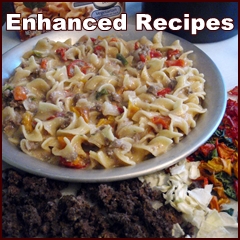 Continue Reading...
Next supper recipe: Beef Stroganoff

Return to TOC: Backpacking Recipes for Supper
---