Near No Business Knob Shelter to Bald Mountain Shelter, 10.8 miles
JUNE 4

Trees shook off drops in the steamy morning. It wasn't raining, but it seemed more was coming. I stowed the wet tarp in an outside pocket of my backpack and ate breakfast—raisins and granola—on the go. I also found a Snickers bar in my pack that I had forgotten about. It was dusky all day as I walked through dense forest under clouds. In one dark spot, a stream of white sunlight escaped the clouds and angled in through a hole in the canopy—lighting up a tree that stood alone in a cove. If I had stepped into that light, I surely would have been transported somewhere else.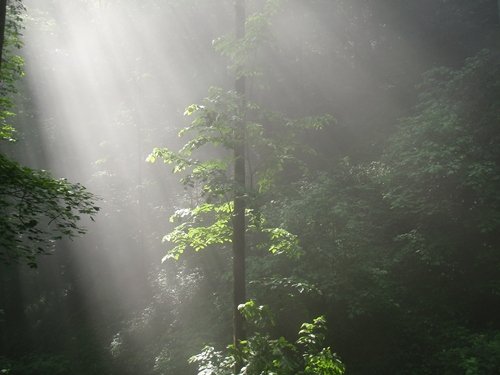 Past Spivey Gap, there was a clearing by a stream with a log to sit on, so I took a lunch break—turkey with mashed potatoes and mixed vegetables. The stream churned with excess flow from last night's deluge. I hiked mostly uphill the rest of the day. Passing through a flat spot, I started whistling while slapping my hiking poles together for rhythm. Later, I learned this flat spot was called Whistling Gap.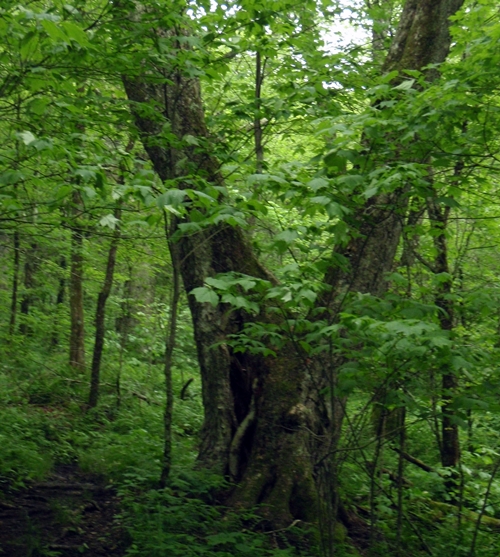 The trail passed through an old-growth forest of ash trees. Their trunks were massive. Some were dead, or near dead, standing with their innards rotted out, limbs scattered about the ground. As saplings, they grew straight with opposing branches, but eventually limbs fell off while others bent and twisted. Time furrowed the smooth bark of youth. The area reminded me of Hansel and Gretel's walk to the witch's cottage.

Bald Mountain Shelter was empty when I arrived. I was hungry for something sweet, so I made mud pie-chocolate pudding with nuts and granola. The shelter was framed of wood, not gingerbread. When I came back from filtering water from the spring, a couple of thru-hikers named Juke Box and Hot Chocolate strolled in, and we cooked supper together—macaroni and cheese with beef and vegetables. Hot Chocolate said his food bag had been stolen by a bear at Blood Mountain in Georgia. I had heard about that bear. It started pouring during supper, and three more thru-hikers hustled in out of the rain—a father with his son and daughter. They cooked instant mashed potatoes flavored with onion soup mix. The shelter had an overhang in front that provided cover for cooking, and it was spacious inside, with two sleeping levels. The others slept on the lower level; I slept alone up top. Rain pelted the tin roof all night long.
Next Day:
Bald Mountain Shelter to Hogback Ridge Shelter
Previous Day:
Uncle Johnny's to near No Business Knob Shelter
Table of Contents:
Share this page with friends on social media.