Greasy Creek Friendly Hostel to Beauty Spot Gap, 12.5 miles
JUNE 1

Cee Cee fixed me eggs over easy and toast, plus fresh fruit and berries served in a parfait glass with whipped cream on top. After breakfast, I topped off my denatured alcohol bottle and put two days of food rations in my pack that had been waiting in my mail drop. I walked half a mile back to the trail at Greasy Creek Gap and then another seven miles to Cherry Gap Shelter where I stopped for lunch—chili topped with cheddar-flavored goldfish.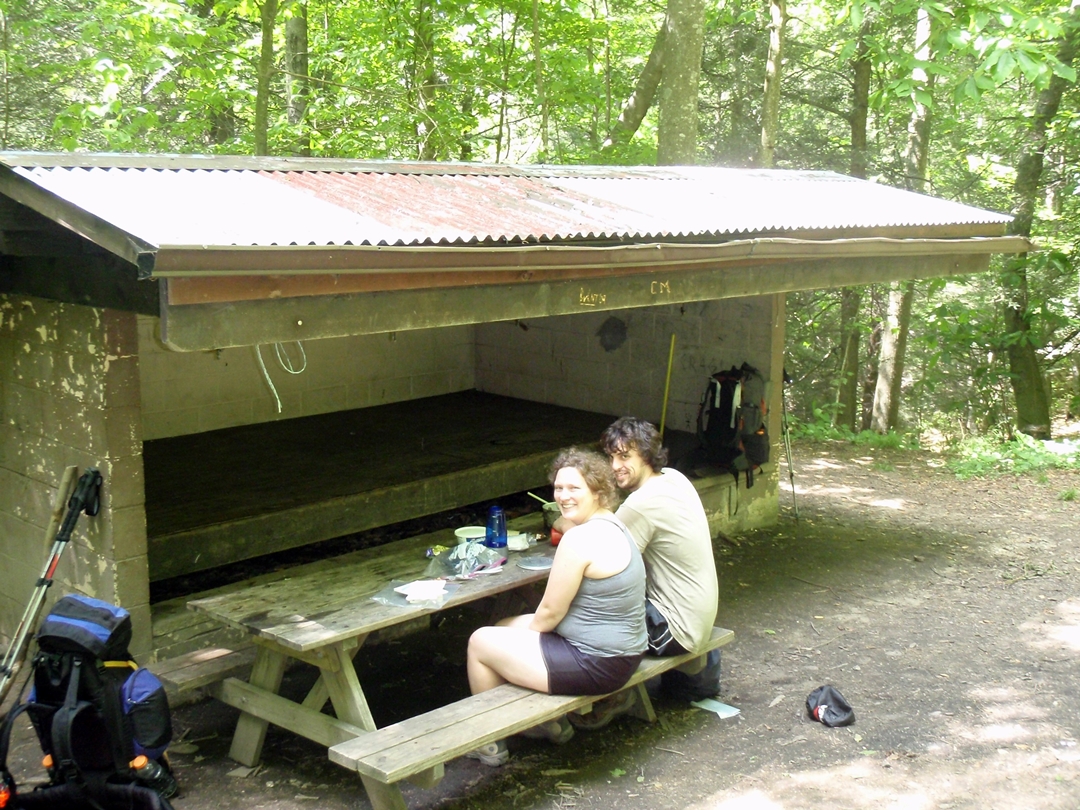 Cherry Gap Shelter

A box turtle near the shelter was munching his lunch—a black-and-yellow millipede. He dropped it and pulled back inside his shell when I took his picture. Several backpackers were there eating lunch, bringing a little cheer to the brown cinder block shelter. One young man ate a bowl of Cocoa Krispies and cookies. The Cocoa Kid beat me to the spring and washed out his bowl. Apparently, he did not know that he should Leave No Trace of milk and Cocoa Krispies in the water source. I waited a few minutes to filter water.
View of Unaka Mountain from the Appalachian Trail

After lunch, I ascended steeply over the next few miles to the top of Unaka Mountain. The walk over the summit meandered through meadows with views of evergreens sloping down and endless waves of blue-gray mountains rolling away. The sky at the horizon was nearly the same light shade of blue as the last mountain. The trail through the grassy areas was well worn, but just in case, white blazes were painted on metal posts to show the way.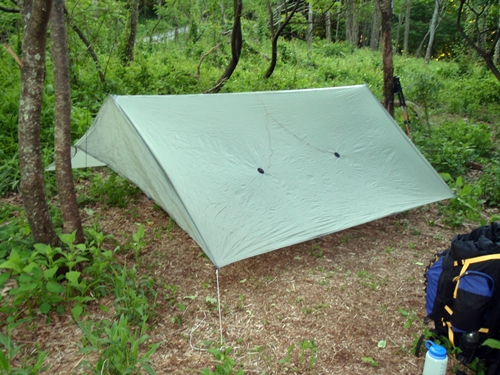 My homemade tarp sewn from Ray Jardine Tarp Kit

A mile later, after a steep descent, I reached a camping area just below Beauty Spot Gap. Picnic Basket and Uconn, a couple of nice guys from New Jersey, were tenting there and had a fire going. After filtering water from a piped spring, I set up my tarp between two trees and then went over to cook supper with them—tuna mac & cheese, a side of asparagus and mushrooms with cheese sauce, and banana-nut bread pudding for dessert. It was dark by the time I hung my food bag from a tree, so I got settled under the tarp with my headlamp on and wrote in my journal until moths started landing on my eyebrows.
Share this page with friends on social media.