Backpacking Meal: Root Bark Stew
Root Bark Stew makes a tasty backpacking meal of root vegetables simmered in a spicy broth. Make a side serving of mashed roots from the same batch and enjoy dried roots and bark as a healthy snack.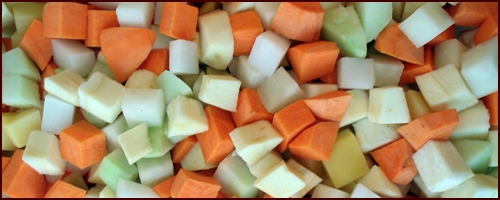 Above: Diced Roots - Sweet Potato, Parsnips, Turnips, Rutabaga


Serves: 3 - 4
Ingredients:
1 Tbsp Olive Oil
2 Medium Onions, chopped
2 Cloves Garlic, minced
1 Tbsp Curry Powder
1 Tbsp Ground Cumin
1 tsp Cinnamon
16 - 32 Ounces Chicken Broth
1 Large Sweet Potato
1 lb Parsnips (usually comes in 1 lb bag)
3 Medium Turnips
1 Large Rutabaga
¼ Cup Raisins
1 14.5 Ounce Can Diced Tomatoes, drained
Salt and pepper to taste
At Home:
Peel and cut roots into ½ inch cubes or slightly smaller.
In a non-stick pan, heat oil over medium-high heat. Add onion and sauté until golden; about five minutes. Add garlic, curry, cumin, cinnamon and a splash of broth and stir another minute.
In a large pot, add cubed sweet potatoes, parsnips, turnips, rutabaga, raisins, and contents of the pan. Add just enough broth to cover roots. You will probably use closer to 16 ounces than 32 ounces. Stir.
Bring to boil, reduce heat, cover, and simmer until vegetables are tender; about 10 minutes. Stir occasionally.
Add diced tomatoes and salt and pepper to taste; simmer about five more minutes.
Dehydrate:
Above: Roots on dehydrator trays before and after.
Root Bark on dehydrator trays before and after.


In order to capture the wonderful flavors in the broth, combine the broth with a portion of the cooked roots and turn it into bark as follows:
Drain off broth into pot. An easy way to drain the broth is to pour the contents from your cook pot through a colander positioned over another pot. Add broth plus four cups of the cooked roots to the blender, minus the raisins, and blend until smooth. Spread ¼" thick on dehydrator trays covered with non-stick sheets or parchment paper. Dehydrate at 135°. The bark will dry in about eight hours and will easily break into pieces. Dry a little longer if the bark tears rather than breaks.
Arrange remaining cooked roots on covered trays. Dehydrate at 135°. The roots will dry in about twelve hours. Stir pieces midway, pulling apart any pieces that are stuck together. Roots will be pliable to hard when done with no moisture appearing when you cut into a piece.
With a large capacity dehydrator such as the 9-tray Excalibur Food Dehydrator, you can dry the bark and roots at the same time, leaving the pieces in the dehydrator for the extra four hours. Otherwise, you may have to dry the roots and bark in separate batches.
The yield from this recipe will be approximately four cups of dried bark and two cups of dried roots. You will combine the dried roots and bark to make stew, adding dried chicken or beans if desired. You can make a serving of mashed roots, which taste like spicy mashed potatoes, with any bark that is left over.
Packing:
Let cool before storing or packing. Combine roots and bark into individual backpacking meal servings along with dried chicken or beans, if desired, and pack in plastic bags.
Make it a backpacking meal or side dish:
Root Bark Stew with Chicken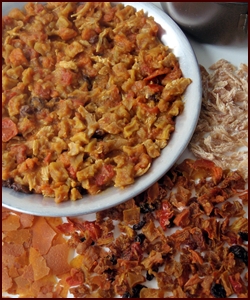 Shown in photo at right.

Serves 1:

¾ Cup Dried Root Pieces
¼ Cup Dried Root Bark
¼ Cup Dried Chicken
1¼ Cups Water to rehydrate

Root Bark Stew
Serves 1 (Makes a nice side dish)

¾ Cup Dried Root Pieces
¼ Cup Dried Root Bark
1 Cup Water to rehydrate

Mashed Root Bark
Serves 1 (Makes a nice side dish)
1 Cup Dried Root Bark
1 Cup Water to rehydrate

On the Trail:
Combine food with an equal amount of water in pot and soak five minutes.
Light stove, bring to boil, and cook for one more minute. Add a few more spoonfuls of water if you want a sauce with a thinner consistency.
Insulate pot and wait ten minutes.
Suggestion:
In addition to making a tasty backpacking meal, root bark tastes great  dry as a snack.
---
Continue Reading...

Next supper recipe: Ratatouille

Return to TOC: Backpacking Meal Recipes for Supper.
This recipe is included in Recipes for Adventure.

---
Pick a Topic to Explore

Links lead to Tables of Contents pages.