Backpacking Food for the Soul

Pull up a stump. We're talking backpacking food.
Not the expensive freeze dried meals that require a magnifying glass to find the vegetables, but healthy, hearty meals made at home before you head to the woods.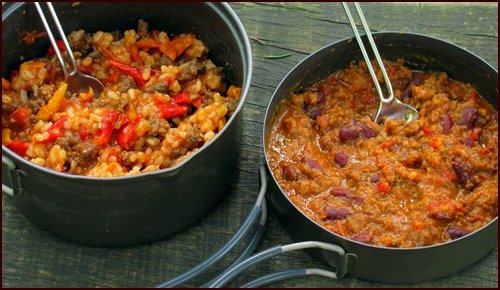 On the Menu: Unstuffed Peppers and Beef & Bean Chili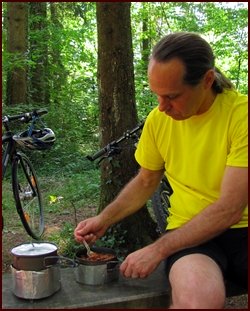 Greetings. Chef Glenn here.
Take your boots off and set a spell. I'm going to share my chili and unstuffed peppers recipes and many more.
I developed my backpacking recipes and trail cooking methods for backpacking on the Appalachian Trail.
Since publishing the first chili recipe several years ago, I've heard from folks who hit the trail in many adventurous ways… via kayak, canoe, sailboat, bicycle, motorcycle, motor home and dog sled.
We're on the go, so our food needs to keep well and pack light. A food dehydrator and vacuum sealer take care of that.
I'll share my backpacking food drying and packing tips to get you going.


So…
Let's get going!
Navigation: The main topics are listed down the left-hand column. These provide a lot of information and serve as mini table of contents to many more pages of recipes and techniques. At the bottom of every page are a few navigational choices so you can continue on to the next recipe or go back to the table of contents for the topic you are reading.
I've also listed and linked to the main topics below with a brief introduction.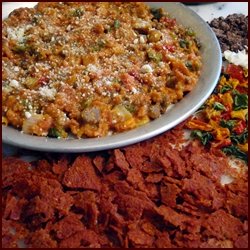 Breakfast, lunch, dinner and dessert. Learn how to combine starches, meats and vegetables into a great variety of delicious backpacking meals.
I include photos of every recipe, exact quantities for each ingredient, packing instructions and how to rehydrate and prepare the meals on the trail with minimal effort and fuel.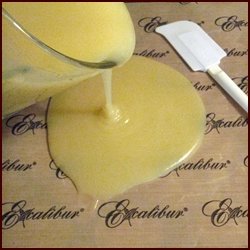 Dehydrating food substantially reduces pack weight and preserves the food. Dehydrate vegetables, meat, beans, fruit, sauces and starches.
Learn how to make bark, the secret sauce in several of the recipes. I make bark by blending flavorful ingredients with starchy foods like potatoes, corn, beans and pumpkin.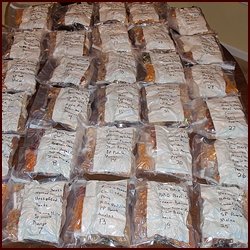 The longer the trip, the better it is to keep backpacking food well-organized and air and water tight so that it keeps well.
I pack my food into daily rations which I vacuum seal. Breakfast, lunch, dinner, dessert and snacks all go into one vacuum sealed bag.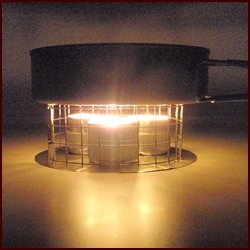 Just about any backpacking pot and stove will work to heat and rehydrate the meals. I use pots with fry pan lids so I can cook sides of extra vegetables with the main meal. With dehydrated meals, there's no need to rush the boil with a high-powered stove. All you need to do is reach a boil and hold it for a minute or two. I'll show you how to make and cook efficiently with the simplest of alcohol stoves and also with three tea light candles.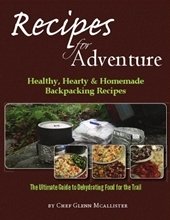 If you like what you find on the website, you will love my book, Recipes for Adventure. It covers everything from the website plus more recipes and dehydrating techniques. Nicely formatted with hundreds of photos, it is available as a PDF download for computer viewing or as a full-color printed edition.
"Thank you for all the work that goes into these great recipes and hints. We have used many of the recipes in preparing food for my son's hike on the Appalachian Trail. He leaves next Saturday from Georgia and will likely be packing some of the best backpacking food on the trail thanks to you sharing your work." – Carrie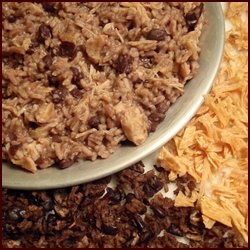 View a collection of over 50 backpacking food ideas and recipes shared by BackpackingChef readers… delicious meals, soups and snacks for the trail.

If you have a great recipe, please share it using the forms provided. I'll give you the credit and announce it in the newsletter.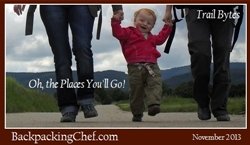 Subscribe to my free monthly newsletter, Trail Bytes.
Each month I cover a topic or two about making backpacking food and getting the most out of your dehydrator.


---
Note from Chef Glenn:

In revising this homepage, I kept the headline, Backpacking Food for the Soul, because when I go to the woods and spend time in nature, I feed the hunger of my soul as well as my body.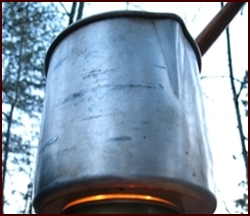 I also include the first photo I posted when I started the website of grandpa's pot shown at right.
When I was a boy, grandpa took me fishing in the Canadian wilderness and showed me how to fillet a walleye without cutting my fingers off. When grandpa passed on, I inherited his pots, fishing gear, a sharp knife and a passion for wild places and good grub.
So, the pot honors my grandpa and yours. Or maybe it was someone else who kindled your love of nature and a taste for adventure.

Thanks for stopping by. Come back often as I add new material regularly.
If you have a question or comments after exploring the website, feel free to contact me.
Follow your hunger,
"Your site is so helpful! I am getting so many amazing ideas! My father and I are planning to race in the Pacific Cup this next July. This is a sailboat race from San Francisco to Oahu that will take us from 12-15 days! We will be racing double handed on a Santa Cruise 27. It is a small boat with no refrigeration and the lighter the boat, the faster we will be! So I was very excited to come across your website! Thanks so much!" – Kerry