Dehydrating Mango

This Guide to Dehydrating Mango shows how to select and process ripe mangoes for drying—into long slices, smaller pieces, and into mango fruit leather. Recipes include dehydrated mango salsa, mango-coconut tropical fruit cocktails, mango smoothies made from mango leather, and dehydrated meals like Mango Salsa Salad with Couscous.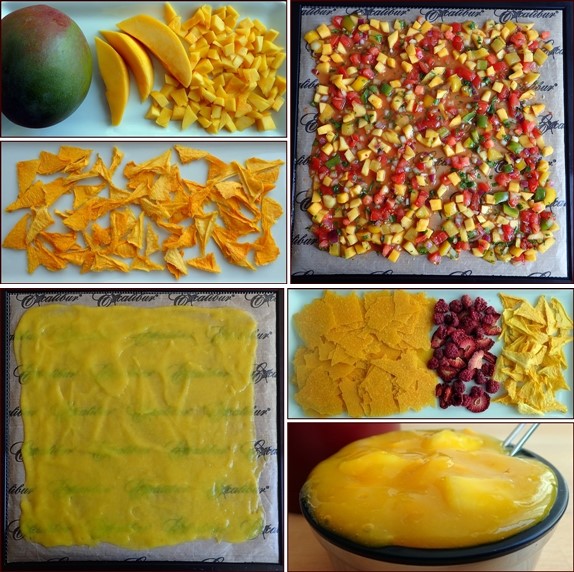 Dehydrated Mango—A Backpacking Superfood
Dried mango is light to carry, delicious, and packed with nutrients.
The trimmed flesh of one large mango weighs, on average, 300 grams (10 ounces). After dehydrating that mango, it will weigh only 40 grams (1½ ounces).
One dehydrated mango provides approximately 200 calories and 20 different vitamins and minerals. Mangoes are high in vitamins C, A, B6, and B9; and mangoes are also high in fiber and copper. Source: Mango.org.
Dehydrating Mango Topics on this Page:

How to Select a Ripe Mango for Dehydrating
The color of a mango does not indicate how ripe it is, so there is no need to favor a mango with skin that is more red or yellow than green. All colors are fine. Use the squeeze test to determine ripeness.
Photo shows a ripe mango ready for slicing and drying.
An unripe mango is very firm. It continues to ripen after it is picked, so wait a day or two before cutting into it. As the mango ripens, it gets sweeter. Speed up ripening by placing the mango in a paper bag at room temperature. Do not put an unripe mango in the refrigerator—that will delay ripening.
A ripe mango will have a little give when you gently squeeze it. There may be a slight fruity aroma at the stem, but this may be hard to detect. A ripe mango may be stored in the refrigerator for a few days to slow further ripening.
An overripe mango will have more give when squeezed, and a fruity aroma is more likely. Cutting an overripe mango into clean slices is more difficult, but you may be able to salvage some of it. The flesh may have a stringy texture close to the skin. If you cut into a mango and discover that it is overripe, you can still use it for dehydrating mango fruit leather. Discard the mango if it has excessive brown spots, as that indicates a high potential for mold growth. A brown spot here and there, usually caused be rough handling in transit, can be trimmed off with little worry.
The flesh of a barely ripe mango is pale, and the flesh of a ripe mango is a beautiful shade of golden yellow to orange.
If you discover that a mango is not quite ripe after cutting into it, you can still dry it. It won't turn out as sweet as a ripe dried-mango, but dehydrating it will concentrate the sugars, and it will still make a delightful dried-fruit snack.
How to Dehydrate Mangoes
Cutting Mangoes for Dehydrating
Ripe mangoes are slippery once the skin is removed, so don't peel them until you are ready to make your crosscuts.

Cut the mango longwise closely along both sides of the pit.
Flip each outer part over on its flat side with the skin facing up and cut into two halves.
Flip halves over so the flesh faces up and run a knife along the inside of the skin.
Lay skinned mango sections on flat sides and cut crosswise into triangle-shaped pieces, or cut longwise into longer strips. Aim for a thickness of 5 millimeters (about ¼ inch) or slightly thinner. Slicing mangoes thicker will increase drying time.
Photo above shows a mango cut crosswise into triangular-shaped pieces. Photo below shows a mango cut longwise into longer strips.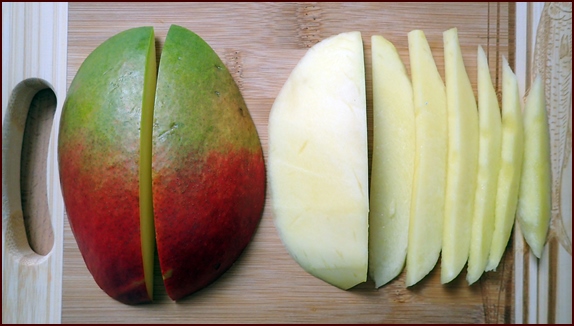 The mango in the photo above was barely ripe with pale color. The flesh was firm and easy to cut with no waste. Although not as sweet as a fully ripe mango, the sugars concentrated after dehydrating the mango.
The fruit around the pit is more of a challenge to cut away. Cut away any solid pieces that you can, and then scrape off the remaining fruit with a stiff knife. Be careful. This is a slippery undertaking. Likewise, scrape away all fruit from the skins that you cut off.
Mango scrapings will be mostly mush, but seriously delicious. Use the mango mush to make mango fruit leather, discussed further down the page.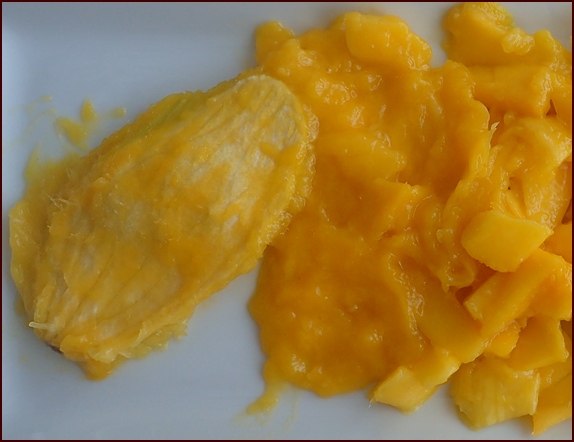 Photo shows mango mush cleaned off of the pit—perfect for dehydrating mango fruit leather.
Dehydrating Mango
Place mango pieces or strips in a single layer directly on mesh sheets of dehydrator.
Time & Temperature: Dehydrate mangoes at 135°F (57°C) until pliable, approximately 8–12 hours. Mangoes can be dried at a temperature as low as 115°F (46°C), but the drying time will increase substantially.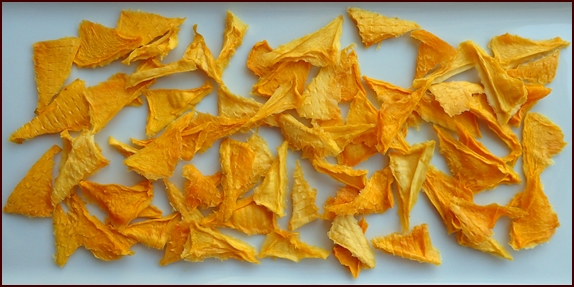 Photo above shows dehydrated mango pieces, and photo below shows dehydrated mango strips.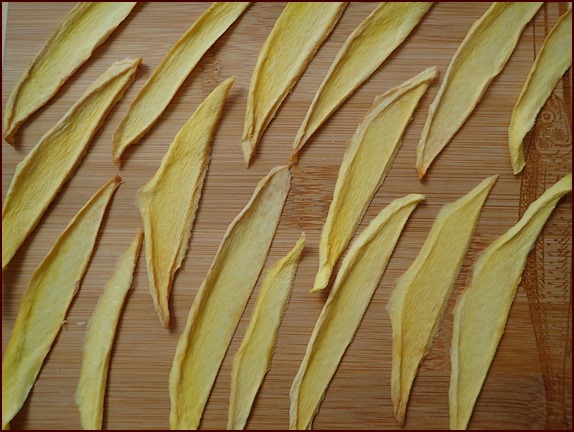 Dehydrated Mango Recipes
Dehydrated mango is delicious all by itself, and it's great in trail mix with other fruits, nuts, and berries. Add dried mango to your oatmeal, dip it in Nutella chocolate spread, or rehydrate it into fruit cocktails, smoothies, and pudding. Dehydrating mango offers so many delicious opportunities.
Tropical Fruit Cocktail with Dehydrated Mango
Dried mango goes extremely well with dried pineapple and dried banana. If you rehydrate these sweet morsels with cold water, you'll feel like you're hiking through a tropical paradise.
Ingredients:
Servings: 1 large
⅓ cup dried mango (15 g)
⅓ cup dried pineapple (15 g)
¼ cup dried banana (10 g)
1 Tbsp. dried coconut (5 g)
1 cup cold water to rehydrate.
On the Trail:
Combine all ingredients with cold water in a container with a tight fitting lid. A thermos food jar works great and keeps the fruit cocktail cold. Wait at least one hour for best rehydration, but a longer soak is fine. The juice remaining with be sweet and syrupy. Tropical fruit cocktail is super-refreshing on a hot day, and it's full of nutrition and energy to keep you going.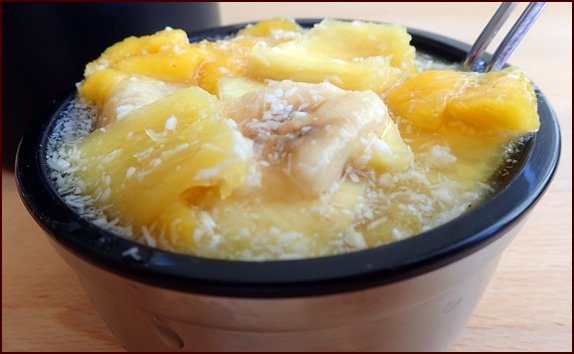 Photo shows dehydrated mango, pineapple, and banana—rehydrated into a tropical fruit cocktail with coconut.
Mango Chips Dipped in Chocolate
Try dipping dried mango in a chocolate spread like Nutella. Take your time. First, the chocolate melts in your mouth, followed by the dried mango releasing its sweet mango flavor. Double yum!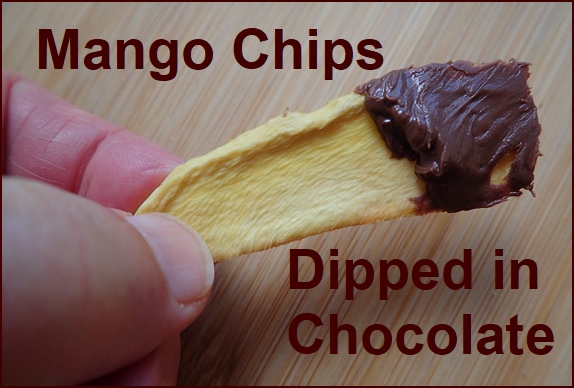 Dehydrating Mango Fruit Leather
Assemble your mango mush from scraping the pits and skins, and combine with additional chunks of mango until you have about 300 grams of mango (approx. 10 ounces). Add 1 tablespoon of lemon juice and 2 tablespoons of orange juice, and run the mango mix through a blender using the smoothie setting.
Spread 1–1½ cups of mango puree thinly on dehydrator tray covered with nonstick sheet.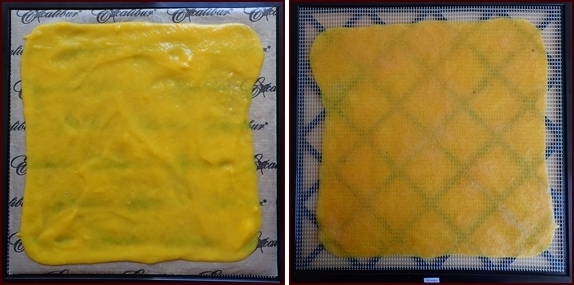 Photo shows dehydrating mango fruit leather at 135°F (57°C) for approximately 9–12 hours, before and after.
Mango Spoon Smoothies
I call them spoon smoothies because they are thick, and they include extra fruits and berries.
Mango-Berry Spoon Smoothie
Ingredients: 1 sheet of mango fruit leather (50-60 g), ¼ cup dried berries (8 g), and ¼ cup dried mango (12 g).
Rehydrate with 1¾ cup cold water in a container with a good lid.
A thermos food jar works great because it won't leak, and smoothies stay cold for hours. Shake several times before serving. Wait 1 hour or longer for the dried ingredients to fully rehydrate. Add the water after lunch, and enjoy a smoothie later in the day. Or, add the water before bedtime, and enjoy a smoothie for breakfast.
See my page about rehydrating dried meals with a thermos food jar for more ideas.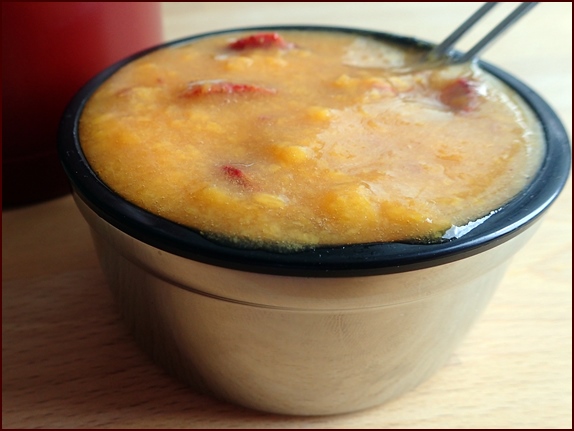 Photo shows a Mango-Berry Spoon Smoothie rehydrated in a thermos food jar.

I have a whole page dedicated to mango fruit leather recipes with all kinds of smoothie and pudding ideas. Don't miss the Tropical Mango Spoon Smoothie with Coconut Milk recipe.
See Dehydrating Mango Fruit Leather.
Making & Dehydrating Mango Salsa
This mango salsa makes a bright and refreshing side dish for your next picnic, and you can dehydrate it for the trail. Snack on dried mango salsa like trail mix, rehydrate it for lunch with chips and tuna, or make a no-cook meal out of it, like the Mango-Salsa Rice Salad recipe featured on this page.
Servings: Makes 10 cups before dehydrating.
Ingredients:
2 lbs. tomatoes, diced (900 g)
3 large mangoes, diced (800 g – 900 g)
2 large bell peppers, red and green, diced (300 g)
3 cayenne peppers, diced (30 g)
1 medium onion, diced (170 g)
2 cloves garlic, minced
1 bunch fresh cilantro leaves, chopped (20 g)
1 lime, zest and juice
2 Tbsp. orange-mango jam (or similar fruit preserves)
2 tsp. salt
1 tsp. ground cumin
1 tsp. curry powder
½ tsp. ground pepper
½ tsp. chili pepper flakes
Assemble the Salsa:
Add the diced vegetables and mango to a large bowl.
Wash the lime and grate the peel into the bowl. Then add the juice from the lime.
Add the chopped cilantro and spices. Stir and give the salsa a few minutes for the flavors to meld. Chill in refrigerator.
Photo above shows diced mango on right. Try to keep dices to between 5 mm and 1 cm thick. Dehydrating mango takes longer if you cut the pieces too thick, and they will dry slower than the rest of the salsa.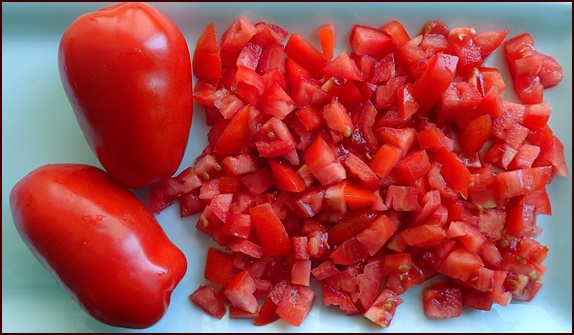 Photo above shows Roma tomatoes, a good choice for dicing, as are San Marzano tomatoes, because they are meaty and not overly juicy.
Dehydrating Mango Salsa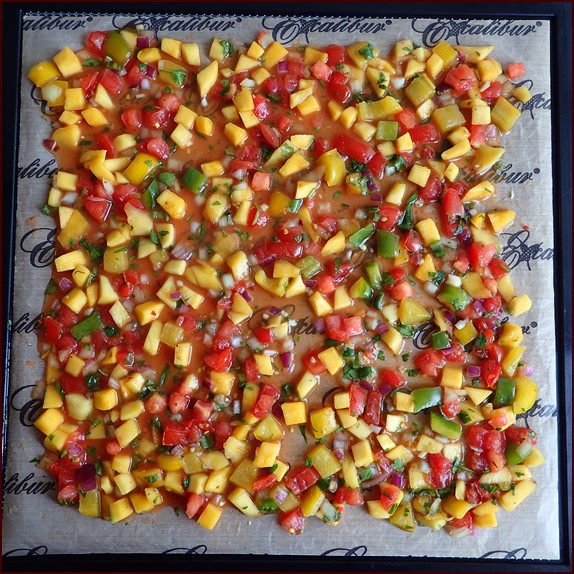 Spread mango salsa in a single layer on dehydrator trays covered with nonstick sheets. Include all the juices. This recipe took up 5 Excalibur dehydrator trays.
Dehydrate mango salsa at 135°F (57°C) for approximately 16 – 20 hours. Halfway through drying, stir salsa around on trays and redistribute. This will ensure even drying and shorten the drying time.
Dried Volume & Weight: 3¾ cups, 300 grams.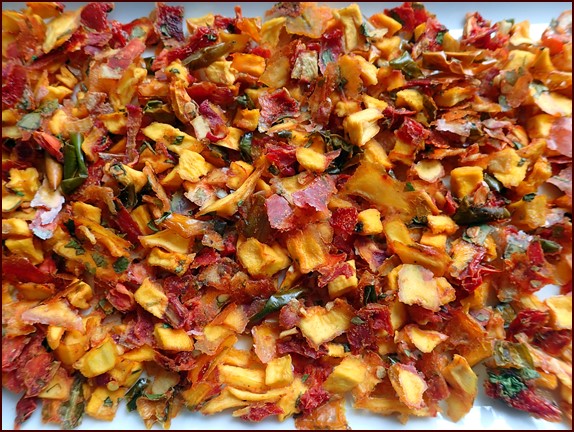 Photo above shows dehydrated mango salsa. Enjoy as a spicy trail mix, or rehydrate it for even more enjoyment.
Photo above shows rehydrated mango salsa. It goes great with tortilla chips, and as a side item with a packet of tuna on the trail.
Mango Salsa Rice Salad
Large Serving: ¾ cup dried rice (80 g), ½ cup dried mango salsa (40 g), and ¼ cup dried black beans (20 g). Rehydrate with 1¼ cup cold water (300 ml).
X-Large Serving: 1 cup dried rice (100 g), ⅔ cup dried mango salsa (50 g), and ⅓ cup dehydrated black beans (25 g). Rehydrate with 1¾ cup cold water (400 ml). This is a good serving size for one hungry hiker, or for two people to share.
After adding cold water, wait at least 1 hour, but 1½ – 2 hours is best. For longer soak times, rehydrate with a little more water. A thermos food jar is ideal for rehydrating this no-cook backpacking meal so it stays cold on hot summer days.
Photo above shows mango salsa rice salad which was rehydrated in a thermos food jar and enjoyed for lunch on a road trip.
Mango Salsa Couscous Salad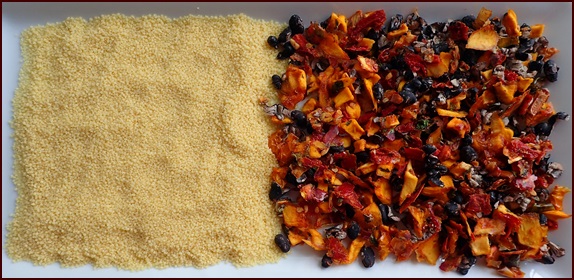 This cold-soak mango salad uses couscous instead of rice. Couscous requires no precooking or drying—it rehydrates well and is more absorbent than dried rice.
Large Serving: ½ cup couscous (80 g), ½ cup dried mango salsa (40 g), and ¼ cup dried black beans (20 g). Rehydrate with 1½ cup cold water (350 ml).
Add cold water to ingredients and wait 1½ hours or longer. Use a little more water for longer soak times.
Photo above shows Mango Salsa Couscous Salad rehydrated in a thermos food jar.
Explore More…
Dehydrating Mango Fruit Leather
Comprehensive Guide to Dehydrating Fruit
Return to Dehydrating Mango Table of Contents

Save on Recipes for Adventure Books by Chef Glenn


Share this page with friends on social media.