Dehydrating Cake &
Breadcrumbs
Dehydrating breadcrumbs or cake with a food dehydrator is fast and easy. Neutral flavored breads like Italian work well, but you can dehydrate any bread you like. Full flavored breads like rye and pumpernickel make tasty breadcrumbs for trail mixes or to top off a bowl of chili.
This page also covers dehydrating cake. Angel food cake is the best choice for drying, since it doesn't contain any fats, but banana bread and carrot cake can also be dried for shorter term storage.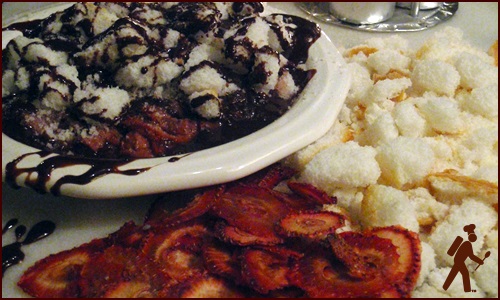 Photo Above: Dehydrated Angel Food Cake used in Trail Angel Cake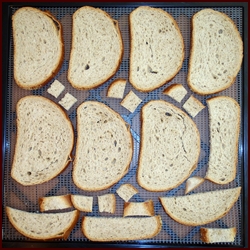 How to Dehydrate Breadcrumbs

Place slices of bread on the dehydrator trays.
Dehydrate @ 125° F (52° C) for approximately four hours.
There should be no sponginess left in the bread or it might spoil later.
When the bread is dry, it will break easily by hand into large crumbs for use as a chili topping or in dessert recipes.
For making breadcrumbs with a fine texture, pulse a few times in a food processor or reduce with a rolling pin or tenderizing mallet.
Store in an air-tight container until ready to use.

Dehydrating Pita Bread
Dried pita bread is excellent as a chili topping or it takes on a crust-like texture when rehydrated in dessert recipes.
Cut the loaves in half and separate the two parts into single slices before dehydrating @ 125° F (52° C) for three to four hours until crispy. It will snap into pieces when dry.

Using Breadcrumbs in Backpacking Food
Dried ground beef rehydrates MUCH better if you add fine breadcrumbs to it before cooking and drying. All you have to do is run your dried breadcrumbs through a blender and mix in half-a-cup per pound of ground meat.

See Dehydrating Ground Beef & Turkey.
Dehydrating Breadcrumbs for Backpacking Desserts

Using breadcrumbs in desserts is a delicious idea. The breadcrumbs absorb sweet juices from the rehydrated fruits.


Check out these recipes:

---
Dehydrating Cake

Angel Food Cake

Cut angel food cake into slices about ½ to ¾ of an inch thick.
Dehydrate cake at @ 125° F (52° C) for approximately four hours.
Angel food cake dries well because it contains no oil or butter. Cakes made with oil, butter, or egg yolks may spoil on long backpacking trips if not eaten right away due to the high fat content.
Backpacking Dessert Recipes with Dried Cake:
Some of the cake absorbs the warm pineapple or strawberry juices and some of it remains crunchy. Drizzle chocolate sauce over it or push it down into the pudding.
Recipes: Pineapple Up-Side-Down Cake and Trail Angel Cake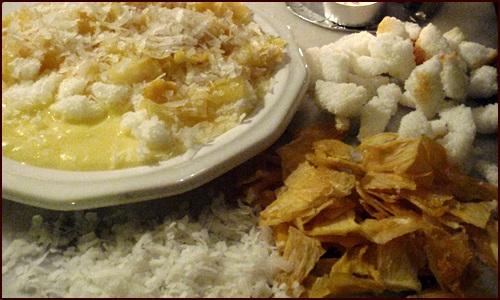 Photo above: Dehydrated angel food cake used in Pineapple-Upside-Down Backpacking Dessert.

Carrot Cake & Banana Bread
From the Mail Bag:

Ming: Have you ever dehydrated baked banana bread or carrot cake into crunchy thin slices?

Chef Glenn: For long backpacking trips lasting several weeks where I don't want to risk having food spoi, or the taste go off from fat oxidation, I dry angel food cake because it doesn't contain any fat. Banana bread and carrot cake contain egg yolks and butter or oil, so they could spoil after several weeks. However, vacuum sealing will extend that shelf life by several more weeks.

Carrot cake and banana bread are denser than angel food cake, so they dry best in thin slices, as Ming suggests. Cut cake into pieces about two inches thick, and then slice those pieces into several thin slices about ⅜ inches thick each.

Dehydrate @ 125° F (52° C) for approximately four hours. Thin sliced banana bread or carrot cake will dry like crunchy cookies. If you dry slices that are thicker, like ¾-inch thick, the outside will dry, but the insides will still be moist.

Ideas to enjoy dried carrot cake and banana bread on the trail:

Munch them just like crunchy cookies.
Break them into crumbs for use in trail mixes. Try mixing dried banana bread crumbs with dried bananas and pineapple, chocolate pieces and nuts. Dried carrot cake crumbs would be good with chocolate pieces, dried cranberries and nuts.
Reconstitute fruit leather with warm water to make a fruit spread to top or dip your banana bread cookies in for breakfast.
Mix in with rehydrated fruits.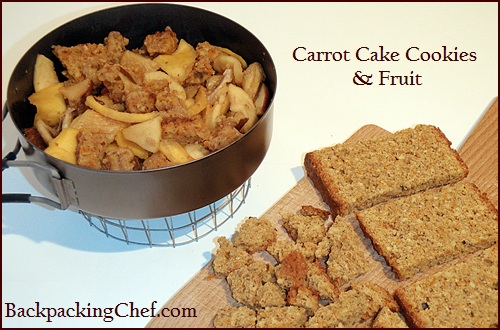 Photo above: Heat and reconstitute ¾ cup dried fruit in ½ cup of water for ten minutes. Stir in the carrot cake cookie crumbs. Very tasty!

You can dehydrate more bread and cake slices on a 15" x 15" Excalibur tray, than on smaller round dehydrator trays.

---
Advertisement

Disclosure: BackpackingChef.com participates in the affiliate program offered by Excalibur Dehydrators. If you make a purchase after following the above link, I may receive a commission. Thank you.

---

Pick a Topic to Explore

Links lead to Tables of Contents pages.