Dehydrating Olives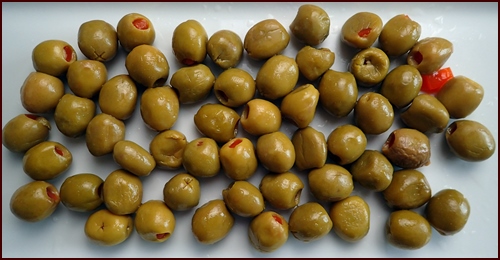 To perk up your trail snacks and meals, try dehydrating olives. Use either black or green olives. Save time; buy them with the pits removed.

Olives are usually preserved in a brine solution. That makes them very salty. Before dehydrating olives, rinse them in cold water to reduce some of the salt.

Slice olives crosswise three times into coin shapes. Arrange in a single layer on dehydrator mesh sheet.

Dehydrate olives at 135°F (57°C) for approximately eight hours. You can start dehydrating olives at a higher temperature for the first two hours to speed up drying.
Photo above: You can fit about 350 grams of sliced olives on one Excalibur dehydrator tray.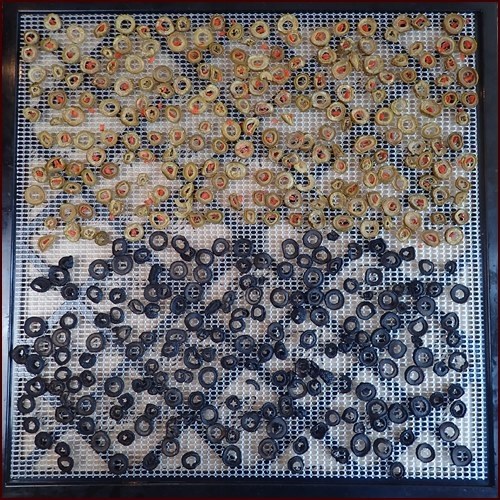 Photo above: Dehydrated olives on Excalibur dehydrator tray. When dried, olives easily break in half, rather than bend.

Store dried olives in an airtight container until ready to use.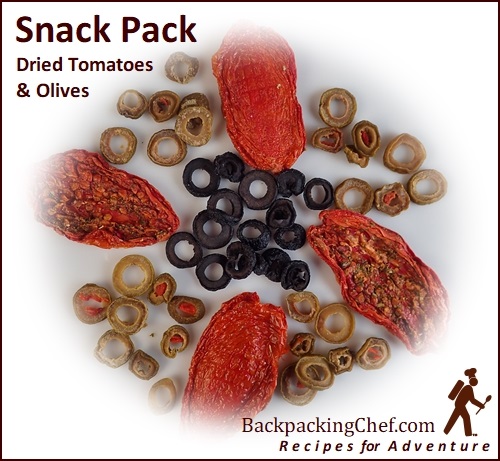 Photo above: Dried olives and tomatoes are a great combination for savory and salty trail snacks.

Dehydrating Olives – Recipes
This recipe can be reconstituted with cold water to make a delicious pasta salad for summer lunches, or it can be served as a hot meal for dinner.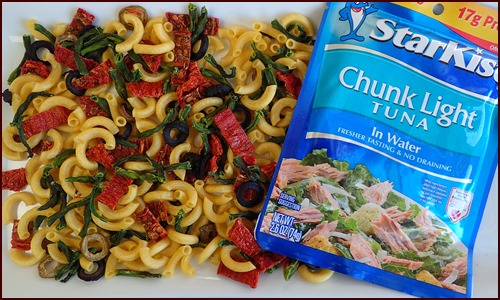 Photo above: Tuna Pasta San Marzano ingredients before rehydration.

Macaroni with Beef & Vegetables.
Dried olives go well in recipes with tomato sauce. Use sparingly, because they are salty with intense flavor.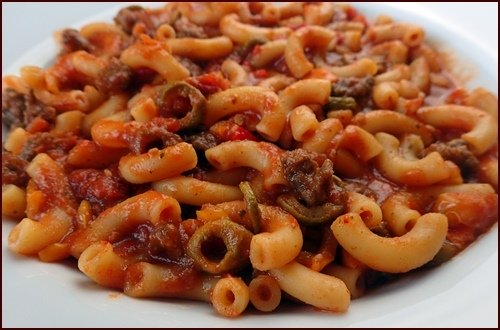 Photo above: Olives in a tomato sauce reconstituted from tomato powder.

Dehydrating Olives – Blended
Another way to dehydrate olives, is to run them through a blender first. The dried olive powder can be reconstituted quickly to use as a spread on tortillas.

Add ½ cup of water (118 ml) to 200 grams of rinsed olives in a blender. Blend until smooth. This will make approximately one cup of blended olives.

Optional: ¼ - ½ tsp. Garlic Powder

Spread thinly on dehydrator tray covered with nonstick sheet.

Dehydrate olive paste at 135°F (57°C) for approximately eight hours.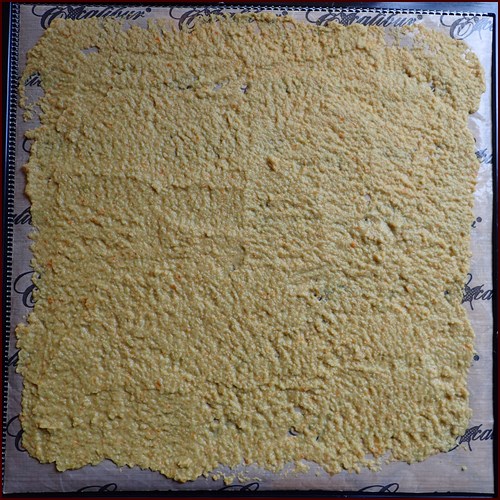 Photo above: One cup of blended olives on Excalibur dehydrator tray.

After drying, the olive bark can be easily hand-crumbled into olive powder.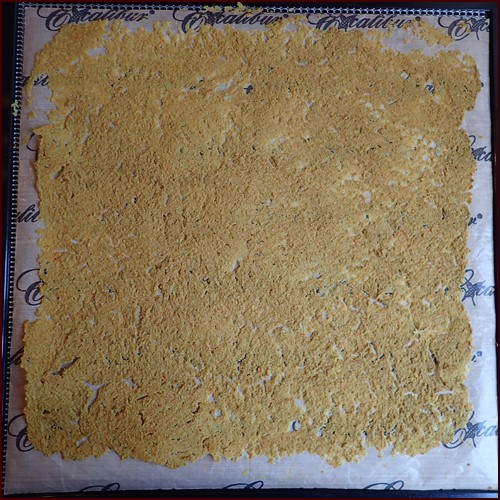 Photo above: Dehydrating olive bark.

Yield: One cup of blended olives yields approximately half-a-cup of olive powder. (40 g)

Reconstituting Dried Olive Powder
Reconstitute olive powder with an equal quantity of cold water. The photo below shows two tablespoons of olive powder on left; reconstituted with two tablespoons of cold water on right.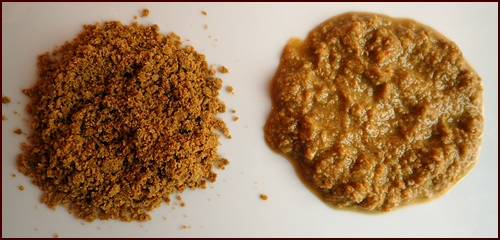 Two tablespoons of reconstituted olive powder is a good amount to spread on one eight-inch tortilla. It adds a little sauciness to an otherwise dry tortilla wrap. You don't need any more, as it is strong in flavor and saltiness.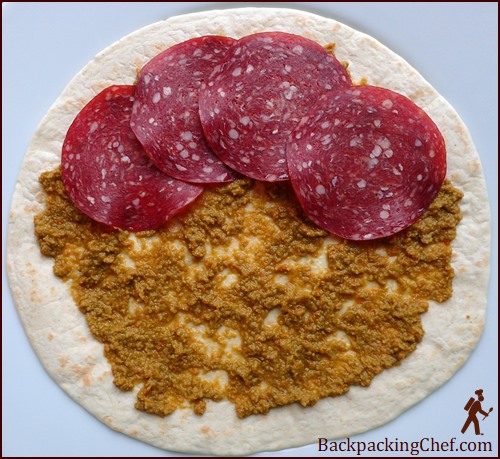 Add your favorite meats or cheeses on top of the olive paste, fold the tortilla in half, and enjoy a savory trail lunch.

---
Explore More...
How to make Tomato Sauce Leather
How to make Tomato Sauce Powder.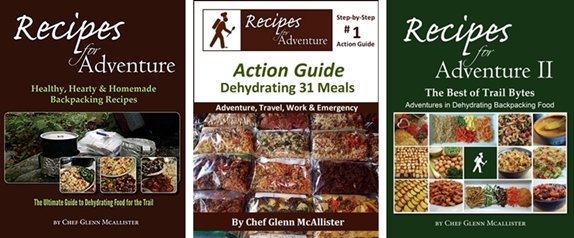 Share this page with friends on social media.