Apple Pie
Your apple pie will be ready in ten minutes. While you wait, slide your boots off and enjoy the scent of cinnamon wafting through your campsite.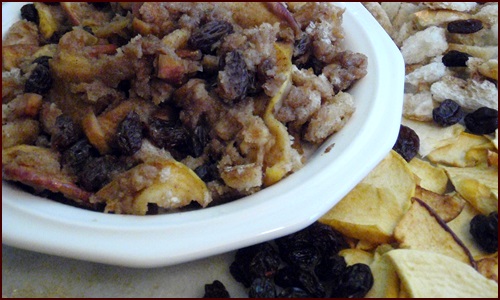 Serves 1

Ingredients:
½ cup apple slices, dried
½ cup bread crumbs
¼ cup raisins
2 tsp sugar
¼ tsp cinnamon
½ cup water

At Home:
For more on dehydrating apples, see the dehydrating fruit page.
Click here for more on making bread crumbs.
Pack dried apples, sugar, and cinnamon in a small plastic bag. Pack bread crumbs in a small plastic bag and raisins in another small plastic bag. Enclose all bags in a larger zip lock bag to stay organized.

You can use plain Italian-style bread for the bread crumbs as shown in the photo, or try dried pita bread for more of a pie crust texture.

On the Trail:

Combine dried apples, sugar, cinnamon, and raisins with water in pot. Light stove and warm for ten minutes over low flame. No need to boil – you just want the apples to rehydrate and warm up.

Extinguish stove and stir in bread crumbs. The bread crumbs will absorb the sweet apple juices.

---
Continue Reading...

Next dessert recipe: Banana Nut Bread Pudding

Return to Dessert Recipes Table of Contents

Find Dessert Recipes in Recipes for Adventure
---