Backpacking Foods for Breakfast


What backpacking foods get me going in the morning? I start the day with a hearty breakfast like homemade oatmeal with dried fruit, loaded grits, sweet potato porridge or scrambled eggs.

Instant oatmeal and grits are convenient – just tear open the package and mix with hot water – but the former has more sugar than sulfite preserved fruit pieces in it and the latter contains partially hydrogenated oil and artificial flavors.


Breakfast Recipes:
Oatmeal Recipes
Cinnamon Apple Raisin, Fruit & Nut with Chocolate

Grits Recipes
Green Grits & Ham, Pizza Grits Supreme

For oatmeal and grits, I use the unflavored varieties and fortify them with home dried fruit, meat and vegetables.
I vary my "oat meals" by using different dried fruits and other ingredients like nuts and bits of chocolate. When cooking oatmeal, I mix up a ½ cup of NIDO instant dry whole milk to pour over the oatmeal after it's cooked which adds more vitamins and calories.
Grits can be boring without butter and many folks don't have a taste for them. I make mine more interesting with added dried meat and vegetables.
Cheddar Goldfish make an interesting ingredient, but you can also purchase real freeze-dried cheddar cheese to top off grits. If you add enough cheese, you don't miss the butter.

Other hot and filling backpacking foods I enjoy eating for breakfast are Sweet Potato Bark Porridge and Rice Pudding. Sweet potatoes are a great sustained energy source and are high in potassium and vitamin A. The porridge and one variation of the rice pudding include apples, raisins and cinnamon.

Cold Breakfast Backpacking Foods
When packing a week's worth of breakfasts for a backpacking trip, I usually include one breakfast of cold cereal with instant milk. My favorite is Cascadian Farm Granola Cereal which comes in several varieties. I add extra dried fruit to it. Having one no-cook breakfast comes in handy if I want to bug out of a campsite quickly and it also extends my fuel supply.

Many backpackers start the day with backpacking foods that can be eaten right out of the package while they are packing up or hiking that first mile. Pop tarts are often recommended, and there is no doubt that they are consumed in great quantities on the trail, but I avoid pop tarts like poisonous snakes because of the high fructose corn syrup, sugar, partially hydrogenated oil, artificial flavors and colors.
I know that if I eat a breakfast high in corn syrup and sugar with not much fiber or other nutritional components to balance it out, I will feel shaky and on edge within one hour of consuming it. No thanks.

Oat Bark
One way to eat a cold breakfast while walking is to carry oat bark. To make oat bark, you cook oatmeal at home blended with fruit and dehydrate it. It can be eaten by itself like a chip or combined with other ingredients in a trail mix. If for some reason you change your mind on the trail and want hot oatmeal, all you have to do is add boiled water. It returns to a pudding-like consistency and tastes great.

See this back issue of my free newsletter, Trail Bytes, for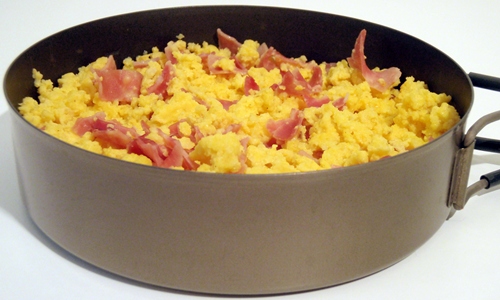 Scrambled Eggs for Breakfast
Freeze Dried Scrambled Eggs

One way to add eggs to the breakfast menu is to purchase freeze-dried scrambled eggs. These are precooked and freeze-dried at the factory, so all you have to do is add water and heat them up. Some come with additional meat and/or vegetables, but you could also add your own. The drawback is that these meals can be expensive.

Fresh Eggs

I have never carried fresh eggs on the trail due to the weight, bulk and potential for a mess, but if one is willing to take on the weight (4 eggs weigh about nine ounces) and risk,  I recommend soft or near hard boiling as the easiest preparation method. All you have to do is place the eggs in your pot with water, boil for two minutes, and then cozy the pot for another ten minutes. The hot water could have a second use to prepare grits or tea. Make this your first breakfast on the trail. This is a viable option for three or four thru-hikers to split a dozen eggs and get some much needed fat and protein on the first morning after a stop in town for resupply.

Dehydrating Eggs

Dehydrating scrambled or hard boiled eggs does not work. They do not rehydrate well and remain hard as rock.

However, you can make hybrid scrambled eggs by baking them with cooked polenta before drying. The result is something very close – but not exactly the same, as scrambled eggs and they rehydrate well due to the absorbing quality of the polenta. I use polenta because the yellow color matches the eggs, but regular grits work also.

Once dried, I combine the scrambled polenta eggs with other meats, vegetables, cheese and salsa leather (many possible variations) so I enjoy all the ingredients of a tasty omelet in a one pot meal.

The instructions for making and drying scrambled eggs and polenta are in my book, Recipes for Adventure.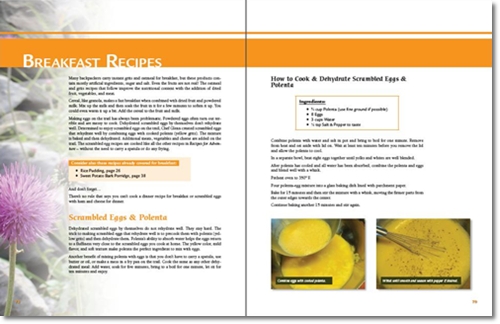 From the Mail Bag: "The scrambled eggs recipe in your book is PURE GENIUS. I am looking so forward to eggs for breakfast while on the trail!" -Anna

---
Continue Reading...

---