Bean Bark

Bean bark rehydrates well with hot water and lets you create flavorful and saucy backpacking meals using any kinds of beans plus extra flavors such as BBQ sauce, salsa and enchilada sauce.
Here is a simple way to turn baked beans into a delicious meal.

How to Make Bean Bark:
Run a 28 ounce can of vegetarian baked beans or an equivalent quantity of homemade beans through a blender until creamy. Use all the liquids from the can. Avoid using baked bean products containing bacon or pork because fatty meats will not dehydrate well and may spoil.
Pour puddles of blended beans on dehydrator trays covered with Excalibur Paraflexx® sheets or parchment paper and spread thinly with a spatula. Twenty-eight ounces of blended beans takes up three 15 x 15 Excalibur Dehydrator trays.
Dry at 135° F for eight hours. Unlike Potato Bark, which dries into a sheet, Bean Bark dries like mud… full of cracks.
After about six hours or when the bark is dry enough to pull off the trays, flip it over to expose the moister bottom side to the hot air.
Yield: 28 ounces of beans will bark down to three cups weighing seven ounces.
---
Advertisement

Disclosure: BackpackingChef.com participates in the affiliate program offered by Excalibur Dehydrators. If you make a purchase after following the above link, I may receive a commission. Thank you.

---
Bean Bark Stew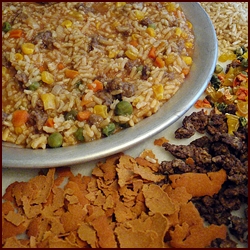 Serves 1

Ingredients:
½ Cup Instant or Precooked and Dried Rice
¼ Cup Dehydrated Mixed Vegetables (carrots, corn, peas, and green beans)
¼ Cup Dehydrated Ground Beef*
¼ Cup Bean Bark
1¼ Cups Water
* Ground turkey or chicken, or ham, may be substituted for ground beef to add variety to meals.

Large Portion:
The recipe above provides 432 calories. To make a larger serving with 602 calories, use ¾ cup rice, ⅓ cup vegetables, ⅓ cup ground beef, ⅓ cup bean bark, and 1¾ cups water to rehydrate.

At Home:
Pack all dry ingredients in a plastic zip style bag.
On the Trail:
Combine all ingredients with water in pot and soak for five minutes.
Light stove, bring to a boil and cook for one more minute.

Remove from stove and transfer pot to insulating cozy for ten minutes.
Stir briskly before eating and the bark will dissolve into tasty gravy.
Serving Variation:
Roll all this tasty goodness up in a couple of tortillas. Messy, but very good.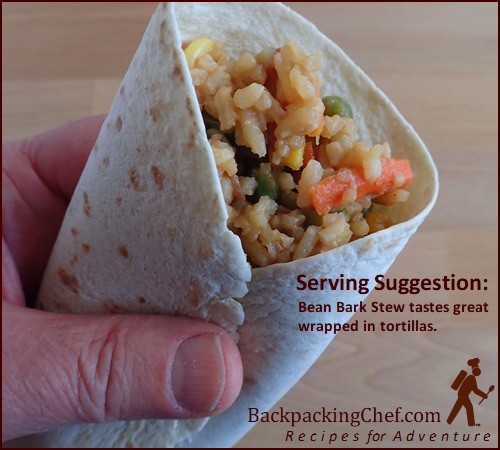 ---
| | |
| --- | --- |
| | You'll find more bean bark recipes in Recipes for Adventure, such as Black Bean & Salsa Bark and Enchilada Bean Bark. All list regular and large serving sizes to match your appetite. |
Above: (L) Black Bean & Salsa Bark Stew, (R) Enchilada Bean Bark Stew
---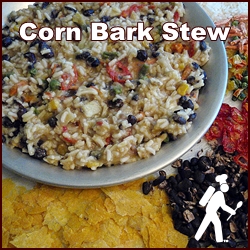 Continue Reading...
Next topic: Corn Bark
How to make Corn Bark for tasty chowder meals.

Return to: How to Make Bark Table of Contents

Potato Bark, Sweet Potato Bark, Bean Bark, Corn Bark, Pumpkin Pie Bark, and more!
Return to: Dehydrating Food Table of Contents
Dehydrating Vegetables, Fruit, Meat, Sauce, Bark, Soup, Dog Treats, Vacuum Sealing and more!
Pick a Topic to Explore

Links lead to Tables of Contents pages.