Easy Beef Stroganoff Recipe
This easy Beef Stroganoff Recipe combines Annie's® Homegrown organic pasta and beef stroganoff sauce mix with dehydrated ground beef and vegetables.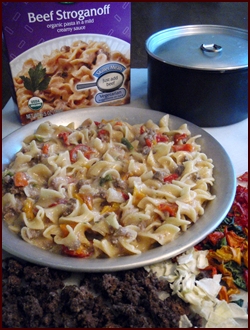 What's in the box?
2+ cups noodles
8 tbsp stroganoff mix
Listed Ingredients- Organic pasta, organic butter, organic nonfat milk, organic corn starch, salt, organic tomato powder, organic whey, organic mushroom powder, organic onion powder, organic garlic powder, yeast extract, organic parsley, organic spice, natural flavors.
For this recipe, divide the box contents into four parts.
Serves 1

Ingredients:
½ Cup noodles
¼ Cup dehydrated ground beef
¼ Cup dehydrated vegetables (peppers, onions, tomatoes)
2 Tbsp Annie's® stroganoff sauce mix
1 Tbsp powdered milk
1 Cup water
At Home:
Pack sauce mix and powdered milk in a 2 x 3 plastic bag. Enclose with other ingredients in a 4 x 6 plastic bag.
Learn how to dehydrate ground beef and vegetables.
Sources to purchase dried meat and vegetables.

On the Trail:
Place all ingredients except sauce mix and powdered milk in pot with water and soak for five minutes.
Light stove, bring to boil, and continue cooking for another two minutes.
Remove pot from stove, stir in sauce mix and powdered milk, replace lid, and place pot in insulating cozy for ten minutes.
Sauce thickens as it cools, so give it a minute after removing the pot from the cozy before you chow down.
---
Here is another way to make a beef stroganoff backpacking meal with rice instead of noodles. Shared by Lucky from Phoenix, Arizona:

Lucky's Beef Stroganoff Recipe
Serves: 1
Ingredients:
1 Cup instant rice
½ package McCormick Beef Stroganoff Sauce Mix
2 Tbsp olive oil
2 Tbsp powdered sour cream
3 Tbsp dried hamburger
3 Tbsp dried mushrooms
At Home:
Combine all ingredients, except the olive oil, in a ziplock. Bring oil in a small container.
On the Trail:
Bring 1¼ cups water to a boil. Remove pot from heat and stir in all ingredients. Place in a cozy for 10 minutes. Stir and enjoy!
Vegetarian Option:
Leave out the hamburger and double the mushrooms.
---
Continue Reading...

Next supper recipe: Lasagna

Return to TOC: Backpacking Recipes for Supper
This recipe is featured in Recipes for Adventure
---