Breakfast Camping Recipes
These breakfast camping recipes require a frying pan and/or fresh ingredients, so I grouped them together under camping recipes rather than backpacking recipes. Canoe and car campers have an easier time packing a frying pan than backpackers.

Some of these breakfast camping recipes are sweet so you might like the chocolate chip plopcake and apple crumble recipes as desserts.

---
Applesauce-Oatmeal Pancakes
Shared by Shelley Lauzon from Cornwall, ON, Canada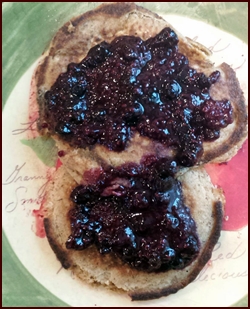 Serves 3-4

Ingredients:

1 ¼ cups rolled oats
½ cup almond flour
2 Tbsp ground flaxseed
½ to 1 tsp cinnamon
1 Tbsp coconut sugar (or brown)
1 scoop vanilla protein powder
1 tsp baking powder
½ tsp baking soda
½ tsp salt
½ cup unsweetened apple sauce
4 tsp egg white powder
¼ cup soy or skim milk powder
1 tsp vanilla extract
1 tsp lemon juice
Oil for cooking

At Home:

Dehydrate applesauce and pack into ziploc bag. Blend oats in food processor or high speed blender until it resembles flour. Transfer to large ziplock bag along with rest of dry ingredients. Pack vanilla extract, oil and lemon juice in small containers.

On the Trail:

Rehydrate applesauce with water.
Pour dry ingredients into pot for mixing along with rehydrated applesauce, vanilla extract, lemon juice and 1¼ cups water.
Heat oil in pan over medium-high heat.
Pour batter in pan and cook until small bubbles start to form 3 to 5 minutes or until browned. The bottom of the pancakes should be fully cooked and easily flipped.
Flip and cook another 2 to 3 minutes until browned.

Topping Suggestion:

Can be served with maple syrup or berry topping. To make berry topping at home, cook frozen berries with a little sweetener of choice (Steevia, sugar ect.) on stove until it thickens. Dehydrate into berry leather. Pack in ziploc bag. In camp tear up into small pieces and add an equal amount of hot water to rehydrate back into a sauce. A cozy helps speed up rehydration.

---
Canadian Hash Brown Potatoes
Shared by John from Prince George, BC, Canada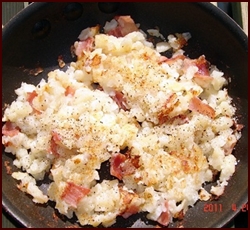 Serves 1
Ingredients:
1 cup frozen hash brown potatoes
1 Tbsp dehydrated onion
1 Tbsp dehydrated ham
2 Tbsp cooking oil
Salt and Pepper to taste
1 cup Water
At Home:
Dehydrate frozen potatoes directly from package in dehydrator. Combine with dehydrated onion and ham for transport.
On the Trail:
Add water to frying pan and bring to boil.
Add potato mixture to frying pan and maintain near boil for 5 minutes to reconstitute potatoes.
Pour off excess water.
Add cooking oil to pan and fry potatoes to taste.
---
Salmon Scramble
Shared by Heather Kelly from Ft. Collins, Colorado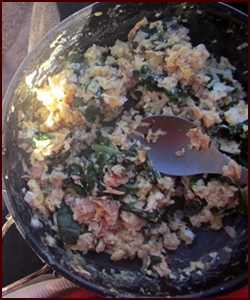 Serves 1
Ingredients:
Chicken of the Sea 3-ounce pouch of Smoked Salmon
¼ cup powdered eggs
Dried Dill to taste
1 - 2 Tbsp Coconut Oil
Salt and Pepper
At Home:
Pack a ziploc of powdered eggs, pouches of salmon, a tub of coconut oil and spices to make LOTS of tasty breakfasts.
On the Trail:
Mix ¼ cup powdered eggs with ½ cup of water.
Heat 1-2 Tbsp coconut oil in fry pan, add egg mixture.
Once the eggs begin to scramble, add in smoked salmon.
Top with dried dill, Real Salt, black pepper and serve with fruit and black coffee!
Serving Suggestion:
If you have any fresh veggies like spinach, red onion, garlic or tomato, throw those in the mix!
---
Breakfast Burritos
Shared by Jim Hewitt from Boise, Idaho

A high-protein breakfast camping recipe with scrambled eggs, cheese, meat, couscous or potatoes. Worth the weight!

Servings: Makes four breakfast burritos

Ingredients:
4 6"-8" flour tortillas
4 powdered eggs
1/4 cup couscous
1/3 cup SPAM single serving packet
2 cheddar cheese sticks

Optional Substitutions:

Dried hash browns for couscous
Precooked bacon for SPAM
1 Tbsp cheddar cheese powder for cheese sticks
At Home:
Measure powdered eggs and couscous (or hash browns) into separate zip lock bags that are big enough for water reconstitution.

If using precooked bacon, cook the bacon crispy, drain well, and put into zip-lock bag.

On the Trail:

1. Add 1/2 cup cold water to eggs, mix well, and set aside.

2. Boil 1/2 cup water for couscous. Add to bag, mix, and set aside in cozy. If using hash browns, be gentle while reconstituting - they can fall apart.

3. Cube SPAM and fry in frying pan or flat pot until well browned and crispy.

4. Add eggs and cook partially.

5. While egg/SPAM mixture is still "wet", add couscous or reconstituted hash browns and complete cooking, stirring to mix well.

6. Flatten cooked mixture and place 2 cheese sticks, split lengthwise, onto mixture and allow to melt.

7. While cheese is melting, heat tortillas over stove or camp fire.

8. Divide mixture into quarters, and put on top of tortillas.

9. Add salt and pepper to taste.

10. Fold tortillas to hold mixture and eat. Fold bottom up 1/4 way, then fold left and then right sides.

11. For really soft and yummy breakfast burritos, let them sit covered for a minute or two to self-steam.

Additional Comments:

Due to the moist tortillas and SPAM, this meal is heavy in the backpack. It is hearty and very tasty, so I always fit this into my trips despite the weight. For hungry people, serving size is TWO burritos. You can serve one per person, but they will want more!
---
Flat Bread
Shared by Shelley Lauzon from Cornwall, ON, Canada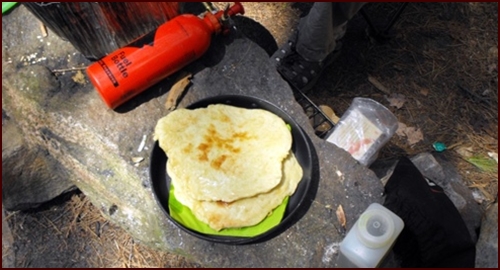 Serves 4-6
Ingredients:
2 ½ Cups Flour
1 Package Dry Yeast
1 tsp sugar
1 tsp salt
4 oz Cooking Oil
At Home:
Pack one ziplock bag with 1 tsp sugar and 1 package dry yeast (unopened). In another ziplock bag pack 1 tsp salt. Pack 2 ½ cups flour in large ziplock. Pack cooking oil in a Nalgene or leak proof container.
On the Trail:
Warm up 1 cup of water. Add ½ cup of warm water to sugar baggie and then gently sprinkle in the yeast package. Try not to make any lumps. Let stand 10 minutes. Add ½ cup of warm water to salt baggie. In pot or large baggie, mix the sugar and salt water with 1 cup of the flour and mix well. Add the remaining flour and knead 10 minutes. Divide into 6 portions and flatten into ½ inch thick circles using clean water bottle. Fry in shallow pan of oil until golden.
---
Cinnamon Breakfast Bannock
Shared by Tony Aben from Kamloops, BC, Canada

Serves 2
Ingredients:
1 cup white flour
1 cup whole wheat flour
2 tbsp baking soda
1/2 tsp salt
1/3 cup powdered milk
1/2 tsp cinnamon
3 tbsp raisins or dried fruit
4 tsp sugar
3 tbsp chopped nuts
1 tbsp oil for use on trail
At Home:
Mix above ingredients except oil and place in a good zip bag.
On the Trail:
Add 2/3 cup water and 1 tbsp oil to the dry ingredients and stir slowly. Can also be mixed in zip bag. Spoon onto greased, warmed pan for about 10 min on each side. Serve with honey, jam or your favorite pancake syrup.
---
Chocolate Chip Plopcakes
Shared by GET's Sous Chef from Monroe, North Carolina

Plop cake cooks up like a pancake on the trail with white or brown chocolate chips.
Serves 3
Ingredients:

1 Cup cake flour
1/4 Cup sugar
1 Tbsp powdered eggs
1/2 tsp baking soda
1/2 tsp baking powder
2 Tbsp unsweetened cocoa powder
1/2 Cup white or brown chocolate chips
3 Tbsp water per serving
1 Tbsp butter or oil per serving
At Home:

Mix together all dry ingredients.

In three separate sandwich-size resealable plastic bags place approximately 1/2 cup of mix in each.

On the Trail:

Heat butter or oil in pan.

Add 3 tablespoons water to one bag of cake mix and knead inside bag until mixed. Mixture will be rather thick. Cut hole in corner of bag and squeeze mix out into pan. Fry each side, like a pancake.

Serving Options:

Omit the cocoa and chocolate chips and it's plain white plop cake. Also, milk or semi-sweet chocolate chips (with or without the cocoa) would make good variations.
---
Apple Crumble
Shared by Brian McGregor from Mississauga, ON, Canada

Serves 2

Ingredients:
Bisquick or Pie Pastry to cover bottom of frying pan
1 Cup Dehydrated Apples (or peaches, appricots, etc.)
2 Tbsp sugar
2 packages of instant oatmeal, flavored
Oil - enough to moisten the oatmeal
At Home:
On the Trail:
1. Simmer dried fruit in enough water to cover along with the sugar. Cook on low heat, stirring occasionally, until softened.
2. Use an instant oatmeal that compliments the fruit. Cinnamon flavor goes well with apples. Mix just enough oil into oatmeal to moisten it. Cook in frying pan on low heat, turning constantly, until browned and toasted. Add some sugar if you are using plain oatmeal.
3. Make pastry dough. Bisquick yields a thicker crust. Mix it to a consistency that allows you to roll it out or press it into a thin layer at the bottom of the frying pan. You want to get it as thin as possible. I find that the Bisquick version needs to be flipped and cooked on both sides. Pie crust does not.
4. Once each of the three components are ready, assemble the fruit on top of the pastry and then the toasted oatmeal on top of the fruit.
---
Banana Crunch Breakfast Camping Recipe

Shared by Megan Figura of Bozeman, Montana

A Breakfast camping recipe using fresh ingredients that you don't have to cook.

Serves: 1
Ingredients:
1 Banana
2 Tbsp Banana Peanut Butter (or any nut butter)
1 Container of Yogurt (Boston Creme, Chocolate, etc.)
1/8 Cup Grapenuts Cereal
At Home:
Package ingredients appropriately - Yogurt is usually good for a couple days as long as the weather is cool.

On the Trail:
Cut banana into four spears. Spread peanut butter on banana slices and place into bowl. Spoon out the container of yogurt onto the banana spears. Top with Grape Nuts cereal.
---
Explore More...

Subscribe to Chef Glenn's free monthly newsletter. New recipes are shared in the newsletter plus a regular supply of backpacking food tips. Get the free ebook, Home & Trail: An Introduction to Drying Food, with your subscription.

Return to Your Best Backpacking Recipes for more backpacking and camping recipes shared by Backpacking Chef readers.

Share this page with friends on social media.