Campfire Recipes

For backpacking, ingredients are dry and light to carry. Campfire recipes might include fresh ingredients when you put your chef hat on in a campground such as a state park with easy access.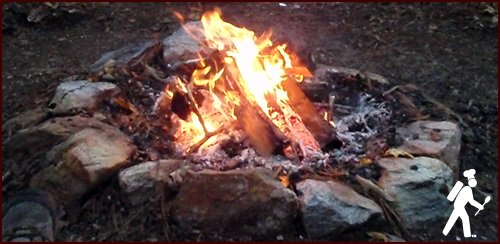 The basic method of campfire cooking is to build a small fire, let it die down, and cook directly on or above the hot coals. Favorite camping foods are corn on the cobb and potatoes wrapped in foil and placed on the hot coals.
Whole camping meals can be cooked over hot coals by wrapping the ingredients in heavy-duty foil such as Dawat's Foil Wrapped Veggie Dinner.
At the bottom of the page is a form where you can share your best campfire recipes or campfire cooking tips. I will publish them on this page.
---
Dawat's Foil Wrapped Veggie Dinner
Shared by Dawat from Rockford, Ontario CA

Servings: 2 Main Courses or 4 Sides
Ingredients:
2 pieces of heavy duty aluminum foil (approx 18" long)
2 medium-sized new potatoes with skins (fresh) - cut in small chunks
1 small zucchini (fresh) - sliced length wise and then sliced into half moons
1 large carrot (fresh) - cut the same as the zucchini
1 medium onion (fresh) - cut in small chunks
½ cup dehydrated green beans - rehydrated or a handful of fresh green beans
½ cup of dehydrated black beans - rehydrated or 1/2 of a 19oz can of fresh black beans
¼ cup of dehydrated corn nibblets - rehydrated or 1/2 a can of fresh corn
4 Tbsp Zesty Italian Salad Dressing
At Home:
Ensure all your vegetables are in good shape and dry. Onion, potatoes and carrots are pretty tough, but I recommend wrapping zucchini and green beans (if using fresh) in paper towels and then placing them in a Ziploc bag. (removing all excess air)
On the Trail:
Clean and cut-up all veggies. Put all the veggies and the beans on one piece of foil. Pour salad dressing over top. Wrap up the foil and then cover this bundle with the second piece of foil so that the seams are on opposite sides. Place on grill on your campfire for about 30 minutes depending on how hot your fire is.
Comments and Suggestions:
I am a kayak camper, so I can usually find space for all these fresh veggies. This is really tasty - all the veggies get steamed and the salad dressing adds a nice flavor. The addition of black beans makes it quite filling as a main course or it works well as a side dish to what ever meat you are grilling.
---
Cinnamon Biscuits
Shared by Mark Leathers from Rolla, Missouri

Serves 3 - 6
Ingredients:
1 Can Buttery Flaky Biscuits
Sugar
Cinnamon
Aluminum Foil
At Home:
Keep canned biscuits cool by placing in plastic bag. Put this bag and ice or ice pack in another bag to keep cool. Pack sugar and cinnamon in a separate bag.
On the Trail:
Sprinkle sugar and cinnamon on one layer of foil and place biscuits on foil.
Sprinkle sugar and cinnamon on top of biscuits.
Enclose biscuits with another layer of foil on top.
Place on rack over fire or on hot rock in coals. Or place on bed of coals. Turn over couple of times to keep from burning. Check for done. Cooking varies with fire, rack, rock, coals and other factors. ENJOY.. They are yummy.
---
Stick Bread
Shared by Scott H. of Colorado Springs, CO
Scott makes stick bread with Bisquick wrapped around the end of a stick and cooks it over a campfire.
Serves 2-4
At Home:

Pack 1 or 2 cups Bisquick in a Ziploc bag.

On the Trail:

Add water to Bisquick and mix until you form a dry dough ball. Place doughball over the end of a stick. Squeeze dough around the stick keeping it as even as possible. Cook over open fire until golden in color. Remove from stick, it should form a cup. Fill with jelly or other fillings.
---
Ready to Share?

Please share campfire recipes using the form below. If you would like to share some tips or techniques about campfire cooking and not a recipe, just fill in the top part of the form and enter your tips in the first description box. Just place an X in the other boxes to send the form.

Don't forget to hit the Share Recipe button when you're done.
Thank you for sharing your campfire recipes!

---
Continue Reading...
Return to Your Best Backpacking Recipes
Share this page with friends on social media.