Chicken & Pasta Backpacking Recipes

Shared backpacking recipes on this page include RollingStone's Chicken Carbonara, Jen's Chicken Piccata with a lemon-butter-capers sauce, and Chris's Chicken Cacciatore served over noodles.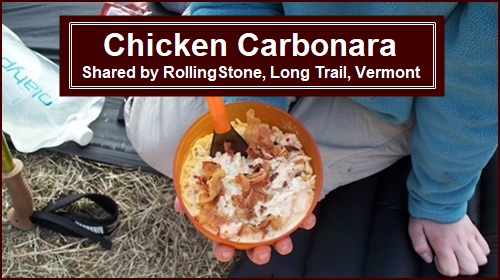 Chicken Carbonara
Shared by RollingStone  Bozeman, MT

Serves 2 Hungry Hikers

Ingredients:

1 package of McCormick Creamy Garlic Alfredo sauce mix
12 Strips of shelf stable pre-cooked bacon
2 5-oz cans of White Chicken
2 Tbsp butter (We use clarified butter for trail travel)
3 Tbsp of whole dried Milk (we use only Nido, can be found at any WalMart -good for your coffee too)
2 packages of ramen noodles (no flavor packets added)

At Home:

The only prep you need to worry about is re-packaging your bacon. Powdered whole milk can be carried in a variety of ways, as can the butter. Choose a method that suits you. This recipe is easier made with two pots on the trail. If you don't carry two pots, then toss 2 or 3 quart-sized Freezer Ziplock bags in with your kitchen to rehydrate the Ramen noodles with.

On the Trail:

Prepare Ramen. Bring Two cups of water to a boil. While water is heating, break up the ramen from it's brick state so it will rehydrate easier. If you have two pots, place the ramen into one pot, pour your water over the top, cover, and set aside. If using Ziplocks, put one broken up brick into each bag, and add one cup of boiling water to each bag. Seal, set aside under a jacket or your sleeping bag.

In pot you intend to make sauce in, light up stove, tear the bacon strips into halves and put into pot. This bacon is already precooked so you are essentially now applying a little heat to bring it to a slightly crispy state. This bacon will burn easy so make sure to be aggressive about stirring it around. When it turns color, remove it from pot and place onto paper towels. DO NOT remove the slight amount of excess grease left in pot.

Create Alfredo sauce by mixing up one cup of water to 3 tbsp of dried milk. Pour milk into pan and light stove to medium flame.

Slowly mix in Alfredo powder until thoroughly mixed, then add two tablespoons butter (clarified butter works very well and is our choice of butter on the trail) -- Bring mixture to a boil, then reduce heat.

Add canned chicken (drain water from can) and simmer the Alfredo for approximately 5 minutes, or until it reaches a thickened state you like.

Drain Ramen noodles, divide amongst bowls. Add Alfredo sauce to each bowl. Add crumbled bacon to the top. Serve!

Comments and Suggestions:

Technically this recipe feeds three people on an average trip, but if it has been a long day, it's an easy recipe for two. In addition, by pre-measuring alfredo sauce mix, this recipe could be cut down to just one person. I don't recommend this recipe in Grizzly country in the Spring or Fall due to excessive smell of bacon.

---
Chicken Piccata
Shared by Jen "Sprinkles" Kelley

Serves 1

Ingredients:

1 cup dried pasta (I recommend small pasta, like farfalle)
¼ cup freeze dried chicken (or dehydrated canned chicken)
1 Tbsp of dried capers* (see below for instructions)
2 Tbsp butter powder
¼ tsp (or one packet) True Lemon powder

At Home:

Dehydrating Capers: Drain capers and place on a fruit leather sheet or piece of parchment paper on dehydrator tray. Dry at 135°F (57°C) for 4–6 hours until they are leathery, but dry.  

Pack one cup of dried pasta and ¼ cup of dried chicken together in a sandwich-sized Ziploc bag. Pack dried capers, butter powder, and lemon powder in a separate snack-sized Ziploc bag. Place the smaller sauce bag inside the larger bag.

On the Trail:

Remove the sauce bag and set aside. Put the pasta and chicken in pot and cover with ½ inch of water.  Cook on a low flame, stirring to make sure the pasta doesn't stick to the pot.  When the pasta is done, there shouldn't be much extra water in the pot, just starchy water barely covering the pasta and chicken. Add the powder and capers from the smaller bag directly to the pot and turn off the heat. Let it sit for a few minutes to rehydrate the capers and enjoy directly from the pot.

---
Chicken Cacciatore
Shared by Chris Tarricone, Plano, TX
Serves 2
Ingredients:
1 12.5 oz Can Chicken
½ lb Whole Wheat Egg Noodles
2 Medium Onions
2 Cloves Garlic
1 16 oz Can Stewed Tomatoes
1 8 oz Can Tomato Sauce
1 tsp Salt
¼ tsp Pepper
1 tsp Dried Oregano and/or Basil
½ tsp Celery Seed
At Home:
Cut onions into ¼ inch slices and sautee in skillet with minced glaric until tender but not brown. Combine stewed tomatoes, tomato sauce, salt, pepper, oregano/basil, and celery seed in skillet with sauteed onions and glaric. Cover and simmer for 15 minutes, then add canned chicken (be sure to break up the pieces of canned chicken). Simmer for another 15 minutes and let cool overnight.
Spread cooled mixture over dehydrator trays covered with parchment paper or non-stick sheets. Dehydrate at 125 degrees until mixture is a pliable bark (approx. 10 hrs).
Dehydrate ½ pound of cooked whole wheat noodles.
Once dry, combine cacciatore bark and dried noodles and pack into two boil safe plastic bags (available at cabeles.com or www.packitgourmet.com).
On the Trail:
Add 6 oz of boiling water to each boil safe bag and let stand for approximately 10 minutes. Once pasta and cacciatore have reconstituted, eat directly from the boil safe bag.
---
Chef Glenn's Comments:

I make a version of Chicken Cacciatore with rice instead of noodles. I precook the rice in fat-free chicken broth and then dry it. This gives it great flavor and it rehydrates well on the trail.

The recipe is in my book: Recipes for Adventure
Continue Reading...

Return to Your Best Backpacking Recipes

Share this page with friends on social media.