Dehydrated Banana Granola Trail Cookies
Shared by Bill D. of Beaufort, SC

A delicious healthy treat that can be enjoyed anytime on or off the trail.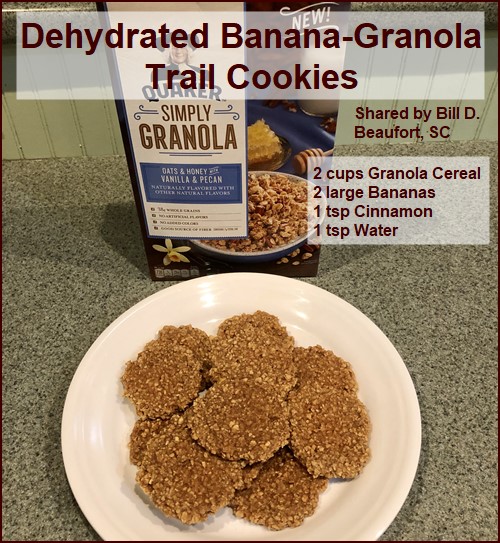 Serves: 1-3

Ingredients:
2 cups Quaker Oats Simply Granola Cereal
2 Large Bananas
1 tsp Ground Cinnamon
1 tsp Water
At Home:

Using a food processor, grind the cereal coarsly to a crumb-like consistency. Pour into a mixing bowl and set aside.

Next, put the peeled bananas, cinnamon, and water into the food processor and blend into a slurry. Pour this mixture into the bowl with the cereal, and mix well using a spatula. The cereal soaks up moisture so add water as needed to keep the mixture moist and pliable.

Scoop out rounded portions of the mixture using a teaspoon, and evenly place them on a silicone sheet or pre-cut parchment paper for your dehydrator. Using the back of the spoon or the spatula, flatten out each portion into the shape of a cookie approximately ¼" thick.

You may have to dip your spoon or spatula into a cup of warm water to prevent the mixture from sticking while forming the cookies.

Dehydrate the cookies at 135° F (57° C) for approximately 8-10 hours.
For chewier cookies, dry for less time. For crisper cookies, dry longer.

About halfway through the dehydrating process flip the cookies over and remove the silicone sheet or parchment paper. Continue to dehydrate on the mesh tray until done.

When finished, store the cookies in a zip lock bag in the freezer or the pantry. Each batch makes about a dozen cookies.

Variation: An alternate drying method is to take the entire mixture and spread it out on the sheet to the desired thickness. When finished cut it into bars using a pizza cutter.