Dehydrating Corn that Rehydrates Well in Dried Meals

The instructions on this page cover dehydrating corn that is fresh, frozen, or canned; plus how to use dehydrated corn in backpacking and emergency preparedness meals.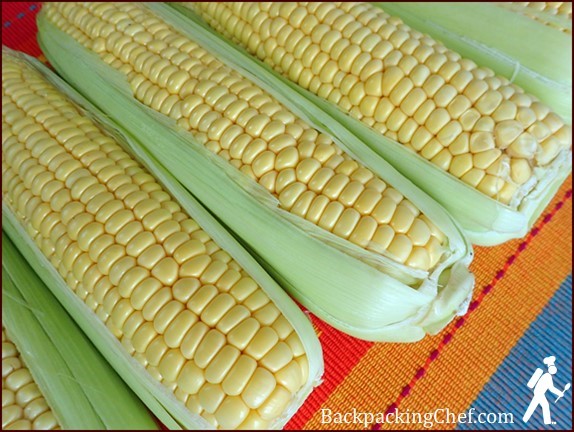 The best corn for dehydrating is fresh corn on the cob in season. My preferred method of cooking it—pressure-cooking—is fast and better at retaining nutrients. If you don't have a pressure-cooker, you can steam or boil the corn before drying it. I dehydrate frozen corn the rest of the year. Only as a last resort would I dry canned corn kernels— they get too soft from being too long in the can, but I often dehydrate canned cream corn into corn bark, which turns into a chowderlike sauce when rehydrated in backpacking meals.

Dehydrating Corn on the Cob
Should fresh corn on the cob be cooked before dehydrating it? Yes. Dehydrated corn that is precooked first will rehydrate better in dried meals with minimal cooking time and use of fuel.

If steam cooking, place shucked ears in a steaming basket inside a big pot with water below the basket. Steam for six to eight minutes. If cooking by boiling, place shucked ears in a big pot of boiled salted water. When water returns to a boil, cook for six minutes. Remove ears immediately from water and let the corn cool.

Pressure-Cooking Corn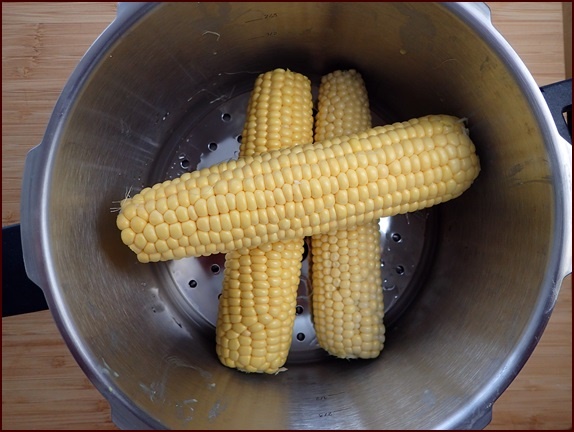 Pressure-cooking corn is fast, and this method retains more of the corn's flavor and nutrients compared to boiling corn. The following instructions are for using a stovetop pressure cooker.

Instructions for Pressure-cooking Corn:

Add one cup of water (236 ml) to pressure cooker. Stack shucked corn on top of cooking rack inside the pot loosely. You may need to trim off the ends of the corn cobs. An average-size pressure cooker will hold up to four ears of corn. Place the second row of corn cobs perpendicular to the first row.

High pressure for two minutes. Secure lid of pressure cooker and turn stove to high. Keep heat on high until the pressure gauge indicates that high pressure has been reached, then reduce stove heat to low. Once high pressure is reached, pressure-cook for two minutes.

Quick release. After two minutes, take pressure cooker off heat. Using a long handle spoon, carefully press down the pressure release button, holding it down until all the steam exits the pot. Once all the steam is out of the pot, open the lid and remove the corn.

How to Cut Corn off the Cob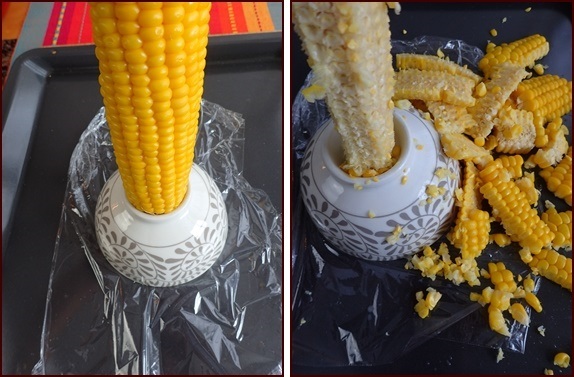 Thanks internet for providing a trick for cutting corn off the cob so it doesn't fly all over the kitchen. Turn a small bowl with an indented bottom upside down in a baking pan. I put the bowl on top of a piece of plastic wrap to keep it from sliding around.

Hold the corn cob upright with bottom inserted into the bowl indentation. Cut down the cob with a sharp chef's knife. Pull any mats of corn kernels apart with your fingers into individual kernels.

Can you dehydrate frozen corn?
It may be hard to tell from the packaging, to what degree was the frozen corn blanched before it was frozen? Because precooking corn results in dehydrated corn that rehydrates better in meals, it's best to steam frozen corn for six to eight minutes. Let corn thaw for thirty minutes, then place it in a steamer basket inside a pot with water in the bottom. Bring the water to a boil with the lid on the pot, and once a heady volume of steam is evident, steam the corn for six to eight minutes. Remove corn from pot and let cool.

Dehydrating Corn
Corn can be dried directly on mesh dehydrator sheets, although some small bits will fall through. If using a dehydrator with the heating element on the bottom, then use the solid fruit leather inserts that go with your dehydrator. Drying corn without using nonstick sheets improves air circulation inside the dehydrator.

Spread cooked corn on dehydrator trays in a single layer. If using an Excalibur Dehydrator, you can dehydrate a little more than three cups of corn kernels per tray, about what you get from three cobs. Read my Excalibur Dehydrator review.

Dehydrate corn at 125°F (52°C) for six to nine hours until hard and no moisture is evident when a sampling of kernels are cut in half.

Yields from Dehydrating Corn:

Starting with 6¾ cups of corn kernels (6 average-size cobs), yield is 2¾ cups of dried corn. Weight: 1057 grams wet, 279 grams dry.

One cup of dried corn weighs 100 grams. A half-cup of dried corn (50 g) is equivalent to one ear of corn.

Storing Dehydrated Corn
The photo above shows a half-liter jar (similar to one pint) of dehydrated corn from six ears of corn.

For home storage, transferring dried corn to jars with tight fitting lids is a good method. Since dehydrated corn tends to turn brown over time due to oxidation, it is best to enclose one or two oxygen absorbers in the jar, depending on the size. Store jars in a dark location. See this article: Tips for using oxygen absorbers.

Dehydrating Corn for Backpacking & Emergency Preparedness Meals
Dried corn adds color, nutrition, and chewiness to dehydrated meals. I often use it in combination with other dried vegetables, like carrots and green beans. When rehydrating and cooking a dried meal that includes corn, maintain a boil for one minute and then transfer the meal to an insulating cozy for fifteen minutes. Corn will get more tender with longer soak times, such as when rehydrated with boiled water in a thermos food jar.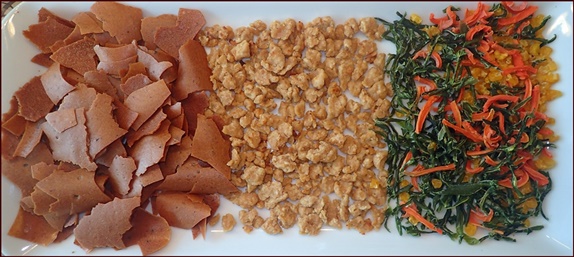 The photo above shows dried corn used in BBQ Potato Bark with Chicken & Vegetables, one of the recipes featured in The Action Guide: Dehydrating 31 Meals.

Dehydrating Baby Corn
Cut baby corn in half longwise, then cut across two or three times so pieces are about an inch long.
Dehydrate at 125°F (52°C) for 6-8 hours. Dried baby corn will be bendable, not completely crispy.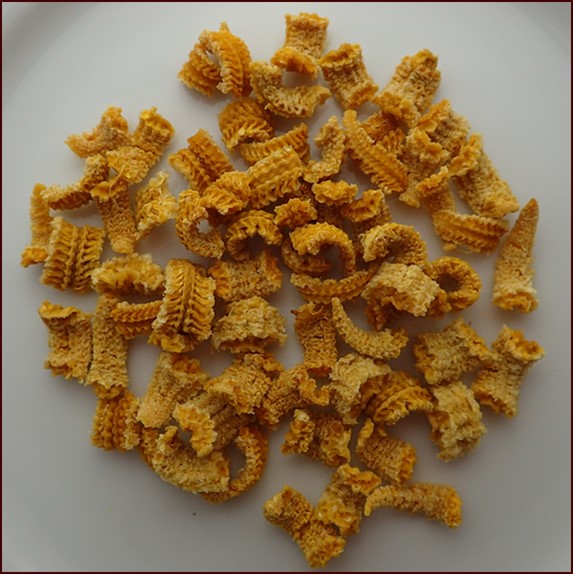 Use dehydrated baby corn in Asian-style meals and soups, like Thai Red Curry-Coconut Soup shown below.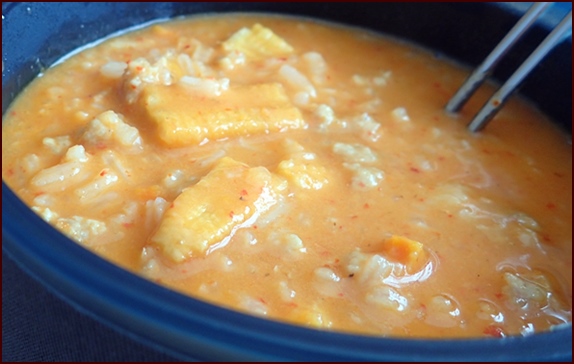 Dehydrating Corn Bark
Although I avoid dehydrating corn kernels from cans, the exception is canned cream corn. It makes a tasty corn chowder sauce when rehydrated in dehydrated meals.

Run a 15-ounce can of creamed sweet corn through a blender to a smoothielike consistency.

Spread thinly on dehydrator tray covered with nonstick sheet.

Dehydrate at 135°F (57°C) for approximately ten hours until brittle. Corn bark will break into pieces easily when dry.

Flip Trick: When the sheet of corn is substantially dry after about seven hours, place another dehydrator tray over it and flip the two trays over so that the corn bark is now stuck to the bottom of the top tray. Peel the sheet of corn away and remove the top tray. The moister bottom side of the corn bark will now be facing up for more thorough drying.

Vegetarian Corn Bark Stew
Servings: 1

Ingredients:
½ cup corn bark
½ cup instant or precooked and dried rice
¼ cup dried black beans
¼ cup dried mixed vegetables. (Try onions, tomatoes, peas, carrots, and green beans).
1¼ cup water to rehydrate

At Home:
Pack all dry ingredients in a single sandwich-size bag.

On the Trail:
Combine all ingredients with water in pot and soak five minutes. Light stove and bring to a boil for one minute. Transfer pot to insulating cozy for ten to fifteen minutes.

More Corn Bark Recipes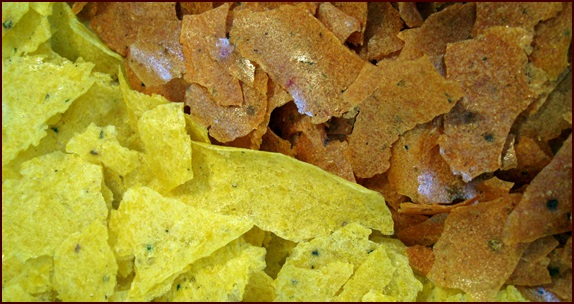 Find more corn bark recipes in Recipes for Adventure: Healthy, Hearty & Homemade Backpacking Recipes. You can add seasonings like barbecue sauce to corn bark, and you can even combine cream corn and potatoes to make delicious chips and chowders. In addition to dehydrating corn bark, the book shows how to make bark with potatoes, beans, peas, sweet potatoes, and pumpkin.

Photos above: Crab Chowder, Spicy Shrimp Chowder, and Fish & Chips Chowder.

How to Make Cornmeal
Follow the directions for dehydrating corn kernels, either fresh or frozen, as already presented. Once dry, grind the dried corn into cornmeal with a blender or other grinding appliance. Take your time if using a blender, so it doesn't overheat. With a blender, expect the cornmeal to turn out coarse. Add it to breads or use it in backpacking meals, similar to grits, but much more flavorful.

Yield: 1 cup of dried corn kernels (100 g) reduces to ¾ cup of cornmeal.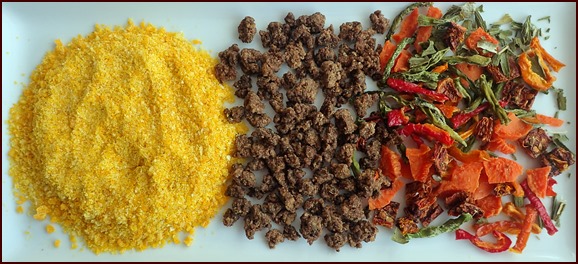 Corn Porridge with Beef & Vegetables
Servings: 1

Ingredients:
½ cup ground cornmeal (50 g)
¼ cup dried ground beef (25 g)
¼ cup dried mixed vegetables (20 g) (Try green onions, tomatoes, peppers, green beans, and sweet potatoes)
Salt and pepper to taste
1½ cups water to rehydrate

At Home:
Pack dried cornmeal in one snack-size bag, and the rest of the dried ingredients in another snack-size bag.

On the Trail:
Hold back the cornmeal, and place the other ingredients in a pot with water and soak five minutes. Light stove and bring to a boil. Add cornmeal and continue cooking for one minute. Transfer pot to an insulating cozy for fifteen to twenty minutes.

Using Dehydrated Corn in No-Cook Backpacking Meals

Corn has a reputation for not rehydrating well in cold water. It can stay pretty chewy. But, if you precook it before dehydrating it, as presented above, you can enjoy it in cold-soak salads if you allow a long enough soak time.

Minimum Soak Time: 2 hours, but longer is better.

A thermos food jar is ideal for preparing cold-soak salads. Place the ingredients and water in the thermos after breakfast and enjoy the meal for lunch.

The photo above shows Peach Salsa Corn Salad, one of the cold-soak salad recipes in Recipes for Adventure II: The Best of Trail Bytes.

Share this page with friends on social media.