Mud Pie
If you can make mud, you can make Mud Pie. All you have to do is whip up some instant pudding and toss in some nuts, cookie crumbs or granola.
Serves 1

Ingredients:
½ cup Annie's Homegrown Chocolate Bunny Grahams
¼ cup peanuts or mixed nuts
2 Tbsp JELL-O brand instant chocolate pudding
2 Tbsp powdered milk
½ cup water
Substitutions: In place of Bunny Grahams, any crumbled chocolate cookies will do. In a pinch, you can substitute granola for the nuts.
At Home:

Pack each ingredient into a separate small plastic bag. I use 2 x 3 craft bags for the milk and pudding powders and 3 x 5 craft bags for cookies and nuts. Enclose all bags in a larger zip lock bag to stay organized.

Any crumbled cookies or granola may be substituted for the Annie's® Chocolate Bunny Grahams. I use the Annie's® product because it doesn't contain any partially-hydrogenated oil like most packaged cookies. Granola would be my second choice.

On the Trail:

Combine powdered milk with cold water in pot or cup and stir until mixed. NIDO® Instant Dry Whole Milk works well. Add instant pudding mix and stir briskly until smooth. Pudding will set in about five minutes.

After pudding sets, stir in bunnies, crumbled cookies, granola, nuts, etc. and let your spoon guide you.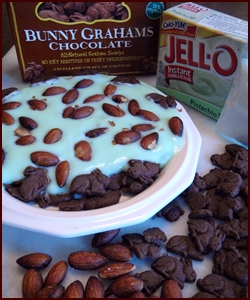 Pistachio Mud Pie
Prepare as above, except use Pistachio flavored pudding instead of chocolate, and almonds or other nuts instead of peanuts.
Divide the contents of the box into four parts. A single serving is two tablespoons, which you can pack in a 2 x 3 plastic bag.
Instant pudding comes in 16 glorious artificial flavors and colors, so let your imagination go wild. I don't eat anything instant or artificial at home, but I have to confess that I enjoyed a few servings of instant pudding on the trail and survived.
For something healthier, try my rice pudding recipe.

---
From the Mailbag:
Ziploc Pudding. Julie S. from Fairbanks, Alaska suggests making pudding in a Ziploc bag. Mix up the milk first in the bag, add the instant pudding mix and stir. Seal and wait five minutes. To serve, snip off a corner and suck out the pudding. She says kids love this and I can see how it might be a good way to serve a whole group of kids without the need for bowls and spoons.

---
Continue Reading...

Next dessert recipe: Rice Pudding

Return to Dessert Recipes Table of Contents

Find Dessert Recipes in Recipes for Adventure
---