Peach Cobbler
My simple peach cobbler recipe cooks up in fifteen minutes on the trail. The bread crumbs absorb the sweet peach juices like sponges.
I'm sorry there won't be any vanilla ice cream served on the trail this evening, but I think you will like this dessert just fine.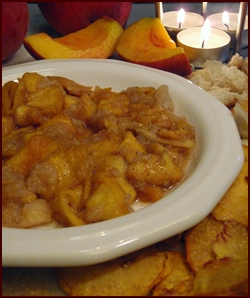 Serves 1
Ingredients:
½ cup peach slices, dried
¼ cup bread crumbs
2 tsp sugar
Pinch of nutmeg
½ cup water

At Home:
For more on dehydrating peaches, view the dehydrating fruit page.
Click here to learn how to make bread crumbs.
Pack dried peaches, sugar, and nutmeg in a small plastic bag. Enclose with bread crumbs in a larger plastic bag to stay organized.

You can use plain Italian-style bread for the bread crumbs as shown in the photo, or try dried pita bread for more of a pie crust texture.

On the Trail:

Combine dried peaches, sugar, and nutmeg with water in pot. Light stove and warm for ten minutes over low flame. No need to boil – you just want the peaches to rehydrate and warm up.

Extinguish stove and stir in bread crumbs. The bread crumbs will absorb the sweet peach juices.

---
Continue Reading...

Next dessert recipe: Apple Pie

Return to Dessert Recipes Table of Contents
Find Dessert Recipes in Recipes for Adventure

---