Pineapple Up-side-Down Cake
Dig into Pineapple Up-side-Down Cake. You and your trusty spoon will explore layers of creamy pudding, crunchy cake, and tangy pineapple.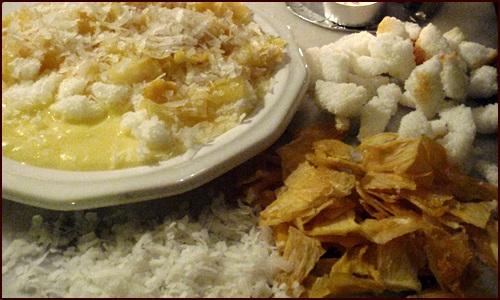 Serves 1

Ingredients:
½ cup pineapple pieces, dried
2 Tbsp Jell-O Brand Vanilla Instant Pudding Mix
2 Tbsp instant dry milk powder
½ cup dehydrated angel food cake crumbs
2 Tbsp shredded coconut, dried
1 cup water
Larger Portion:
The above recipe provides 452 calories. To make a larger portion with 678 calories, use ¾ cup dried pineapple, 3 Tbsp pudding mix, 3 Tbsp milk powder, ¾ cup dried angel food cake and 1½ cups water to rehydrate.

At Home:
For information about dehydrating pineapple, review the dehydrating fruit page. For information about how to make cake crumbs, review the making bread crumbs page.
Pack each ingredient into a separate small plastic bag. I use 2 x 3, 3 x 5, and 4 x 6 craft bags for this. Enclose all bags in a larger zip lock bag to stay organized.

On the Trail:

Combine dried pineapple with half of the water in pot. Light stove and warm for ten minutes over low flame. No need to boil – you just want the pineapple to rehydrate and warm up.

Combine powdered milk with other half of cold water in a separate pot or cup and stir until mixed. NIDO® Instant Dry Whole Milk works well. Add instant pudding mix and stir briskly until smooth. Pudding will set in about five minutes.

After pudding sets, cover with angel food cake crumbs. Push cake down a little into the pudding, but don't stir. Spoon the warm pineapple over the angel food cake. Pour any remaining juice over the cake as well. Garnish with shredded coconut.
---
Continue Reading...

Next dessert recipe: Grahma Nanna Nilla Pudding

Return to Dessert Recipes Table of Contents

Find Dessert Recipes in Recipes for Adventure
---