Tuna Fish Casserole Recipe
This Tuna Fish Casserole recipe combines your favorite vegetables with tuna in a white cheddar cheese sauce. My favorite vegetable mix for this recipe is sliced cherry tomatoes, onions, bell peppers, and mushrooms. Change it up with classic mixed vegetables- corn, carrots, peas, and green beans. Click here for more information about dehydrating vegetables.
It's best to dehydrate solid white Albacore Tuna packed in water. If you dehydrate dark tuna or tuna packed in oil, fat remains in the food and may cause premature spoilage. Click here for more information about dehydrating tuna.
I use cheese powder from a box of Back to Nature brand Spirals & White Cheddar and NIDO brand whole milk powder for this recipe. Annie's Homegrown also makes a few varieties of mac & cheese with white cheddar cheese powder.

Pouched Tuna or Salmon Variation:

If you don't mind carrying a little extra weight, you can pack a pouch of tuna or salmon instead of dehydrated tuna. You can find either one in 7-ounce pouches, chicken, too.
Cooking Macaroni:
It is not necessary to precook and dehydrate the macaroni from a box of mac & cheese unless you cook the meal using the freezer bag method.

For best results on the trail, cook the macaroni, tuna, and vegetables in water first, maintain a boil for two minutes, then stir in the cheese and milk powders as soon as you remove the pot from the stove. Put the lid back on the pot and wait ten minutes.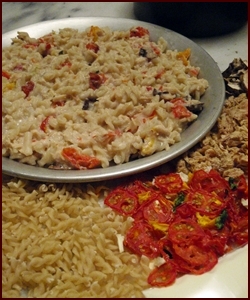 Serves 1

Ingredients:
¼ Cup dried tuna fish
¼ Cup dried vegetables- try tomatoes, onions, peppers, mushrooms
½ Cup Macaroni
1 Tbsp + 1 tsp white cheddar cheese powder
1 Tbsp powdered milk
1¼ Cups water
Large Portion:
The recipe above has 397 calories. To make a larger portion with 576 calories, use ⅓ cup tuna, ⅓ cup vegetables, ¾ cup macaroni, 2 Tbsp cheddar cheese powder, 1½ Tbsp powdered milk and 1¾ cups water to rehydrate.
At Home:
Combine cheese and milk powders in a 2 x 3 plastic bag and enclose with other ingredients in a 4 x 6 plastic bag. Use a sandwich size bag and two 2 x 3 bags for the milk and cheese powders for the larger portion.


On the Trail:
Place all ingredients except the cheese and milk powders in your pot with water and soak for five minutes.
Light stove, bring to a boil, and continue cooking for two minutes.
Remove pot from stove and stir in cheese and milk powders.
Place covered pot inside insulating cozy for ten minutes.
---
Continue Reading...

Next supper recipe: Ramen Noodles Recipes
Return to TOC: Backpacking Recipes for Supper
---