Chicken Cacciatore
Shared by Chris Tarricone, Plano, TX
Serves 2
Ingredients:
1 12.5 oz Can Chicken
½ lb Whole Wheat Egg Noodles
2 Medium Onions
2 Cloves Garlic
1 16 oz Can Stewed Tomatoes
1 8 oz Can Tomato Sauce
1 tsp Salt
¼ tsp Pepper
1 tsp Dried Oregano and/or Basil
½ tsp Celery Seed
At Home:
Cut onions into ¼ inch slices and sautee in skillet with minced glaric until tender but not brown. Combine stewed tomatoes, tomato sauce, salt, pepper, oregano/basil, and celery seed in skillet with sauteed onions and glaric. Cover and simmer for 15 minutes, then add canned chicken (be sure to break up the pieces of canned chicken). Simmer for another 15 minutes and let cool overnight.
Spread cooled mixture over dehydrator trays covered with parchment paper or non-stick sheets. Dehydrate at 125 degrees until mixture is a pliable bark (approx. 10 hrs).
Dehydrate ½ pound of cooked whole wheat noodles.
Once dry, combine cacciatore bark and dried noodles and pack into two boil safe plastic bags (available at cabeles.com or www.packitgourmet.com).
On the Trail:
Add 6 oz of boiling water to each boil safe bag and let stand for approximately 10 minutes. Once pasta and cacciatore have reconstituted, eat directly from the boil safe bag.
---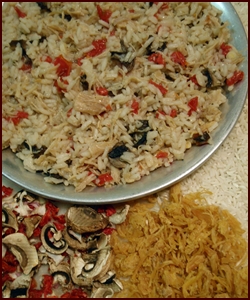 Chef Glenn's Comments:

Chicken Cacciatore with Rice
I make a version of Chicken Cacciatore with rice instead of noodles. I precook the rice in fat-free chicken broth and then dry it. This gives it great flavor and it rehydrates well on the trail.

The recipe is in my book. Click for details.

---
Continue Reading...

View Chris Terricone's Meat Loaf & Rice Recipe
Return to Your Best Backpacking Recipes