Jamaican Jerk Chicken, Rice & Beans
Shared by Squidbilly's Wife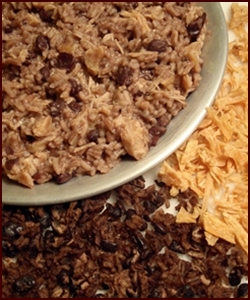 Serves 4:
Ingredients:
4 7oz pouches or cans of pre-cooked chicken, dehydrated
2 15 oz cans black beans
1 13 oz can lite coconut milk
3 tsp Jamaican Jerk Seasoning Mix (McCormick's)
1/8 tsp ground cayenne pepper
2 cups long grain rice
2 slices dehydrated jalapeno peppers
At Home:
Drain liquid from cans of beans into a measuring cup. Add the can of coconut milk to the measuring cup and add enough water to make 4 cups of liquid.
Place the liquids, seasonings, and beans into pot and bring to a boil. Add rice and stir for one minute. Reduce heat to simmer. Put 2 slices of dehydrated jalapeno peppers on top of the water and cover tightly for 30 minutes.
Let cooked rice cool. Place on parchment paper, or fine mesh screens in a single layer and dry at 125 degrees for 5-7 hours. Break up the rice and beans about half way. Put 1 cup of dehydrated rice into storage bag for each person and seal.
Dehydrated Chicken - drain liquid from canned or pouch chicken. Break into small pieces and put of parchment paper or fine mesh screens. Dry at 155 degrees for 4-8 hours until dry and brittle. Bag and store in FREEZER.
The night before trip, add ½ cup of dehydrated chicken from freezer to 1 cup of dehydrated rice mixture.
On the Trail:
Add approximately 1.5 cups of boiling water (start with less, add more if needed). Let sit for 10 minutes in cozy. Enjoy.
Additional Comments or Suggestions:
If you prefer less heat, leave out the cayenne pepper and jalapeno.
Chef Glenn's Comments:
I tried this recipe and took the photo above. It was delicious and very filling. I used regular coconut milk instead of "lite" and Badia brand Jerk Seasoning, both of which I found in the ethnic foods section of my Publix Grocery Store. I used canned chicken which I dehydrated at 145 degrees. Thanks Squidbilly's Wife!
Continue Reading...
Return to Your Best Backpacking Recipes