Easy Backpacking Rice Recipes

Make a quick backpacking meal by combining meats and vegetables with the wide variety of packaged rice products from the grocery store. Knorr brand makes several flavors called Rice Sides. A lot of those have a cheese sauce focus. Zatarain's makes packaged rice products with Cajun seasonings.
Here are some easy backpacking rice recipes shared by BackpackingChef readers:

---
Rice & Sausage Dinner
Shared by GreyWolf from Irving, Texas

Servings: 2-3

Ingredients:

1 Pkg. Rice (such as Knorr Brand Rice Sides, any flavor)
1 8-oz Summer Sausage
Dehydrated Mushrooms
Green Onion
Cilantro
Garlic
Pepper

At Home:

I put the mushrooms in a ziploc bag and I carry all the ingredients separately.

On the Trail:

Boil the water for the rice per the package instructions adding the green onion, cilantro, and mushrooms. Slice and fry the sausage separately. It is already precooked, but it tastes great heated up. Combine all together and season as you like.


---
Pineapple-Ginger Rice
Shared by Margo D.

Prepare this backpacking recipe as a side or add dehydrated ham to make a main dish.

Servings: 2-3

Ingredients:
1 Cup Minute Rice (white or brown)

¼ Cup dehydrated pineapple, diced

¼ Cup dehydrated ham pieces


1 small ham bouillon cube
At Home:

Place rice in zip-lock bag. Put pineapple, Butter Buds, green onions, ginger pieces and salt in a small bag and ham and bouillon cube in another small bag. Enclose small bags in rice bag.

On the Trail:

Add ham pieces and ham bouillon cube to 1 cup of water and bring to a boil.

Stir in rice and everything else.

Cover, remove from heat, and let sit 15 minutes.

Additional Comments:

I made this at home first to figure out how much water, how much time, etc. It was great! The ham is optional if you want to prepare as a meatless side item. -Margo
---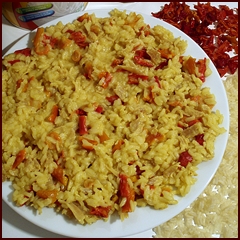 Continue Reading...
View Chef Glenn's Curry Chicken & Rice recipe shown at right.

Return to Your Best Backpacking Recipes.
---