Suppliers of Dehydrated Ingredients
If you're not dehydrating your own food yet, the suppliers on this page offer dried food ingredients that will help you assemble or enhance backpacking meals using recipes found on BackpackingChef.com.
Quick Links on the Page:
Disclosure: I may receive a small commission if you make a purchase after following any of the links on this page. It does not affect the price you pay. Thank you.

---
Harmony House Foods

Best Source for Dehydrated Vegetables, Beans & Meat Substitutes

Harmony House Foods sells dehydrated vegetables in several size options including 1-cup (approximate) zip pouches and quart-size jars. A vegetable serving size for most of my recipes is ¼ cup, so you will get approximately four servings from a pouch or sixteen servings from a jar. You save money on the larger quantity.
You also save money and get a good assortment if you buy the Harmony House Backpacking Kit which includes eighteen zip pouches of assorted dehydrated vegetables and beans.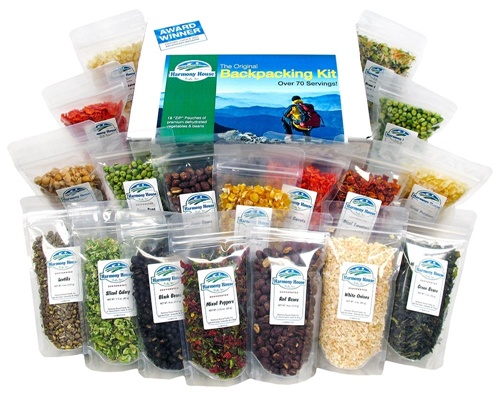 Dehydrated Vegetables:
Green Beans, Broccoli, Cabbage, Carrots, Celery, Chives, Corn, Jalepeno, Leeks, Mixed Vegetables, Mushrooms, Onions, Peas, Bell Peppers, Potatoes, Shallots, Spinach, Sweet Potatoes, Tomatoes, Tomato Powder, Zucchini.
Dehydrated Beans:
Black, Garbonzo, Kidney, Navy, Northern, Red, Pinto, Lentils, Split Peas
Meat Substitutes (Textured Vegetable Protein):

Use TVP in place of ground beef, poultry, and ham. Harmony House offers three flavored types - beefish bits, chickenish bits, and hamish bits.

Freeze Dried Fruit:
Blackberries, Blueberries, Strawberries, Raspberries, Cherries, Apples, Apricots, Bananas, Mangoes, Papaya, Pineapple, and Kiwi.
Freeze dried fruit maintains its original size, while dehydrated fruit shrinks to half or more of its original size. To get approximately the same amount of calories as dehydrated fruit, double the quantity of fruit called for in the recipe if using freeze dried fruit.
Dehydrated Soup:
Lentil, split pea, bean, vegetable, chili, chowder... and several more dried soup blends.

Click here to visit Harmony House Foods
---
FoodStorage.com

Cheese adds needed fat, vitamins and cheesy flavor to backpacking meals, but a block of cheese is heavy to carry and may spoil after a couple days in hot weather.
FoodStorage.com sells real freeze dried cheddar and mozzarella cheese. It's light weight and won't spoil.
A 1/8 cup of freeze dried cheddar cheese adds 85 calories to a meal.
Note from Chef Glenn:
For best results, add cheese at the beginning of the cooking process with the rest of the ingredients in the meal. Soak five minutes, bring to a boil, then remove from stove and let sit ten minutes. The cheese will completely melt into the meal. It adds a nice cheesy flavor to scrambled eggs, rice dishes, and chili.
I use the FoodStorage.com powdered milk in macaroni and cheese, scrambled eggs, and curry chicken and rice. It works well.
If adding the powdered milk to hot coffee, mix it up first in a little luke warm water. If you add it directly to the hot coffee it forms clumps.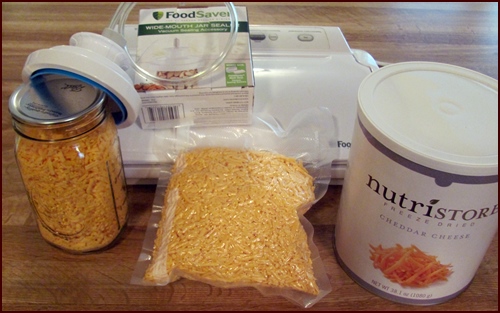 A #10 can provides a lot of cheese. After you open the can, vacuum seal what you don't use in vacuum seal bags or store it in mason jars sealed with a FoodSaver Wide-Mouth Jar Sealer so that it  remains fresh for the next backpacking trip. The jar sealer accessory sells for under $10 and will save you money on vacuum seal bags because you can use what you need from the jar and then reseal it.
FoodStorage.com specializes in long term food storage. Freeze dried vegetables, fruit and meat have a 25 year shelf life.
In addition to freeze-dried cheese and milk, they also sell:
Freeze Dried Vegetables:
Broccoli, Corn, Green Beans, Peas, Onions, Potatoes
Freeze Dried Fruit:
Bananas, Peaches, Pineapple, Raspberries, Strawberries. Apples are dehydrated.
Beans:
Their black and pinto beans are not precooked and dried, so you couldn't use them in backpacking meals without cooking and drying them first.
The best source for dehydrated beans is Harmony House at the top of the page.

Freeze Dried Meat:
Chicken, Ground Beef
Visit:

---
Freeze-dried Backpacking Meals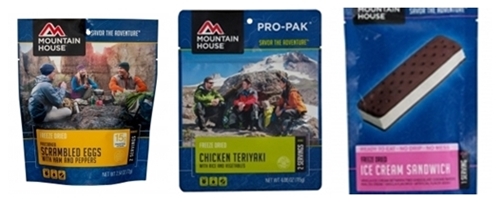 BackpackingChef is all about making your own backpacking meals, but if you're not quite ready to fire up a dehydrator, then Amazon is your cyber-source for low prices and variety of freeze-dried backpacking meals.
Shop for Freeze-dried meals at Amazon.com.
---
Single-serving Condiments

If you pack parmesan cheese to add to pasta marinara and unstuffed peppers, single-serving packets will keep well for a long time on the trail or in your mail drops.

In addition to parmesan cheese, Minimus offers lots of single-serving condiments that backpackers and campers find useful:
Olive Oil, Balsamic Vinegar, Ketchup, Mustard, Mayonnaise, Dressings, Powdered Seasonings
Hot Sauce, Soy Sauce, Teriyaki Sauce, Sweet & Sour Sauce, BBQ Sauce, Sriracha Chili Sauce, Taco Sauce
Fruit preserves, peanut butter, honey, honey crystals, lemon juice, sugar, powdered milk

The great thing about buying from Minimus is that you can order any quantity you need of any condiment… no need to buy a case of each item.
Free standard shipping in USA on orders over $20.
---
Continue Reading...
Backpacking Recipes with Dehydrated Vegetables & Meats
How to Dehydrate Food - Save Money and Do it Yourself!