Thai Spicy Peanut Noodles with Chicken

Shared by Moof  Beaverton, Oregon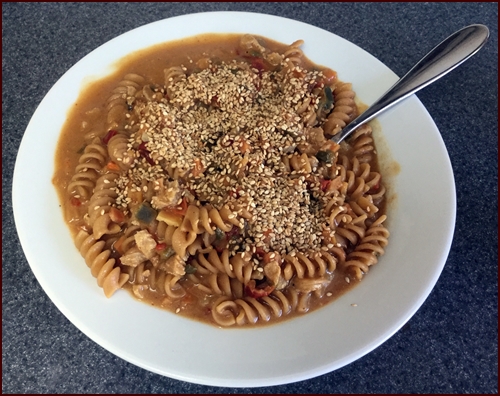 Serves: 1

Ingredients:

3 oz whole wheat pasta spirals, or linguine broken into fourths
¼ cup dried chicken, or ½ cup freeze dried
3 Tbsp dried carrots
2 Tbsp dried bell peppers
1½ Tbsp coconut milk powder

3 Tbsp peanut butter powder (PB fit)
⅛ tsp red pepper flakes
1 Tbsp toasted sesame seeds, best added as garnish
2 tsp soy sauce (2 packets)
1 tsp brown sugar
½ tsp garlic powder
½ tsp ginger powder
½ tsp chili powder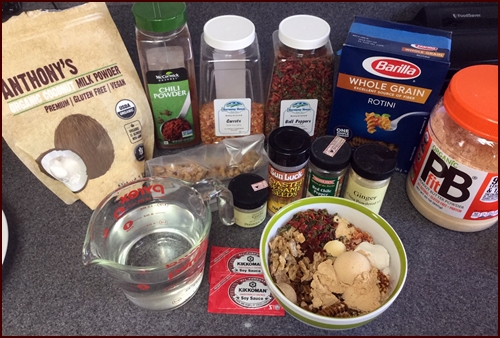 At Home:

Put everything into one bag, or pack sesame seeds in a second tiny bag. Or, vacuum seal seeds in a pouch of plastic wrap.

On the Trail:

Add two cups water and soak for five minutes.  Bring to a simmer over medium-low heat, about five minutes.  Continue simmering for two more minutes. Insulate pot and let stand for 5-8 minutes.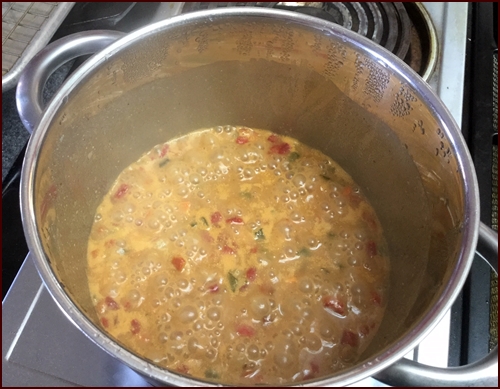 Photo above: A pot of Moof's Thai Spicy Peanut Noodles on the stove.

---
Thai Curry
Shared by Cheryl from Las Vegas, Nevada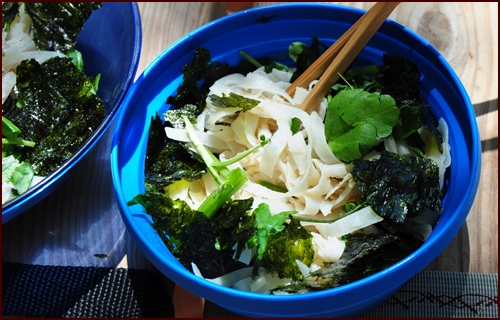 Spicy coconut curry with rice noodles. This is our favorite Thai backpacking recipe for multi-day trips. Shown with dried seaweed (nori) flakes and fresh foraged watercress.
This was during a hike to Havasupai Indian reservation in Grand Canyon country. Watercress grew everywhere along the waterways!

Serves: 2

Ingredients:

1 packet Tom Ka curry paste
2 instanoodle rice noodle soup packages
1/2 envelope dehydrated coconut milk powder
Optional - any dried vegetables, mushrooms, etc.

At Home:

Deconstruct noodle soup packages, crush noodles and save season packet for another dish.

Add noodles and coconut powder to gallon-size ziplock freezer bag.

On the Trail:

Add curry paste to bag along with 3 cups boiled water, zip closed and allow to set 10 minutes.
 
Suggestions:

Depending on where your hiking, such as near a creek, you could forage for watercress-a superb addition to any backcountry meal. Top your dish with fresh cress if your lucky. I've eaten this dish hot or cold. If you're near a stream , hold the bag in the running water to cool and eat like a salad - delicious!

You can boost this meal by adding almost any dehydrated vegetable or mushroom at home to the ziplock bag. I sometimes add dehydrated tofu sheets or knots to meals for added protein. Asian markets sell many dehydrated ingredients that are great to use in backpacking meals.

---
Tom Ka Gai Rice & Chicken
Shared by RollingStone from Bozeman, Montana

Tom Ka Gai is a tasty and spicy Thai dish with a coconut-ginger base.
Serves: 1 - 2
Ingredients:
1 Pkg - Taste of Thai Coconut Ginger Soup Base
1 Pkg - 7 Ounces Tyson Chicken
1 Chicken Bouillon Cube
3 Tbsp Coconut Creme powder (if you cannot get locally, can find online at Amazon)
2 Cups Jasmine Rice (Precooked and dehydrated)
Dried or Fresh Cilantro - Optional
At Home:
Before leaving for your trip, package the Bouillon cube and coconut creme powder together. Pack rice, chicken and soup mix separately.
On the Trail:
In camp, rehydrate rice and set in cozy or insulated pot. Bring 2 cups of water to a boil, turn off heat and mix in crushed bouillon and coconut creme powder. Add soup mix and return to heat. Bring to a boil again and cook for two minutes while stirring. In a bowl add rice, chicken and the amount of soup you wish to mix in. Add cilantro for a garnish and touch of flavor (optional).
Chef Glenn's Comments:
You can skip packing a bouillon cube if you precook the rice in bouillon before you dry it. See dehydrating rice.

You can shave a few ounces off the weight of this meal if you dehdrate canned chicken.
Thanks for sharing these Thai backpacking recipes!

Continue Reading...
Return to Your Best Backpacking Recipes
Share this page with friends on social media.