Backpacking Chili Recipes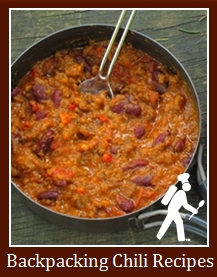 These backpacking chili recipes shared by readers show there's lots of ways to make chili for around the campfire.

---
White Bean Chili
Shared by SierraJud from Northern California
This white bean chili uses lean ground turkey. Make and enjoy it at home or dehydrate it for the trail.

Serves 6:

Ingredients:

1½ lbs. Lean Fresh Ground Turkey
1 Onion, chopped
2 Cloves Garlic, chopped
3 4.5 oz. cans Diced Green Chilis (or fresh, skinned, seeded and chopped)
1 - 2 Tbsp Smoked Chipotle Powder
1 Tbsp Ground Cumin
Salt and Pepper to taste
3 15 oz. cans Small White Beans, drained and rinsed
6 cups Chicken Stock
1 cup Cilantro, chopped
At Home:

Sauté chopped onions and garlic until semi translucent in a large pot.
Add lean ground turkey, cumin, salt, pepper, smoked chipolte powder and chopped green chilis. Lean ground turkey tends to be rather tasteless, so make sure you season well.
Cook until turkey is cooked through.
Add drained small white beans and chicken stock.
Simmer on low heat for 20 minutes.
Turn off heat and add chopped cilantro. Let cool.
Spread on dehydrater shelves and dehydrate using the meat setting temperature (minimum 145°F) until dry, about 8 to 10 hours.
Pack 1½ cups dried chili per serving in Ziploc bags.

On the Trail:

Add 1½ cups of dehydrated chili to 1½ to 2 cups boiling water, stirring constantly for about 5 minutes. Turn off heat, and let sit for about 30 minutes with lid on pot. Add cheese and sour cream before serving.

Additional Suggestions:

Sometimes I spoon white bean chili over instant mashed potatoes for a very filling meal.

Chef Glenn's Comments:

A ½ cup of breadcrumbs may be added per pound of ground turkey (or beef) before cooking and drying to make it more tender when rehydrated. See dehydrating meat.
---
Mr. Dog's Chili Corn
Serves 1:
Ingredients:
Large Bag:
½ cup Dehydrated Corn
½ cup Dehydrated Black Beans
¼ cup Dehydrated Green Pepper
¼ cup Dehydrated Ground Beef

Sauce Bag:
¼ cup Dehydrated Tomato Powder (Dried tomato slices put in blender or grinder)
¼ cup Bean Bark
1/8 tsp Cayenne Pepper or less to taste
1 tsp Chili Powder
At Home:
Place large bag items in bag big enough to hold them, and a smaller bag with the sauce bag ingredients in it. Vacuum seal them together for longer storage.
On the Trail:
Boil 2 cups water. Add large bag ingredients, hold sauce packet. Let stand for 10 minutes. Stir in sauce packet. Let stand until beans and corn are soft. If it is really cold out, you may need to reheat before you let it stand.
Chef Glenn's Comments:

If you steam corn for ten minutes before dehydrating, it will rehydrate better on the trail. See dehydrating vegetables for tips on dehydrating beans and veggies.
---
Gluten Free Chili
Shared by Tucson Damselfy

Serves 6:
Ingredients:
1 lb Ground Beef
2 Cans Pinto Beans
1 28oz Can Diced Tomatoes
1 Large Onion, Chopped
2-3 Cloves Garlic
3 Tbsp Pure Chili Powder
½ tsp each (or to taste) Ground Cumin, Cloves and Coriander
1 Cup Red Wine
1 Cup Water or Broth
1½ Cups Cooked Quinoa
At Home:
Saute onion and garlic briefly in olive oil; add spices and stir constantly until very fragrant. Add beef and brown. Add tomatoes, wine and liquid. Stir until well blended, and simmer for a long while. Meanwhile, prepare quinoa according to the package directions. Once chili has simmered, add 1½ cups cooked quinoa. Allow to cool.
Dehydrate according to Chef Glenn's instructions for dehydrating chili. After dehydration, place 1 to 1½ cups dried chili in boil-safe bags. Store in freezer until ready to pack.
On the Trail:
To rehydrate, put equal amount of boiling water in boil-safe bag. Let stand for 10-15 minutes, stirring occasionally.
---
Cram's 4-Way Backpacking Chili Recipe
Shared by Jerry Cram

Serves 3 - 4
Ingredients:
1 Package Thin Spaghetti (broken in half)
3 Tbsp Butter
2 Cloves Garlic, chopped
2 lbs Ground Beef

2 Chili Beans
2 Packages French's Chili-O Mix
Chili Powder to taste
1½ Cups Copped Onions, raw
1 Cup Shredded Extra-sharp Cheddar Cheese
At Home:
Dehydrate ground beef and beans.

On the Trail:
Reconstitute ground beef and beans in equal quantity of water.
Cook spaghetti and set aside but keep warm.
Heat butter in a large pot. Add ½ cup onions and chopped garlic. Stir and cook until tender, about 15 minutes.
Add beans, ground beef and sufficient wter to make soupy. Cook 10 to 15 minutes.
Add 2 packages of Chili-O Mix and cook an additional 15 minutes, adding chili powder to taste.
Serve chili bubbling hot. Top with generous portions of chopped raw onion and shredded cheddar cheese.
---
More Backpacking Menus...

Return to Your Best Backpacking Recipes
Try Chef Glenn's Beef & Bean Backpacking Chili Recipe

---
Share this page with friends on social media.