8-Day Backpacking Menu & Food Drying Plan

This is my backpacking menu and food preparation record for an 8-day hike on the Appalachian Trail through Georgia.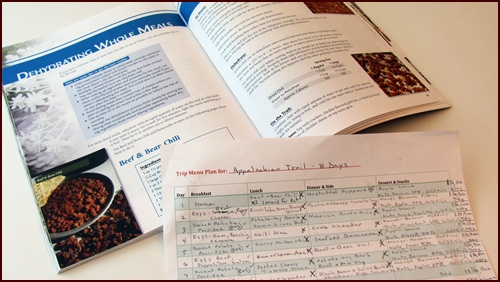 To begin, I flipped through the pages of Recipes for Adventure and picked some of my favorite recipes. Then I wrote down the menu on the menu planning form from the BackpackingChef Menu Planning & Food Drying Workbook.
In choosing recipes for this trip, I considered a few things:

I had some enchilada bean bark and black bean & salsa bark on hand, so I picked a couple of recipes to use up some of that bark.
I wanted to enjoy a few meals with seafood, but since I would not need a lot, I decided on using imitation crab meat in three meals, which I knew I could get from one pound of crab meat. Therefore, I did not dry any shrimp or tuna for this trip.
I love chili, so I made one batch that yielded two large servings for me, one large serving for my friend's lunch who hiked with me the first day, plus enough to use in one serving of chili mac.
I decided to prepare large-size portions for lunch and supper and regular-size portions for breakfast. Since I was going with the large portions, I did not need to plan to cook a side of extra vegetables for my suppers.

Backpacking Menu

(by category and order of consumption):
Breakfast
Scrambled Eggs, Sweet Potato Bark Porridge. (Alternated every other day). I varied what meat and vegetables went into the scrambled egg meals including ground beef, ham, peppers, tomatoes, zucchini, and salsa.
Lunch
Chili, Enchilada Bean Bark Stew, Mashed Potatoes with Ham & Green Beans, Chili Mac, Curry Chicken & Rice, Ham & Cheese Macaroni, Pasta & Beef with Cheesy Tomato Sauce, Crab Chowder.

Supper
Unstuffed Peppers, Pasta & Beef with Cheesy Tomato Sauce, Mexican Beef & Rice, Crab Chowder, Seafood Raminara, Chili, Mashed Potatoes with Beef & Mixed Vegetables, Black Bean & Salsa Bark Stew.

Dessert
Apple Sauce, Mango Banana Pudding. (Alternated every other day).

Snacks
Four ½ cup servings per day including nuts, dried fruit, bark and gold fish or granola. List: mixed nuts, cashews, honey roasted peanuts, dried apples, dried bananas, dried mixed fruit, sweet potato bark, pumpkin pie bark, cheddar gold fish, pretzel gold fish, granola cereal with M&Ms.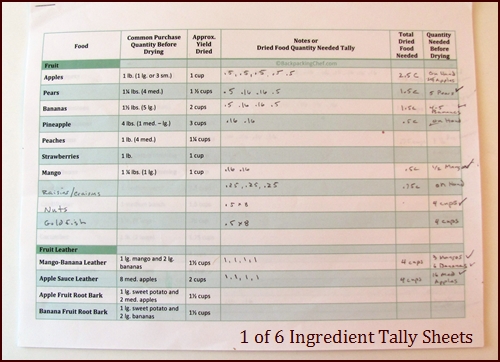 Referring back to the recipes and snacks I had selected, I transferred the ingredients needed to the Tally Sheets I printed out from the Workbook.
For recipes where I included a medley of several vegetables, I rounded the quantities to .16 cup each for estimation purposes.

After I transferred all the ingredients to the forms, I added up each row to determine the total quantity needed and compared that to the known yields already printed on the form for each ingredient.

Based on the comparison, I entered the amount of food I needed to purchase in the last column of the Tally Sheets and used that as my shopping list at the grocery store. If I had ingredients on hand, I noted that on the form.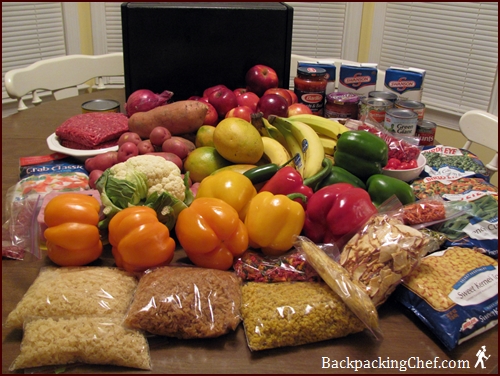 Food purchased for backpacking menu. (Some already dried) I expected to have a small surplus of dried food leftover since the standard units of purchase for some items exceeded my actual needs for the trip.

Food List:

20 apples, 11 bananas, 5 pears, 4 mangos, 1 pineapple, 10 peppers, 1 jalapeño pepper, 3 onions, 8 tomatoes, 1 pint cherry tomatoes, 1 lb. mushrooms, 1 zucchini, 3 carrots, 1 head cauliflower, 1 lb. frozen mixed vegetables, 1 lb. frozen corn, 1 lb. frozen peas, 1 lb. frozen French cut green beans, 3 lbs. potatoes, 3 lbs. sweet potatoes, 3 lbs. ground beef, ½ lb. deli ham, 1 12.5-ounce can chicken, 1 lb. imitation crab meat, 8 eggs, 1 lb. rice, 1 package ramen noodles, 4 boxes Annie's mac & cheese, 1 24-ounce jar tomato sauce, 1 16-ounce jar salsa, 1 15-ounce can corn, 1 can pumpkin, 1 15-ounce can kidney beans, 1 15-ounce can tomato puree, 1 package each of beef, chicken and vegetable broth, 1 jug apple juice, 1 box granola cereal, 1 bag M&Ms, 3 cans of nuts, 3 packages of goldfish. Misc. ingredients, mostly on hand: taco seasoning, curry powder, chili powder, parmesan cheese, freeze dried cheddar cheese, powdered milk.
Dehydrating Food for 8-Day Backpacking Menu
I dehydrated all the food the week before my hike because I had been away for five months and didn't have a supply of dried food on hand. I dried seven loads between Saturday and Tuesday in my 9-tray Excalibur Dehydrator.

Saturday afternoon: pineapple, apples, peppers, tomatoes, carrots, and zucchini. I had these items on hand and dried them while I worked on my menu.

Sunday morning: rice cooked with beef broth and chicken broth, scrambled eggs with polenta, Canadian bacon (thicker ham, diced not sliced), experimental breakfast sausage (did not use).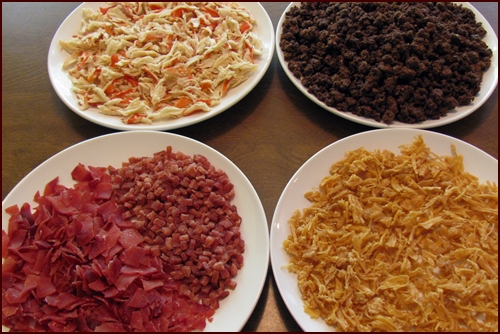 Sunday night:  imitation crab, ground beef, deli ham, canned chicken.
I bought my groceries on Sunday and also made a batch of chili which I refrigerated overnight.


Monday morning: chili, tomatoes, mushrooms, peppers, onions.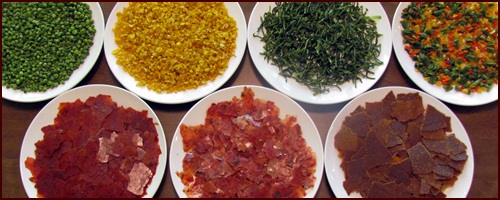 Monday night: frozen vegetables – peas, corn, French-cut green beans, and mixed vegetables; tomato sauce leather, salsa leather, pumpkin pie bark. I steamed the frozen vegetables before drying them.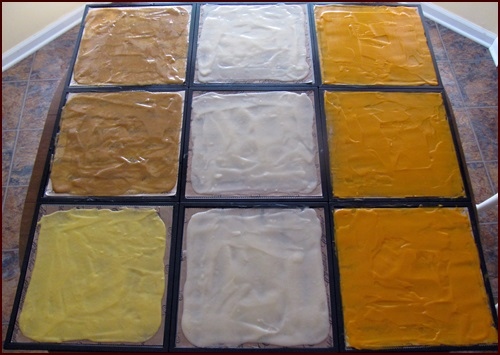 Tuesday morning: corn chowder bark, potato-cauliflower bark, sweet potato bark, experimental fruit leather with mango, banana and over-ripe pears (too sticky, did not use). Shown wet above and dried below.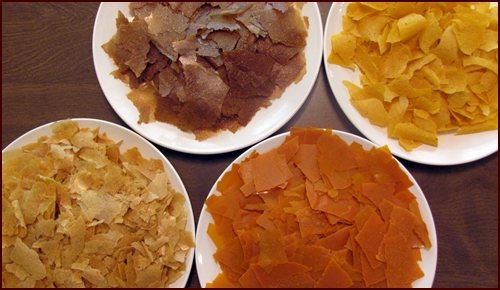 Tuesday night: bananas, apple sauce, mango-banana pudding.
Assemble & Vacuum Seal the Meals for 8 Days
With the food dehydration complete, I referred back to my backpacking menu and assembled the meals and snacks into individual servings.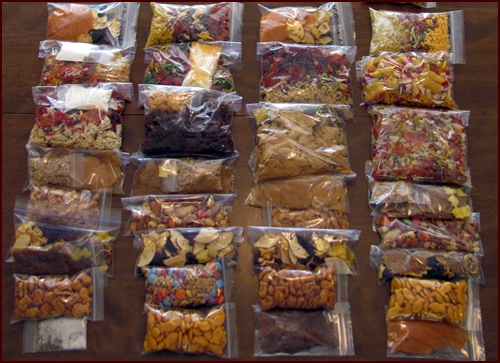 Photo shows four days of food consisting of three meals, one dessert and four snacks per day. Not shown - the other four days' rations.

Then I vacuum sealed each day's rations. Four packages went into my backpack and I mailed four ahead to pick up at Mountain Crossings on day five of my hike. Learn more about vacuum sealing dried food.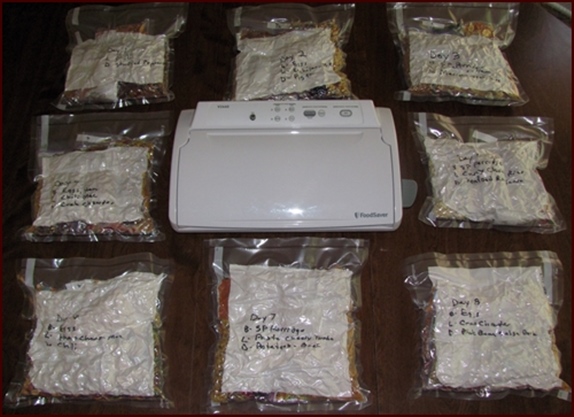 The average weight of food per day including packaging was 1.6 pounds (.726 kg).

Make it a Large

I thoroughly enjoyed eating the food from this backpacking menu. The large-size portions for lunch and dinner seemed like a lot of food looking down into my pot, but I had no trouble eating it all.
The average calories packed per day was 2500, just shy of 100 calories per ounce carried.
I did not eat the last day's lunch and dinner since I walked out of the woods early afternoon, but it was good to have a little extra just in case if the hike took another day to complete.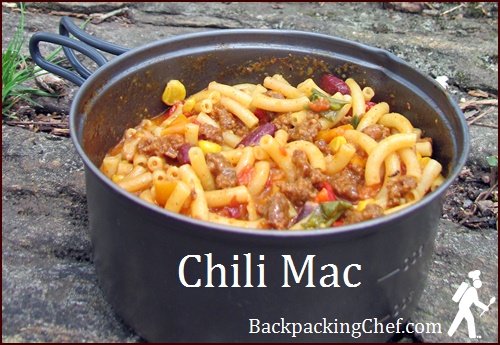 Large serving of Chili Mac shown in 900 ml pot. (633 calories)

Large serving sizes are about 50% larger than the regular serving sizes shown on the website. For most recipes that means increasing the starch (macaroni, rice) from ½ cup to ¾ cup, and meats and vegetables from ¼ cup to ⅓ cup.
In Recipes for Adventure, both serving sizes are shown for all recipes as well as the calories. I recommend experimenting with serving sizes to determine what portion works best for you.

This 8-day hike through Georgia is included in my trail journal, 1001 Miles on the Appalachian Trail. Get a free download of the journal with the purchase of any Recipes for Adventure books.

---
Find Another Backpacking Menu...

6-Day Backpacking Food Plan for Two

Return to Backpacking Meal Plans TOC

Share this page with friends on social media.