Backpacking Meals & Food:
3-Day Menu with Calories


The backpacking meals and foods selected for this 3-day backpacking menu were chosen to demonstrate how many calories you would get from a combination of delicious homemade meals and energy rich snacks.

Regular or Large Portions

For each menu item I include the calories for a regular serving and a large serving which is approximately 50% larger. The total food calories provided per day for this menu are approximately 3000 for the regular size column and 4000 for the large size column. The longer you are on the trail and the more difficult the hiking conditions, the more likely you will opt for larger portions for some or all of the menu items.

It is almost a certainty that you will burn more calories than you consume when backpacking, but the size of the calorie deficit varies between individuals based on physical characteristics such as age, sex, body size, fitness level; the difficulty of terrain and the temperature/weather; and how hard you push yourself - load carried, miles hiked, rest stops taken, quality of sleep, hydration, etc.

When I first developed the backpacking recipes featured here at BackpackingChef, I did not calculate the calories because I intuitively knew that packing well-balanced backpacking meals and high energy snacks would provide the nutrition and energy I needed. I kept detailed notes about the yields of all the foods I dried and calculated the calories after the fact.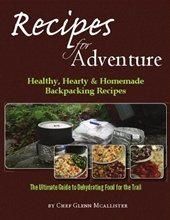 In, Recipes for Adventure, I list the calories and ingredient quantities for all the backpacking meals for both a regular and large serving size.
The Backpacking Chef Menu Planning & Food Drying Workbook includes the dehydrating yields for all the ingredients in the recipes so you can estimate how much of each food to purchase and dry for your menu.
Getting Fat on the Trail

One of the paradoxes of dehydrating food for the trail is that you get a huge weight savings by removing the water, but you have to give back some of the weight savings by supplementing your daily rations with a few high-fat, calorically dense foods. We avoid or minimize drying fatty or oily food so the food won't spoil, but fat is an essential food component for metabolism and energy production.

Peanut butter, olive oil, coconut oil, preserved meats & cheeses, sardines and some energy bars are all excellent calorie boosters because of their fat content. A small plastic bottle of olive oil or single serving packets can be carried and added to backpacking meals such as Seafood Raminara or Ratatouille. Justin's Nut Butters are available in single serving packets if you like spreadable fats with no partially hydrogenated oils as most peanut butter brands contain.

Here are a few items included in this menu that contribute fat (and protein):
NIDO Whole Powdered Milk (served with oatmeal and an ingredient in several of the recipes)
Cheddar Cheese (freeze dried, fresh for short trips, or powdered as an ingredient in some recipes)
Tortillas (roll up one-pot backpacking meals) Tortillas might not store well in mail drops - buy them fresh for use within a few days.
Nuts (all kinds for variety)
This menu represents a small sampling of the many backpacking meals available. The Scrambled Eggs & Polenta and Chicken Enchilada Bean Bark Stew recipes are in the book and the rest have links to the recipes and dehydrating instructions.

---
Day 1


| | |
| --- | --- |
| | Calories listed at right for regular size serving and 50% larger serving. |
---
---
---
Dinner: Ham & Cheese Macaroni

Side: Dried Sliced Beets, ⅓ cup before rehydration

Dessert: Fruit Cocktail, Dried ½ cup pears, ¼ cup bananas, ⅛ cup peaches, ⅛ cup pineapple.

---
Snack 1: Sweet Potato Bark ½ or ¾ cup

Snack 2: Salted Peanuts ½ or ¾ cup

Snack 3: Dried Bananas ½ or ¾ cup

Snack 4: Raisins ½ or ¾ cup
---
---
Day 2

| | |
| --- | --- |
| | Calories listed at right for regular size serving and 50% larger serving. |
---
Breakfast: Scrambled Eggs/Polenta w/ Beef & Salsa

Served Burrito Style w/ 2 Tortillas, 100 calories each.


¼ or ⅓ cup Cheddar Cheese
---
---
---
107

414

220

137

160

621

330

205
---
---
Day 3


| | |
| --- | --- |
| | Calories listed at right for regular size serving and 50% larger serving. |
---
| | |
| --- | --- |
| | Breakfast: Sweet Potato Bark Porridge |
---
Lunch: Chicken Endhilada Bean Bark Stew

Rolled up in 2 Tortillas, 100 calories ea.

¼ or ⅓ cup Cheddar Cheese
---
---
Snack 1: Pumpkin Pie Bark ½ or ¾ cup

Snack 2: Cashews, ½ or ¾ cup

Snack 3: 50/50 Mix Craisins w M&Ms, ½ or ¾ cup

Snack 4: Dried Fruits-assorted, ½ or ¾ cup

107

394

395

116

160

591

592

175
---
---
I packed the regular size portions for the first two 30-day backpacking trips where I tested the recipes and menus on the Appalachian Trail. The quantities satisfied my hunger and energy requirements. I supplemented my diet with restaurant and hostel food in the trail towns where I stopped for the night.
Two other benefits I discovered of going with the regular portions is that they pack well and are easy to cook using less than 1/2 ounce of alcohol per meal. Individual snacks and sides in 1/2 cup portions fit perfectly in 3 x 5 bags and most of the meals fit in 4 x 6 bags. Larger portions require larger bags and a little more fuel which are minor adjustments to make if you need the extra calories.
Continue Reading...

6-day Backpacking Food Plan for Two

Back to Backpacking Meal Plans TOC

---
Share this page with friends on social media.